After the surprise news that President Donald Trump had fired FBI Director James Comey on Tuesday night, the countdown for a Twitter rant from the president began.
The wait ended at 6:10am ET when Trump began criticizing Democrats for expressing surprise over Comey's ouster—but in the middle of the president's Twitter tirade, he found time to retweet a news article from an unlikely source: CNN.
Trump was retweeting Drudge Report, a notoriously right-wing aggregator of links from around the web, but the story about Mexico being the "second deadliest country in 2016" was from CNN, which Trump has repeatedly labeled "fake news."
The tweetstorm started off fairly typically. Trump blasted the Democrats for etheir shock and anger over Comey's firing, followed by Trump exclaiming that the former director's replacement would bring "back the spirit and prestige of the FBI."
That's when the CNN story popped up.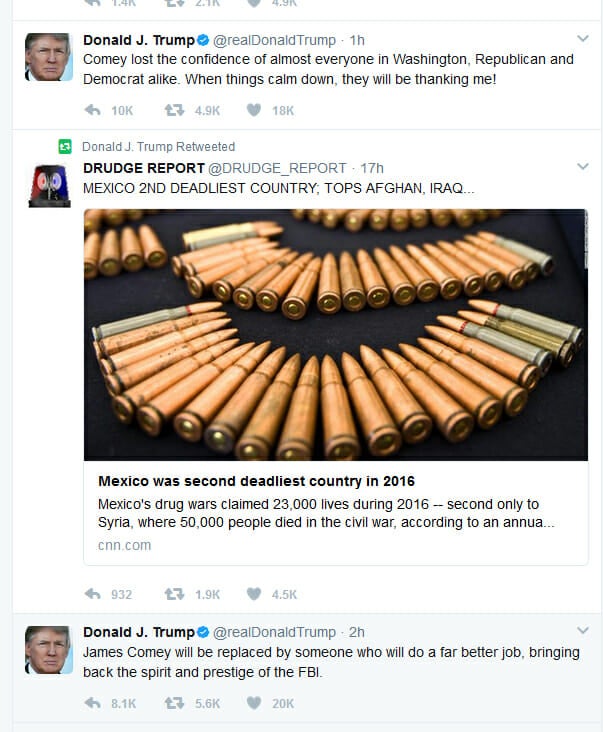 It's unclear whether or not Trump knew the story was from one of his favorite media punching bags. Remember this?
Here's the exchange where CNN's Jim @Acosta tries to ask Trump a question and the President-elect refuses pic.twitter.com/LlwmhPj5w3

— Bradd Jaffy (@BraddJaffy) January 11, 2017
Then, a few hours later Trump, seemingly unaware of the irony, tweeted that a CNN story about Roger Stone was "fake news."
The Roger Stone report on @CNN is false – Fake News. Have not spoken to Roger in a long time – had nothing to do with my decision.

— Donald J. Trump (@realDonaldTrump) May 10, 2017