A majority of Americans find President Donald Trump's use of Twitter "inappropriate," "insulting," and "dangerous," according to a new poll. But a core group of citizens view the president's social media habits through a purely positive lens.
A Washington Post/ABC News survey released on Monday found that 68 percent view Trump's tweets as "inappropriate," 65 percent say they're "insulting," and 52 percent find them "dangerous." Although 41 percent say the president's tweets are "interesting," just 21 percent find them "refreshing."
Trump uses Twitter on a near-daily basis as a way to speak directly to Americans and to attack his political opponents. It also often has the effect of setting the media's agenda for the day, particularly on cable news. Trump's penchant for inflammatory tweets have drawn the ire of critics and complicated some legal issues, including challenges to the administration's travel ban on citizens from several Muslim-majority nations.
As the president has claimed many times, "They want to take away my voice," he recently told New York Times Magazine. "They're not going to take away my social media.''
Overall, 70 percent of Americans view Trump's behavior as "unpresidential," while 24 percent say it is "fitting and proper."
The poll, conducted by Langer Research on behalf of the Post and ABC News, included 1,001 American adults and has a margin of error of +/- 3.5 percentage points.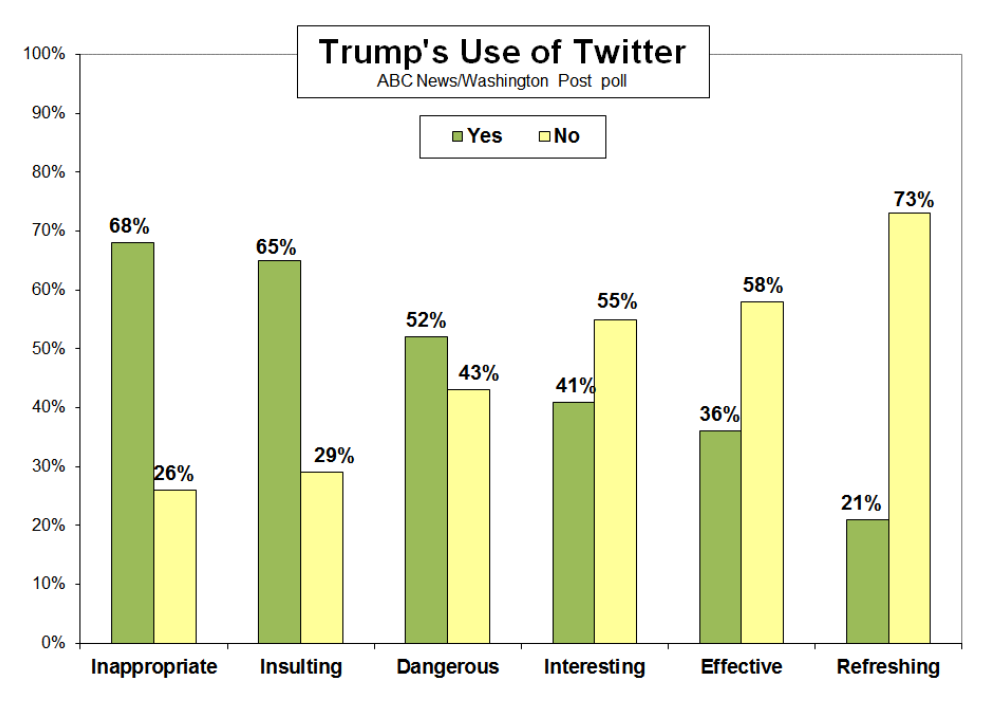 Women are more likely than men (78 percent to 58 percent) to find Trump's tweets inappropriate, researchers found. And while 46 percent of white respondents find the president's tweets dangerous, that number jumps to 65 percent among non-white respondents.
When it comes to the president serving as a good role model for younger Americans, 30 percent of all respondents agreed. That number rises to 50 percent among evangelical Christians and drops to 19 percent for Americans ages 18 to 29.