Donald Trump Jr., President Donald Trump's son, posted a fake image to his Instagram account on Sunday that mocks a letter sent to lawmakers from a woman who says Supreme Court nominee Brett Kavanaugh assaulted her several decades ago.
Christine Blasey Ford came forward with her story by speaking with the Washington Post on Sunday, where she alleged that Kavanaugh sexually assaulted her in the 1980s.
Kavanaugh has denied the claims.
Trump Jr. makes light of the accusations in an Instagram post that shows a piece of yellow paper with a message written in what appears to be in crayon.
The paper reads: "Hi Cindy will you be my girlfreind[sic] Love Bret[sic]." The paper also has two boxes, one for "yes" and the other for "no."
The president's son addressed Ford's letter that was sent to members of Congress ahead of Kavanaugh's confirmation hearings in the caption for the post.
"Oh boy… the Dems and their usual nonsense games really have him on the ropes now. Finestein[sic] had the letter in July and saved it for the eve of his vote… honorable as always. I believe this is a copy for full transparency," Trump Jr. wrote, adding two hashtags to the post, #politics and #maga, and several laughing emojis.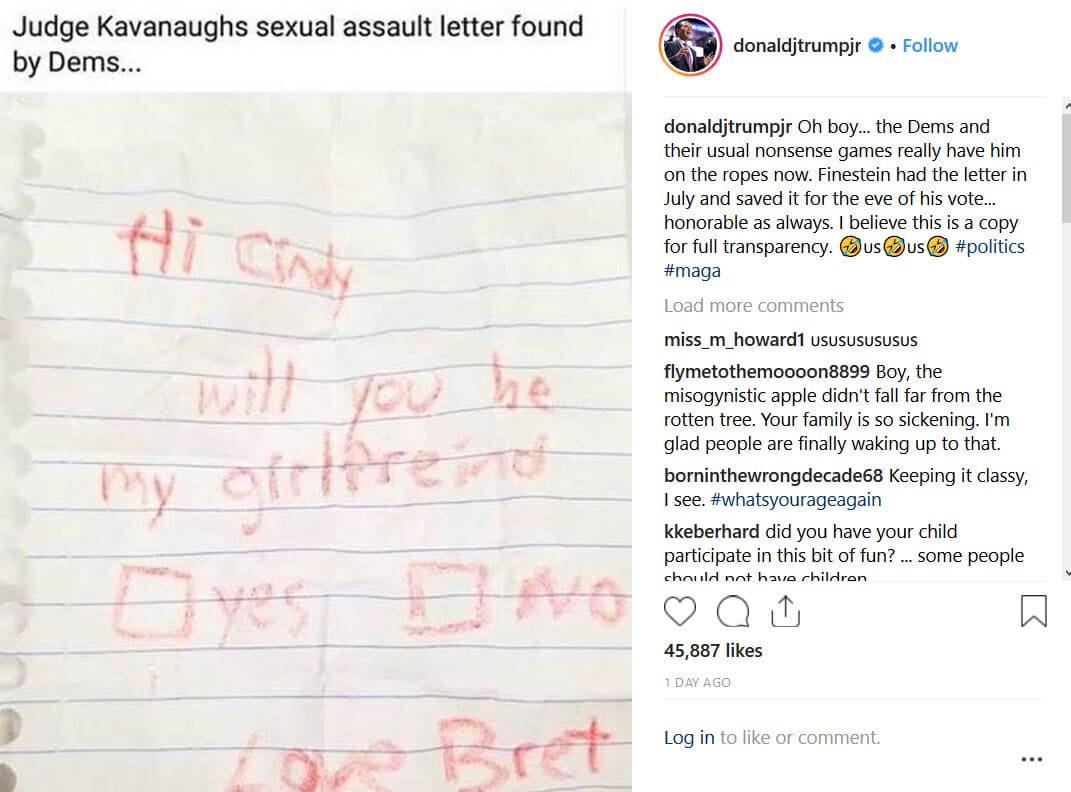 In light of Ford coming forward, there have been questions about the upcoming vote for Kavanaugh's nomination.
Sen. Lisa Murkowski (R-Alaska), Sen. Bob Corker (R-Tenn.), and Sen. Jeff Flake (R-Ariz.) have suggested that the Senate Judiciary Committee should hear from Ford before moving forward with Kavanaugh's confirmation, according to the Hill.
Several other senators have spoken up about Ford's accusations, as Axios points out.
On Monday, CNN reported that Ford's lawyer said her client would be willing to testify before Congress.
The Senate Judiciary Committee is scheduled to vote on Kavanaugh's nomination at 12:45pm CT on Thursday.
READ MORE: