@CantiValerin, a seemingly innocuous Twitter account with no photo and no tweets, has followed President Donald Trump since May of last year. 
While it isn't uncommon for the president to get new followers on his favorite form of social media, @CantiValerin represents a type of Twitter user that makes up an inordinate amount of his more than 42 million followers. It's an "egg" account—a handle without an avatar that appears to be inactive. The term comes from the former default avatar on Twitter that depicted an egg. 
But @CantiValerin isn't an outlier follower. In fact, the account signed up for Twitter and followed the president last May, when Trump's account was flooded with at least 900,000 similar accounts. It appears, however, that accounts like @CantiValerin are becoming the new norm for the president and the rest of his family. 
Data provided to the Daily Dot by the social media analytics firm SocialRank sheds light on the Trump family's Twitter following by breaking down the accounts into eggs and suspected "artificial followers." While neither qualifier is definitive in identifying a fake follower, and there's some overlap between the two terms, they highlight characteristics that are commonly associated with fake accounts. SocialRank uses a number of filters to determine an accounts authenticity. Being unverified, inactive, and following less than 25 accounts are all signs of artificial accounts.
Over 35 percent of the president's Twitter following as of late January comprises egg accounts, according to the data SocialRank. That alone doesn't qualify those as fake, but according to Social Rank, nearly 20 percent of his entire following have strong characteristics of what the company says are artificial followers.
Since October, when the Daily Dot last reported on the president's fake following, the number of egg accounts following @realDonaldTrump has jumped from 13.7 million to 16.8 million. Additionally, 26.9 percent (12.7 million) of the president's followers have never shared any content on Twitter. Another data set, created by the founders of the game Trump or False, backs up that number. 
While the president's army of egg accounts propping up his social media following is well known, the problem doesn't end with him. It reaches every member of his immediate family.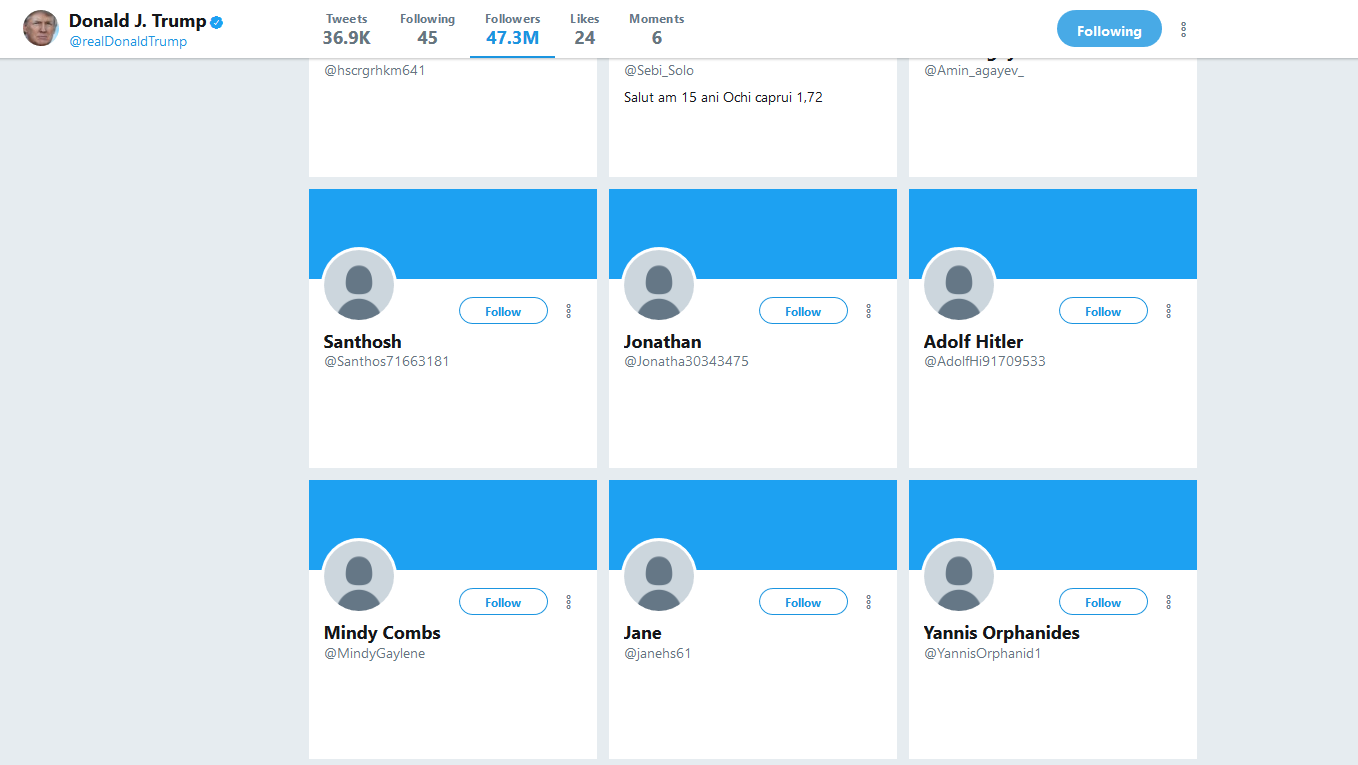 The Trumps' Twitter egg army 
Egg accounts make up more than a quarter of Donald Trump Jr., Eric Trump, Ivanka Trump, and Melania Trump's official @FLOTUS account's following, according to SocialRank's data. Tiffany Trump has the lowest amount of egg followers. Altogether, the Trump family boasts more than 22 million egg followers on Twitter. 
"We're not saying necessarily that eggs are fake," Alex Taub, the co-founder of SocialRank, told the Daily Dot.  "If you look at the 'who to follow list' they are probably on it a lot. So, accounts that come in and log in for the first time they might say 'hey follow the president.' I don't want to say it's not that weird; it's definitely higher than the average user."
Taub said, on average, 5 to 15 percent of an account's following being eggs is normal.
Including egg accounts, SocialRank's data estimates that the Trump family has nearly 12 million accounts following them that match their filters for finding potential artificial followers.
For example, about 10 percent of Donald Trump Jr.'s following is possible artificial. And 26 percent of his followers are egg accounts.
Of all the Trump children, Ivanka Trump boasts the most amount of eggs following her—29.3 percent of her total following—and nearly half of her followers have not posted content on Twitter in the past year. SocialRank said 14 percent of her following exhibited signs of being potentially artificial.
Over 25 percent of Eric Trump's Twitter following was found to be egg accounts, and 8.9 percent matched SocialRank's recommended characteristics for determining "artificial followers." Meanwhile, the official @FLOTUS account has just over 14 percent potential artificial followers.
Tiffany Trump attracts fewer eggs and artificial accounts. Only 15 percent of her followers are egg accounts, and 3.2 percent of her following appears to be artificial, according to the data.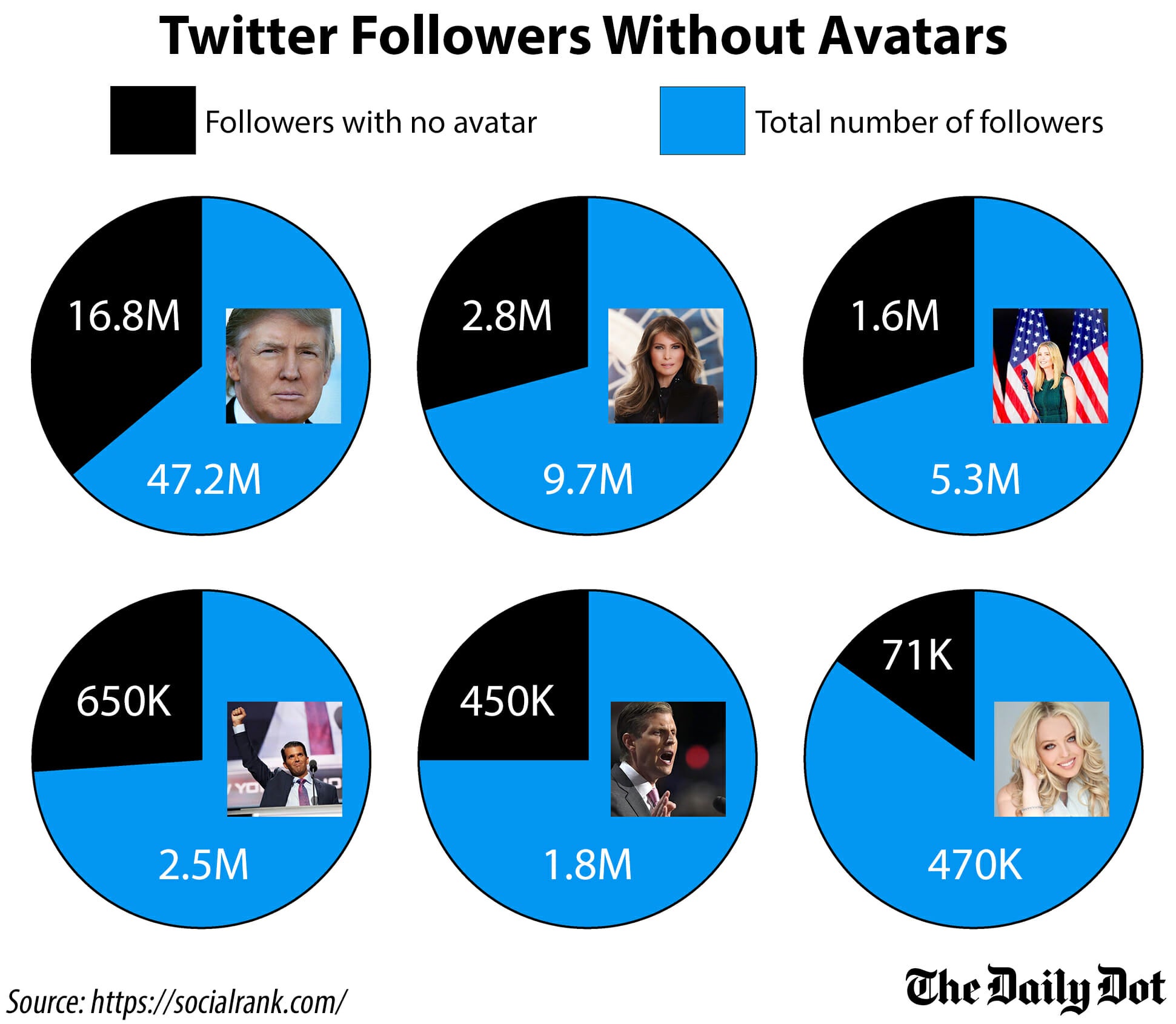 An explosion of fake followers on Twitter
The Trumps' egg army is part of a much larger plague of fake accounts on Twitter.
Last week, the New York Times reported on the business practices of Devumi, which allegedly sold fake followers to athletes, entertainers, and others to inflate their sense of popularity on Twitter. The Times reported that sometimes the fake followers included real people's identities. 
Taub, of SocialRank, said Devumi is just one of "millions of results" people will find when searching how to buy followers.
Earlier this week, Sen. Jerry Moran (R-Kan.) and Sen. Richard Blumenthal (D-Conn.) asked the Federal Trade Commission to investigate "deceptive and unfair marketing practices" of companies like Devumi. In response to the Times report, Twitter said it would "fight hard to tackle any malicious automation on our platform as well as false or spam accounts."
Twitter "strictly prohibits" purchasing or selling of account interactions, which they say are often coupled with "bot (fake) or hacked accounts."
"Any account caught participating in this behavior will be in violation of the Twitter Rules and may be suspended," Twitter's rules read.
Twitter did not respond to a request for comment on this story when contacted by the Daily Dot regarding the number of egg and potential artificial accounts following the president.
It's not clear how the Trump's amassed so many egg accounts and possible artificial followers.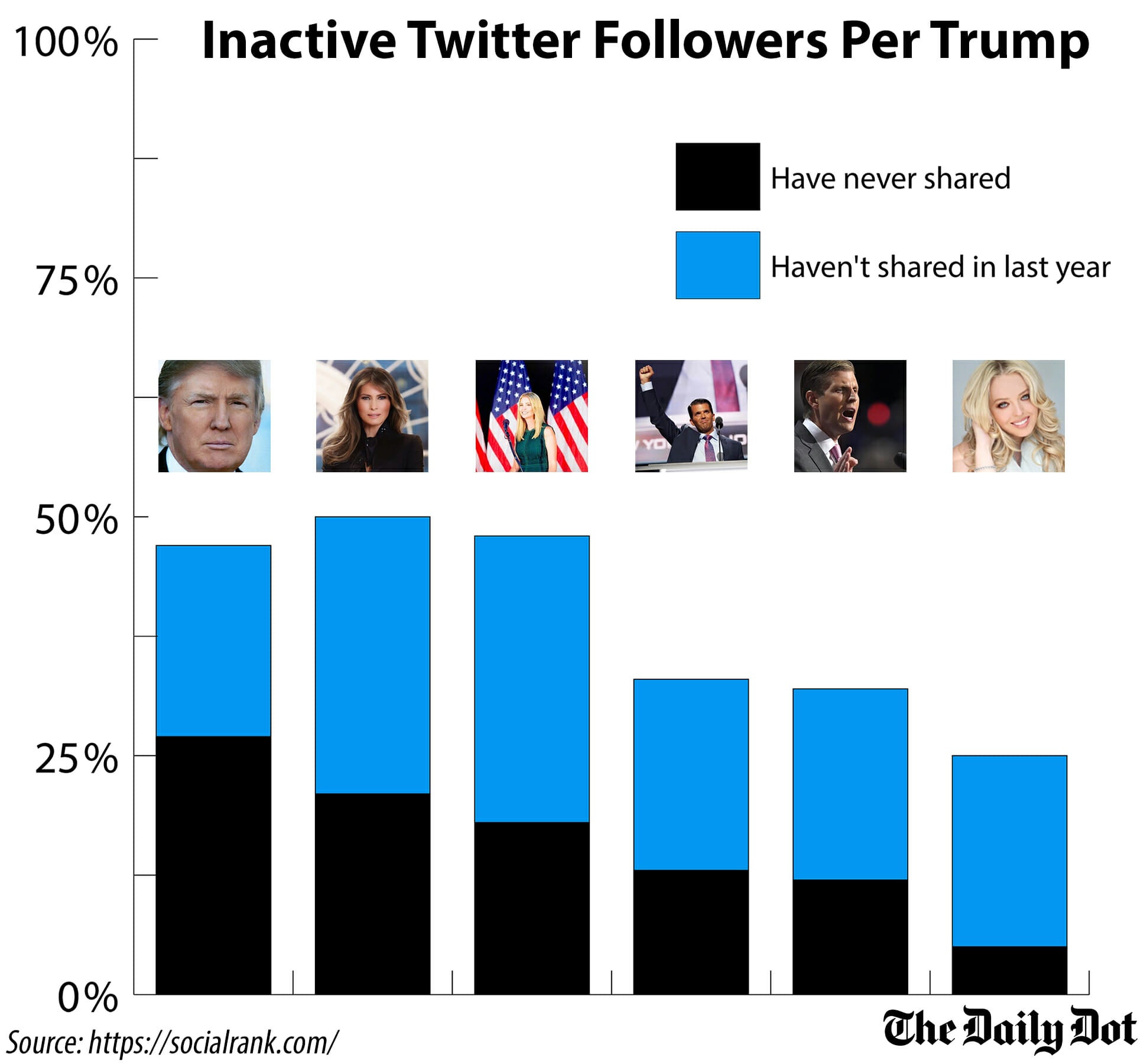 This is particularly difficult to pin down, as Taub points out, because anyone can buy fake followers for any account they want to without the original account knowing. The sheer size of eggs following the president and his family could be the result of a number of things, Taub said. Twitter's onboarding system might have the Trump's listed as "who to follow" when a new user signs up. The first family may also just attract large amounts of people to sign up for Twitter who then decide to never use the platform.
But, as Taub puts it, there is also a lot of "smoke" surrounding the following. 
"It could be who they are, it could be something with the onboarding process, or it could be a symptom of trying to inflate your numbers. It's hard to really determine that," Taub said in a phone interview this week, later adding: "But they're just, every month, every time we update the data, they are just adding more and more inactive or egg or whatever followers. You can't conclusively say they are buying them or doing anything nefarious, it's just there's a lot of smoke."

The White House did not respond to a request for comment by the Daily Dot regarding the number of "egg" and potential "artificial" accounts following the president.
The White House has repeatedly said that the president's social media following allows him to communicate with the American people. White House Press Secretary Sarah Huckabee Sanders said in October that social media allows Trump to "speak directly to the American people without any filter, without any bias."
Given the inordinate amount of inactive accounts propping up the size of the president's Twitter following, it's likely he's speaking directly to less actual people than he thinks.