First the masses took to it. Then top celebrities like Britney Spears, Adrian Grenier, and Ne-Yo joined in. Now, every brand worth its weight in Facebook likes is on Cinemagram, the social network for GIF artists.
The app is bolstered by an intuitive interface that allows users to take scenes like a waterfall and turn them into seamless looping GIFs By highlighting certain parts of a video feed, a user can select what parts to animate, and in turn create works of suspended surrealism, like those produced by Brazil's Bruno Stecanella.
Since being launched by Canada's Factyle in February 2012, Cinemagram has registered more than 5 million downloads and currently collects about 100,000 GIFs a day.
Given the recent resurgence of the GIF, culminating with it being named Oxford English Dictionary's "Word of the Year," major brands and production companies are increasingly turning to the decades-old file format to reach the kids that get their news from Tumblr instead of the Times. And increasingly, that means joining the conversation on Cinemagram.
They're doing more than just creating GIFs, according.
"They're using Cinemagram as a teaser to drive social engagement and mobile traffic around their longer-form content," Cinemagram staffer Andre Charoo told the Daily Dot. "For example, [the film] Mama Movie gained about 12,000 reposts and over 100,000 views on their content in less than a month with a follower audience of only 500. Not sure if any other social platform can provide that sort of engagement around video content."
Here's how five top brands stack up on Cinemagram.
1) TMZ
Say what you want about the celebrity news organization known for its smut, gossip, and prying videographers. Harvey Levin's TMZ is masterful with its GIF, cross-posting provocative snippets of its best videos on Cinemagram to its 6,400 followers. Nearly all of its 31 GIFs have collected more than 500 likes each. They feature celebrities like Usher, Skrillex, and Lindsay Lohan getting into all sorts of trouble. This pelvic-thrusting GIF of Psy is TMZ's most popular GIF, having collected more than 2,200 notes.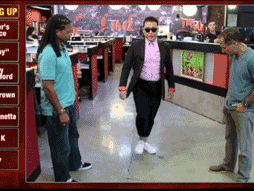 That's "football" in the European sense of the word. As part of its Nike Football promotion, the sports apparel giant is using Cinemagram to animate clips of soccer stars like Cristiano Ronaldo to its 67 followers.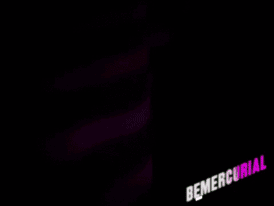 3) USA Network
Between its accounts for TV shows like Suits and White Collar, the USA Network has amassed about 500 followers. Both accounts have used the app to promote upcoming episodes of shows.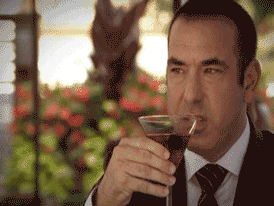 If you didn't seen DreamWorks' Rise of the Guardians and can't wait until its DVD release in March, don't panic. The animation masters at DreamWorks have been posting GIFs from the fantasy-adventure film to its 48 followers. While the GIFs are high quality, they don't take full advantage of Cinemagram's ability to create smooth, looping animations.
After more than 135 years, one of the country's oldest and most decorated media organizations has embraced the GIF. To date, the Post has only published two GIFs: Adele at the Golden Globes and Beyonce at the recent presidential inauguration. But they have collected more than 350 likes combined—almost one per each of its 380 followers—and it's a promising sign for the future of the publication.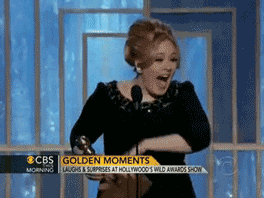 Photo by dv_flick/Flickr