On this week's episode of CSI: Internet, we have the Case of the Apparently Angry Restaurateur: earlier today, a Redditor posted a photo with the headline "Restaurant closes, apparently they didn't like the town." It showed a letter, displayed in a window, where it appeared the owners of Sava! Italiano in Amarillo, Texas, were announcing their closure and burning some bridges in the process.
"You sorry assed, rednecked sacks of goat sperm had no idea what you had here!" the note begins before launching into rant that could easily be applied to most of the rural, "uncultured" U.S. And who wouldn't be sorry to lose the culinary presence of the person who penned this lovely series of images?
Your main question here is probably about the sister who smells like pasta—what on earth is happening there—but now the question of authenticity has reared its irritating head as well, all because Sava! Italiano issued an unconvincing denial on Facebook: "Don't believe all you hear and see folks!"
This somewhat evasive comment, followed up by claims that Sava! Italiano had been out of the building for two weeks, and that the photo was staged by someone else who had gotten inside the restaurant (or altogether faked), motivated one Redditor to do a little sleuthing. He found some good evidence on Google Street View that the sign was, at least, in the correct geographic spot.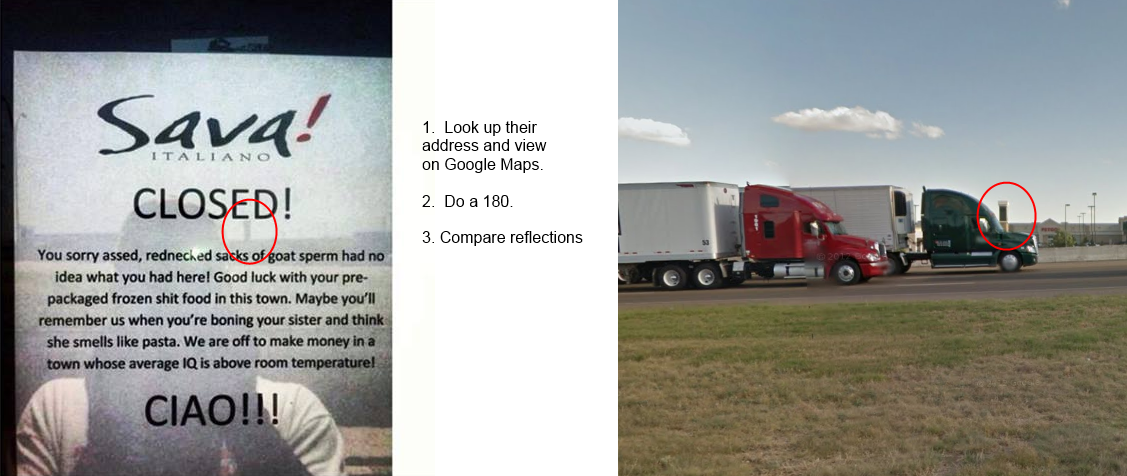 Whether it's the genuine article or not, Sava! Italiano—which is moving to Lubbock, Texas, in search of better fortunes—may be reaping the consequences. Several people have reposted the offending photo on the restaurant's Facebook page, accusing them of anti-Texas sentiment, insulting their food, and promising they will fare no better in their new location.
But could this have been a ploy for revenge? Perhaps the work of a disgruntled employee? If the photo is indeed a malicious prank, as the owners maintained, it's an effective one. It's even showed up on the restaurant's defunct Urbanspoon page, where, to be fair, the reviews are a bit mixed. "I ate half of a chicken breast that was raw," writes one disappointed gourmand, "and the response from the waitress was 'that happens sometimes.'"  
Photo by Mike Wilson/Flickr