Who do you want to keep from seeing your digital data most: The government, your boss, or your family?
A recent survey of 2,500 people conducted by online polling firm Survata asked respondents about how concerned they are about a bevvy of different entities gaining access to their personal electronic data, such as Web history, downloads, and cell photo data. Survata told people to rate (on a scale of 1 to 10) their discomfort of having their information revealed to their parents, their significant others, their boss, the National Security Agency (NSA) and Google.
Surprising, perhaps: Survata found that people were more concerned about data being revealed to Google than to the NSA.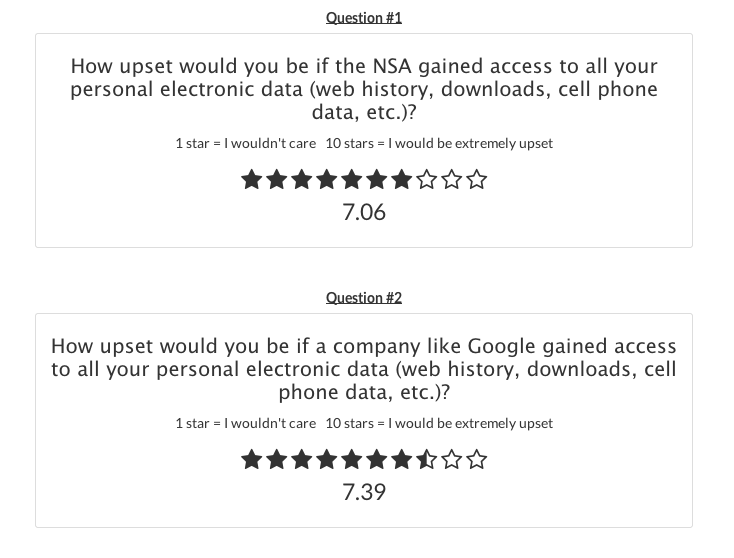 Source: Survata
When it came to the people respondents knew personally—family members and coworkers—concerns about personal data exposure were considerably lower: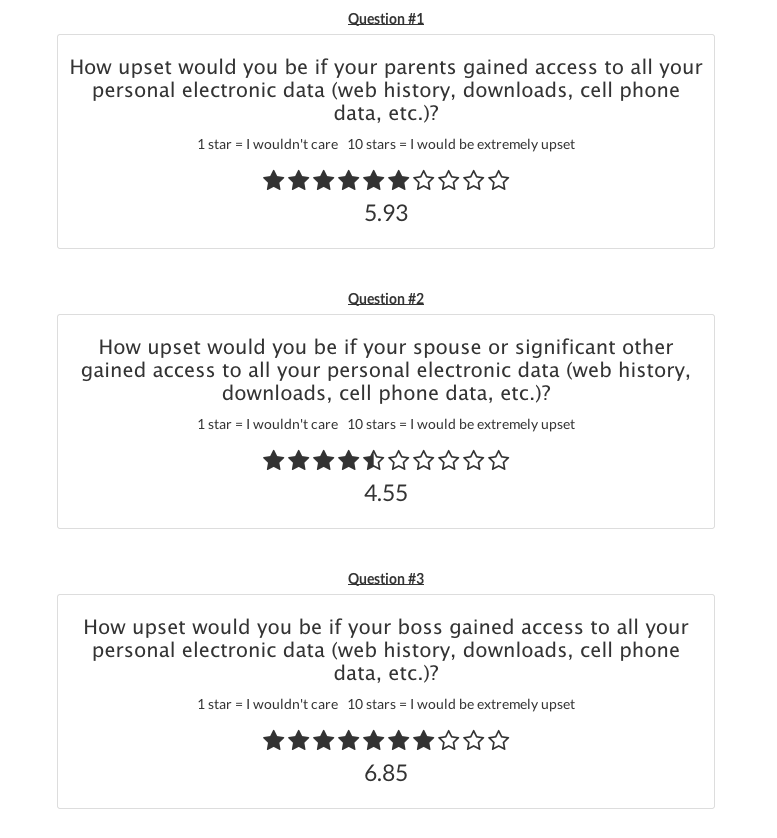 Source: Survata
In a sense, these results shouldn't be all that surprising. People are more likely to trust people they know with their personal information than government bureaucrats or a big, faceless corporation.
The deeper concern about Google than the NSA could be tacked up to a belief that, even if the NSA is snooping on a huge chunk of what everyone does online, they'll only act on the information if they believe you've done something wrong—or they just think your nude photos are hot. Google, on the other hand, will doubtlessly use every bit of information they have about you to more effectively target ads urging you to buy overpriced junk you don't actually need.
Also, in terms of how much of personal data about individual Internet users is actually collected by each organization, it's a safe bet that Google probably knows far more about you than the government does. Remember: Google is only letting you use Maps, Gmail, Docs, Google+ and everything else it puts out for free in exchange for sucking up every last bit of data you put out over its services. As the saying goes, "if you're not paying for it, you're not the customer, you're the product."
Then again, Google can't send you to Guantanamo.
Photo by Kristina Alexanderson/Flickr (CC BY 2.0)