As the controversy around the passenger jet shot down in eastern Ukraine heats up, one Russian rebel is manicuring his Facebook page. 
On Vkontakte (VK), Russia's equivalent of Facebook, Igor Ivanovich Strelkov, a former Russian military officer and current Defense Minister of the separatist Donetsk People's Republic, first posted an update that appeared to take credit for the downed Malaysia Airlines passenger jet. Flight MH17, a Boeing-777, was shot down near the town of Torez killing all 298 people on board. 
The VK post taking credit for the downed plane is now deleted, but Internet archive tool the Wayback Machine hasn't forgotten.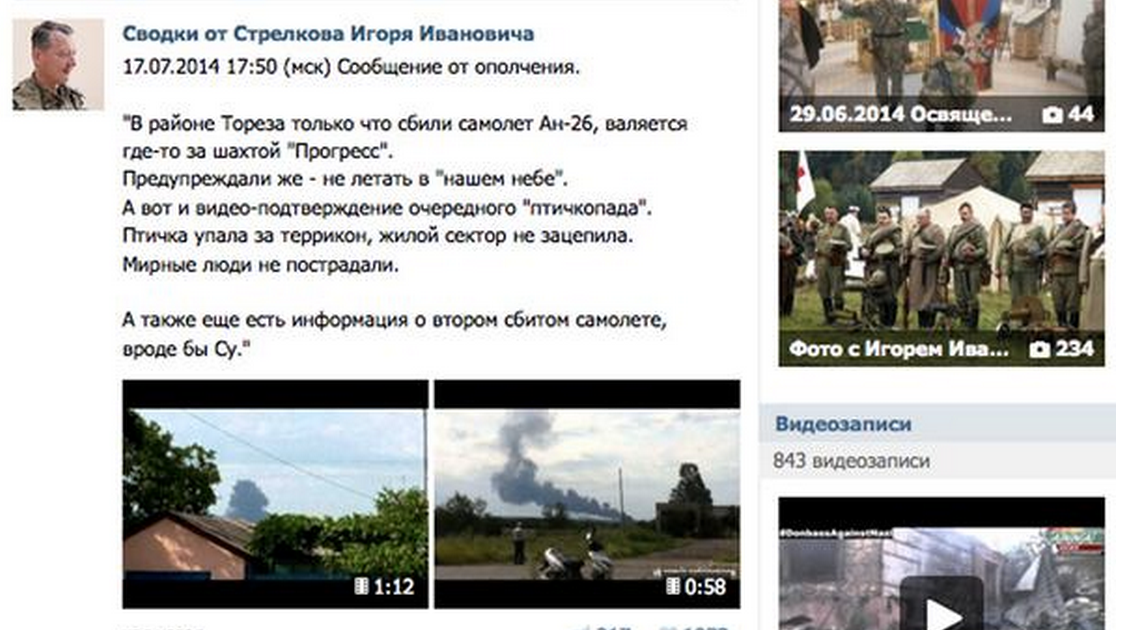 One of the videos linked on the post is now available on YouTube. The full text of the post, translated roughly: 
"In the area of Torez, we have just shot down an AN-26 airplane, it is scattered about somewhere by the Progress coal mine. We warned them – don't fly in our sky. Here is a video confirmation of the latest bird drop. The bird fell beyond the slag heap, it did not damage the residential sector. Civilians were not hurt. There is also information about a second downed airplane, apparently an SU."
As yesterday's events continue to unfold, Strelkov—or whoever is managing his public presence—posted a flurry of updates to both VK and Twitter. The strangest of them appears to mourn the death of "a whole lot of expensive and rare birds."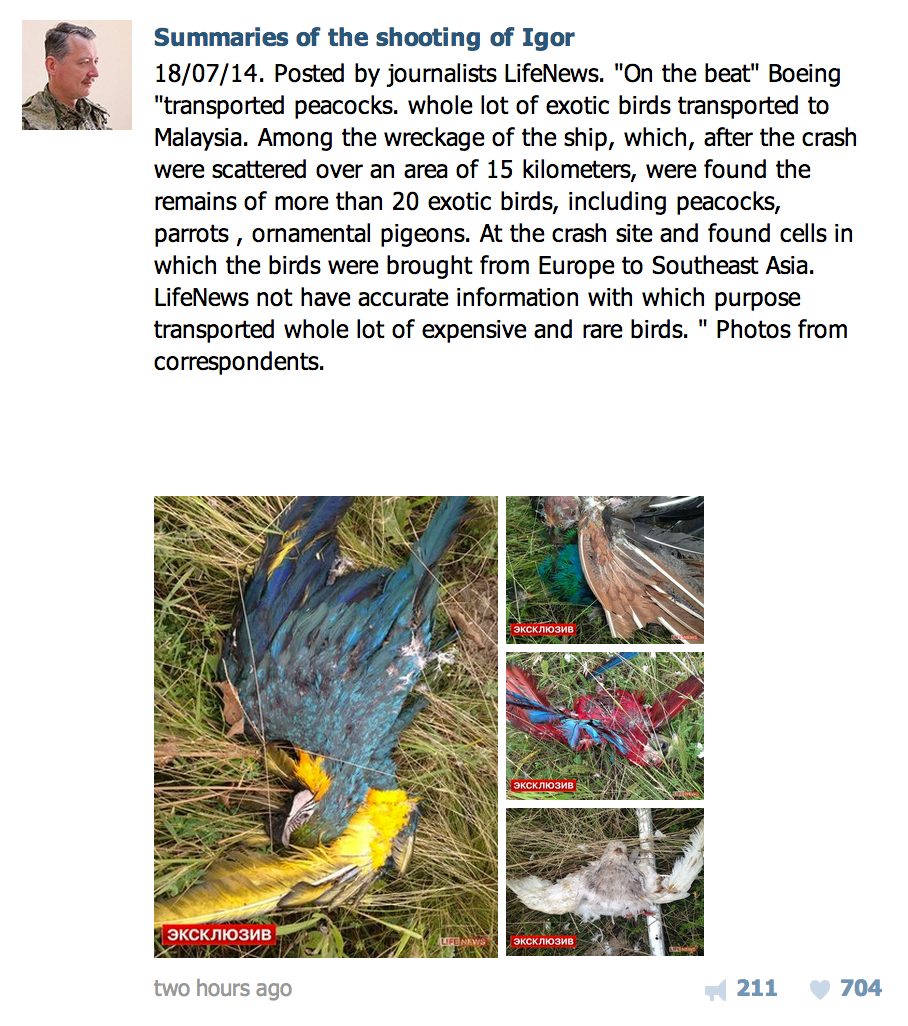 We now know that the flight was also transporting a number of AIDS researchers to the 2014 International Aids Conference in Melbourne. Beyond VK, Strelkov hasn't deleted the tweet linking to yesterday's post, though the link is now broken:
17.07.2014 17:50 (мск) Сообщение от ополчения. / / В районе Тореза только что сбили самолет, вроде бы Ан-26, вал.. http://t.co/YL2Us75mHC

— Сводки и Комментарии (@strelkov_info) July 17, 2014
Apparently members of the Donetsk Republic told Buzzfeed's Russian correspondent that the page is "a fake made by fans." Strelkov's VK page now contains a disclaimer claiming that much of the page's material is taken "from public sources (either from the militia, or from witnesses or from journalists)." Presumably, those sources are also sympathetic to pro-Russia rebels in the region. After ousting its founder, Pavel Durov, VK is widely believed to be under the Russian government's control.
Donetsk Republic tell me the Strelkov VK page @McFaul and others are citing is a fake made by fans. https://t.co/lrBzlTQRKj

— max seddon (@maxseddon) July 17, 2014
H/T AmericaBlog  |  Photo via takomabibelot/Flickr (CC BY 2.0)