We all like making a little dough and seeing our investments pay off, which is why the "stonks" meme, where a blank-faced, smooth-skulled, contented 3-D model man wearing a business suit watching unlimited growth take off on a blue numbers chart behind him, has remarkable staying power.
The man in the meme is a character called, appropriately enough, Meme Man. He first appeared in 2017, according to KnowYourMeme.
And he's been a recurring character in a series of surreal memes that first appeared on a Facebook page called speshmemefresh, according to VICE. 
Meme Man expresses nonsensical, nonlinear narratives with the occasional splash of twisted logic which might be genius or might just be deranged. The word "stonks," an intentional misspelling of the word "stocks," goes to show just how absurd it might be.
What is the Stonks Meme?
In his "stonks" manifestation, that harebrained logic often takes dirt simple financial advice—which often isn't the most reliable, or if you think about it, might actually be pretty stupid —and wraps it up as a deadly smart recipe for financial domination.
One viral example on the r/dankmemes subreddit shows the meme with the caption "when your mom gives you $10 for food and doesn't ask for the change"—a well-worn path to billionaire status.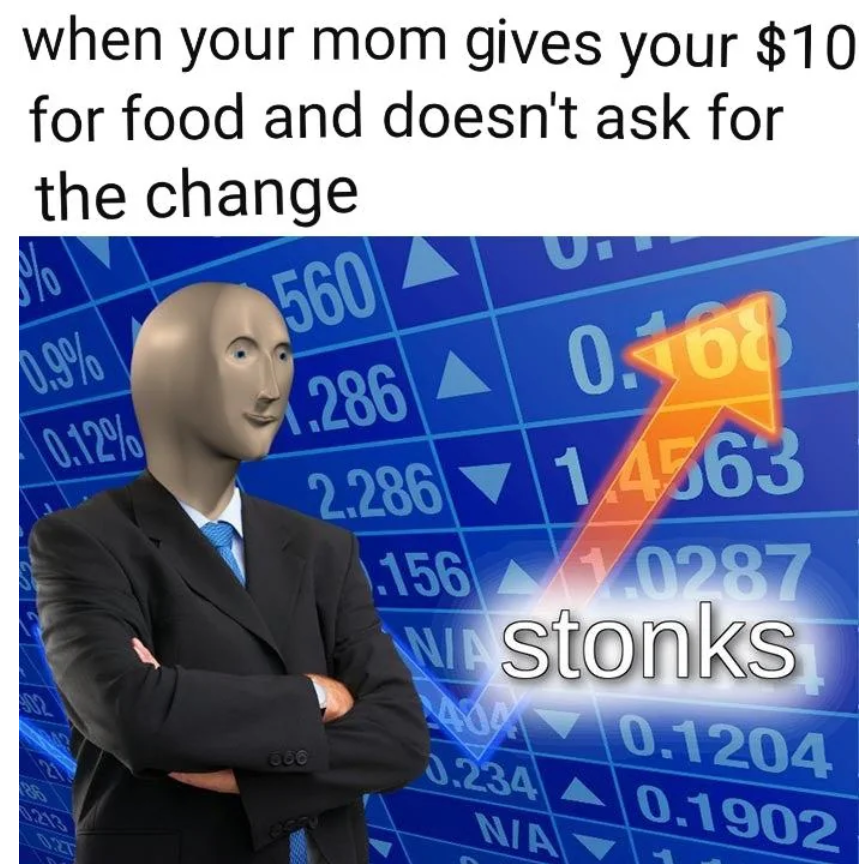 The "stonks" in the meme can also refer to fluctuations and trends posters observe in the attention economy—for example people noticing that posting about certain topics gets them a lot of attention. That premium on views is its own form of "stonks," as one poster realized during the beginning of the COVID-19 pandemic.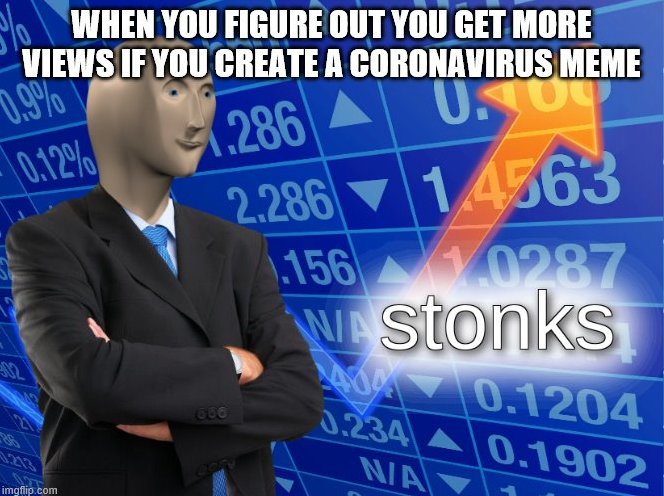 The inherently surreal nature of the meme makes it a good fit for all sorts of absurd situations.
One viral example on Reddit shows somebody appearing to text their partner begging to be taken back.
"Please don't do this, I seriously can't live without you, I didn't cheat on you," they text before accidentally sending the stonks meme. "I didn't mean to send that" is cut off halfway from the bottom of the image.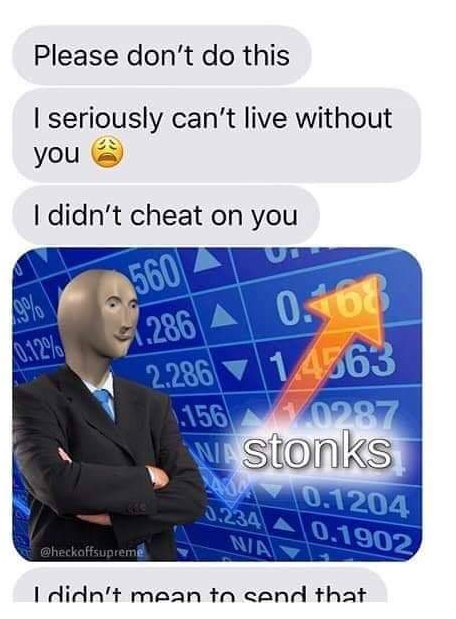 A close cousin of the stonks format is "helth," which shows the meme man donning a doctor's coat and stethoscope in front of a neon green electrocardiogram. According to KnowYourMeme, the meme is often posted as a humorous comment on poor health decisions.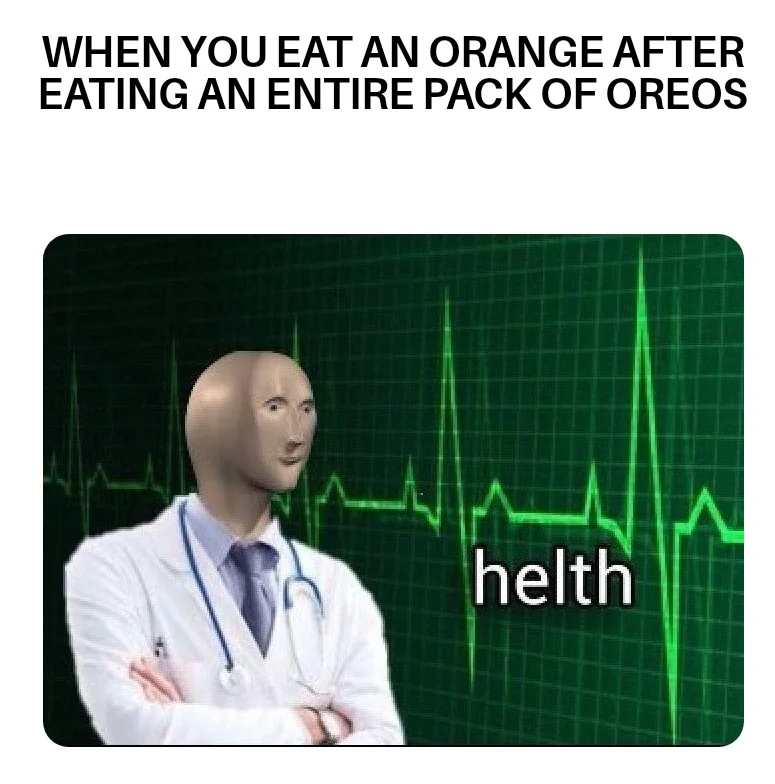 Usage of the meme is often framed by a terrible long-running health decision being instantly mitigated by a small healthy step, like eating an orange after a whole pack of Oreos, or taking a ten-minute walk after playing a video game for 20 hours.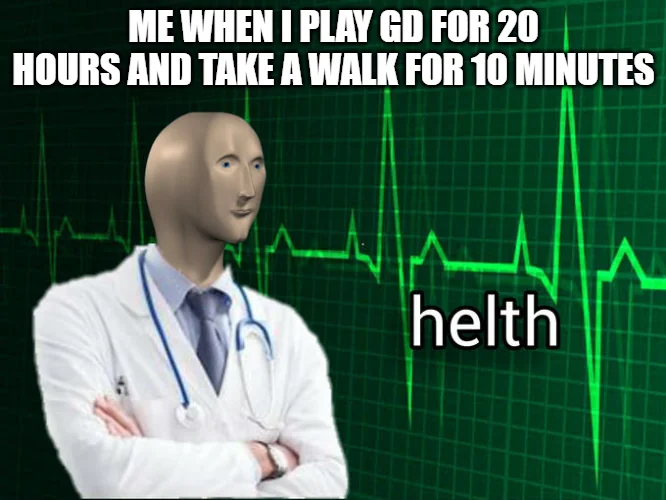 "Stonks" really took off in a stonky fashion during the whole GameStop/WallStreetBets affair, where retail investors on Reddit's r/WallStreetBets slingshotted the price of the flagging video game retailer GameStop's stock in a big way that got attention all over the world and made some people a stack of cash (though others who didn't sell in time were left "holding the bag").
As the GameStop stock price soared, posters and observers noticed that it seemed like a real-life example of the hare-brained logic of the stonks meme coming true—go all in on a position that doesn't make sense and reap illogical but exciting rewards.
"Stonks" became common parlance for some mainstream financial publications to discuss the meme stonk phenomenon.
"Meme 'stonks' and the market," was the title of one Financial Times podcast from 2021, which observed that "meme stock culture is distorting reality, and it might be here to stay."
"Memes have gone from attempting to mock or reflect reality to, in some respects, helping distort it," said the paper's global finance correspondent, a testament to just how far Mr Meme came from his surreal artist days to when he put on a business suit and decided to get into the market.
Which just goes to show that the same thing is true for memes as it is investing—the best time to start posting is yesterday, and the second best time is now.

We crawl the web so you don't have to.
Sign up for the Daily Dot newsletter to get the best and worst of the internet in your inbox every day.