National Voter Registration Day is a great opportunity to take stock of how far we've come, as well as how far we have to go. One of the issues still plaguing the voting process in the United States is the preponderance of voter ID laws.
Laws that require individuals to present one of several forms of identification in order to vote are popular in both parties. Republican governors and conservative state legislatures have been pushing them by claiming that they are needed to prevent voter fraud. However, as numerous studies have shown, voter ID laws disproportionately disenfranchize poor and minority voters, many of whom don't have any of the required forms of ID and don't have the time or money to travel to often-distant state offices to get them.
Meanwhile, voter fraud itself is vanishingly rare. A professor at Loyola University Law School in Maryland looked at over a decade of data and found only 31 incidents in "general, primary, special, and municipal elections from 2000 through 2014." That's out of "more than 1 billion ballots … cast in that period," according to Professor Justin Levitt.
Democrats often point out that, in addition to poor people and racial minorities, the conservative-led efforts to enact voter ID laws often target another reliably liberal voting bloc: college students. Voter ID laws in North Carolina and Wisconsin specifically exclude student IDs, even though these are often the only forms of ID that out-of-state college students have for the state in which they attend college.
Voter ID laws may be a pernicious social ill that undermine the basic democratic process, but they are the law of the land in many states. The National Conference of State Legislatures has put together an excellent guide to the state-by-state identification requirements that you'll need to be aware of when you head to your polling place on November 4. Below, used with their permission, is their color-coded map showing you the legal lay of the land.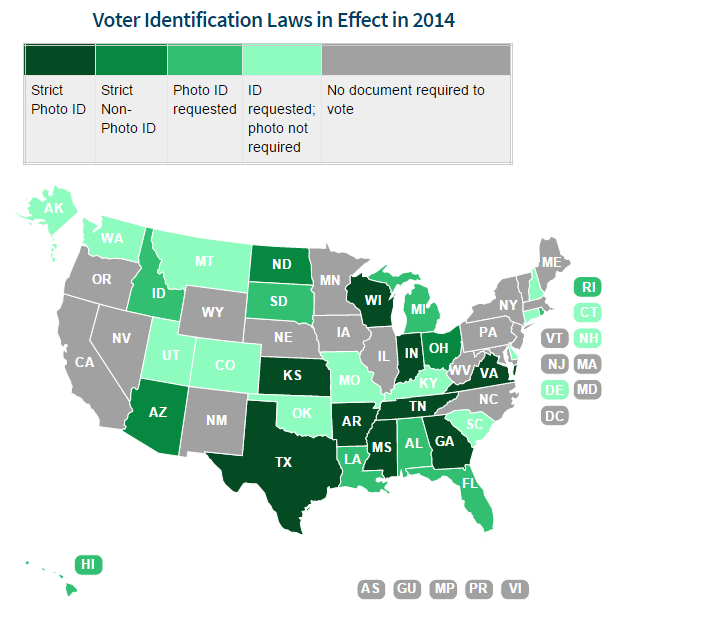 Photo via Warren Rohner/Flickr (CC BY-SA 2.0)