The speedometer is a dreadfully underappreciated tool, an aspect of cars we take for granted despite the dangers they protect us from and the speeding tickets they keep us from needlessly getting. Should your car's speedometer ever break, you'll suddenly become acutely aware of its wonders, but thanks to your smartphone, you'll never need to go without. Here's the best speedometer app for iPhone and Android. Use them in your car, on your bike, or if you need to track your speed and trips. These speedometer apps will come in handy more than you might think. 
The best speedometer app of 2019: GPS speed apps for iPhone and Android
1. Speed Tracker iOS Free, unlock the full version for $3.99
Speed Tracker is a combination speedometer app and trip computer, telling you how fast you're going and how you got there. Ever wonder how what your average speed is on your morning commute or want to how much time you spend driving to the store every week? Speed Tracker's trip computer lets you know your average and maximum speed, distance covered, and how much time you spent moving and stopping. Add on features include a full HUD, Map, and Trip Log. When taken out on a road test, the app accurately reflected the speed on my vehicle's speedometer. The basic speed app is free but you can upgrade to get built-in maps and a head-up display.  
What's safe while you're driving isn't always safe when you're riding a bike. Speed Speak Talking Speedometer is the perfect speed app for sports enthusiasts who want to track their speed without taking their eyes off the road. When you activate the app, it will tell you your current speed at whatever interval you desire, be it when your speed changes or at set times. Safety is key when engaging in any sport, but if you're going fast enough to need a speedometer, you shouldn't be looking at a screen when you do it. When taken out on a road test, the speedometer app for iPhone accurately reflected the speed on my vehicle's speedometer.
READ MORE:
SpeedGlow Speedometer is the most expensive option on this list, but it's also one of the best. This colorful app features a simple interface that hides a bunch of wonderful features. Users can set up their interface to show time, direction, speed, and even alerts you if you go over the speed limit. SpeedGlow includes a HUD mode, which projects the image from your phone onto your windshield when you place your phone on the dashboard. Just make sure you've got a way to secure your phone to your dash, either with a holder or duct tape. Most importantly, when taken out on a road test, the app accurately reflected the speed on my vehicle's speedometer.
Ulysse Speedometer wants you to know that no matter if you're traveling by rickshaw, helicopter, car, or train, you deserve a host of features in your speedometer app. Ulysse has a set of handy options that let you leave it on without needing to switch to other apps. You can control your music, check your speed, altitude, measure your acceleration, and check a compass all from one screen. Windshield HUD support and speed limit warnings make Ulysse a solid companion for work commutes, but it's fun to use on its own. It supports display speeds of up to 1160mph, making it an interesting travel companion on flights. Understandably you might be worried about your battery life, but Ulysse monitors both its life and temperature. As with the other apps, when taken out on a road test the app accurately reflected the speed on my vehicle's speedometer. If you're looking for a simple app,Ulysse Speedometer can seem overwhelming, but no one offers more features.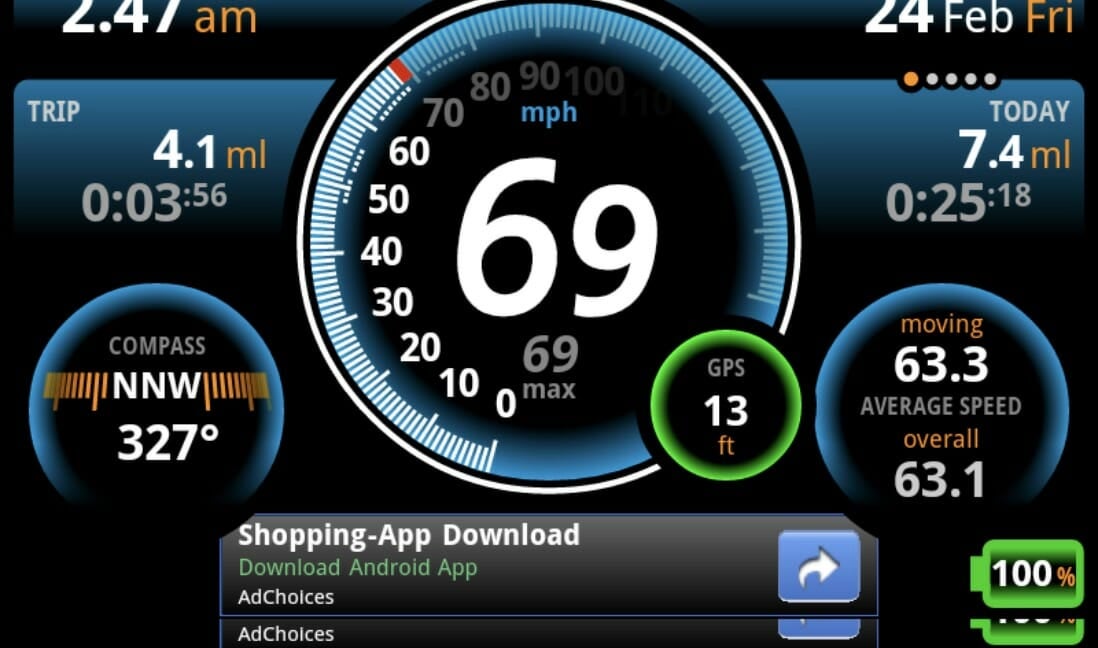 This bright HUD speedometer is a free GPS-based device that earns points for its solid design and diverse user experience. Along with its standard screen and HUD modes, DigiHUD Speedometer offers a floating widget that shows your speed on your homepage in case you're traveling by some method you can't control like a train and want to check your speed. This app's compass feature is sharp and easy to read, while the speed alert warning comes in handy when you're using the app while driving. While it doesn't track stats as deeply as some other apps do, DigiHUD still monitors your odometer, trip distance, top speed, and average speed with each use. We took this app on a road test and can report back that it accurately reflected the speed on my vehicle's speedometer.
Editor's note: This article is regularly updated for relevance.