The reporter was in New York City and Edward Snowden was thousands of miles away, in Moscow. But, thanks to the American Civil Liberties Union, the interview was easy to conduct because of the so-called Snowdenbot, a wheeled-robot that the whistleblower uses to hang out, communicate with people in the ACLU offices, and roam around via keyboard controls.
During this recent Snowdenbot exchange, Snowden was speaking with Ben Wizner, one of the ACLU lawyers who had traveled the world for the last year in partnership with Snowden, and Julia Prosinger, a German reporter writing an article on the Snowdenbot. In the middle of the conversation, Prosinger suddenly fainted.
Snowden, who suffers from epilepsy, immediately knew what was happening. According to those in the room, he told Wizner exactly what he needed to do and then calmed Prosinger down once she came to.
 Prosinger wrote of the incident:
"I wake up, my head lies bedded on a sand bag, my body is in the recovery position. A calm voice is coming from the screen. 'The first fits are always the worst,' Snowden says. I am lucky: Snowden is not only a patriot or traitor, he is also an epileptic. He instantly recognised what was happening to me. He tells me that he was only diagnosed when he was 23 years old. When he fled the US a little more than a year ago, he told his employer that he had to go away for a few weeks for treatment for his epilepsy. Then Snowden apologises for making me look at the flickering screen, it had triggered the fit, he says."
The Snowdenbot, which you can see in a photo below, has already made an appearance at a TED talk. The ACLU is considering unleashing more around the globe, so Snowden can appear and move wherever he wants, despite being stuck in Russian exile.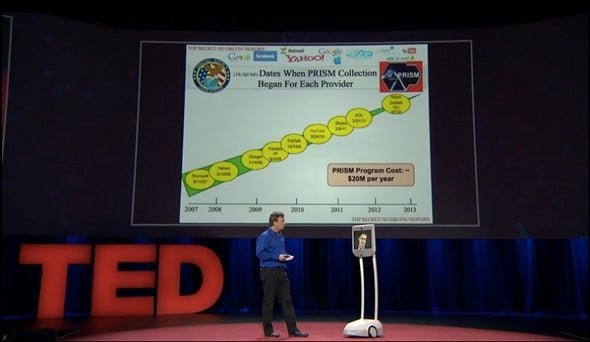 Photo via TED
 Prosinger continues the tale:
"Ben Wizner brings a glass of juice. He is moved. He has been travelling for a year, because Snowden is stuck in Russia. He speaks where Snowden doesn't have a voice. For a year now he has literally been Snowden's right-hand man. He just followed Snowden's advice via Skype and stopped me from falling against the metal filing cabinets in his office. 'That's Ed how I know him. The empathy, the clear voice, the care,' says Wizner."
For those keeping score at home, robot-Edward Snowden administered medical care on an epileptic seizure victim from 4,600 miles away.
H/T Techdirt | Photo via TED