When the ACLU's Ben Wizner joked on stage that Edward Snowden was appearing on the screen behind him routed through "seven proxies," technology journalists from around the world completely missed the joke. 
You see, claiming to be behind seven proxies is one of the oldest jokes on the Internet. According to Know Your Meme, it's been in use since 2007. The sarcastic remark is used to jokingly bait someone who is trying to find your location through the Internet. Telling someone that you're behind seven proxies is a joke playing on most people's poor understanding of how to use the Internet securely.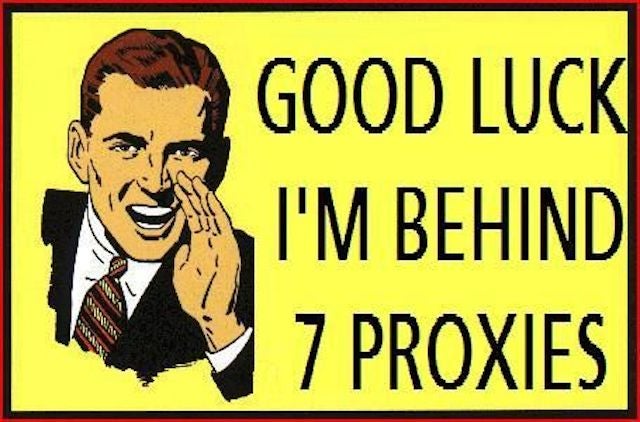 Image via Know Your Meme
And, sure enough, that poor understanding was promptly displayed by everyone from CNN to the Guardian as they took to Twitter to report that Snowden was appearing through seven proxies, which they thought explained the somewhat choppy Google Hangout.
#Snowden appears onscreen with U.S. Constitution as a backdrop. Signal is being routed through 7 proxies. #SXSW

— cnntech (@cnntech) March 10, 2014
Edward Snowden, on a Google Hangout, apparently routed through 7 proxies. #sxsw pic.twitter.com/kLEo0zDIvx

— Martin Bryant (@MartinSFP) March 10, 2014
That's Snowden, live, via seven proxies. On screen at #sxsw https://t.co/zObwGG5Zs1

— Jemima Kiss (@jemimakiss) March 10, 2014
Here's Edward Snowden appearing on satellite through SEVEN proxies at #SXSnowden pic.twitter.com/jbKXh9kGCa

— MashableLIVE (@MashableLive) March 10, 2014
.@benwizner warns that video of Snowden may be choppy as he's tuning in through 7 proxies. #sxsw #asksnowden

— Kashmir Hill (@kashhill) March 10, 2014
Snowden appearing through 7 proxies to SXSW festival. Choppy video feed with We the People preamble to US constution as the backdrop

— Dominic Waghorn (@DominicWaghorn) March 10, 2014
Screenshot via ACLU/YouTube