For an idealistic technological utopia, San Francisco is fraught with problems. The city is in the midst of a housing crisis—a "median"-priced home costs a mere $820,000, and all but the most affluent are being pushed out of the city by rocketing rent prices. As tech company employees flock to the region to suck at the Silicon Valley teat, its roadway congestion has earned it a consistent top three spot among the worst commuting metros in the country. And on top of that, it has a homeless population of roughly 7,500, many of whom have mental illnesses, drug addictions, or both. If you Google "San Francisco problems," it's the latter that gains the most attention, but not necessarily because it's a societal issue that needs fixing—because of all of the poop.
"I will say there is more feces on the sidewalks than I've ever seen growing up here," Mayor London Breed remarked after being sworn into office in July. The homeless (and poop) problems on the city's sidewalks are affecting its tourism, and giving conference organizers pause as to whether they want to throw events in the area. One medical convention that's taken place regularly in San Francisco since the 1980s was driven away by the problem earlier this year.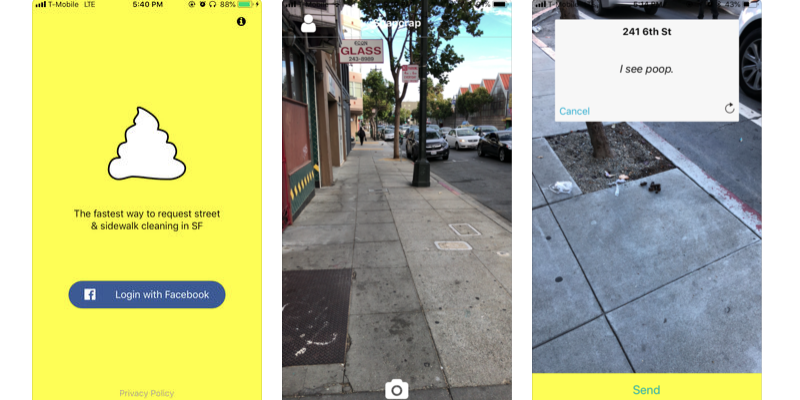 After moving to San Francisco from Vermont,  24-year-old Sean Miller decided to take the poop problem into his own hands. Not literally, of course: He created an iOS app, Snapcrap, that allows people to report feces to the city's Public Works Department for cleaning. According to the Los Angeles Times, San Francisco normally receives about 1,300 complaints per month to clean up human and animal waste and has a 311 app where citizens can do so. The Snapcrap app could expedite that process, however. The app, whose logo is akin to Snapchat—a white poop emoji on a yellow background—lets users snap a photo of the offending poo along with an automatically generated message and your current GPS location. A ticket is also created so you can keep track of whether it's been dealt with or not.
Miller is even working with city officials so his app better syncs with their systems. The app also currently uses Facebook for logging in, a requirement he'll be nixing so more people can use it.
While the app currently only scores a 2.9 out of 5 stars in the App Store, a number of reviews are exceedingly positive. "Last week, had to throw out my shoes from stepping on poop on the sidewalk," Jordan D H wrote. "Having an easy way to inform the city where they need to clean up is the first step to mitigating this problem." Another iOS user, ToliCodes, said that they "really hope this takes off so that we can start cleaning up the city, especially SOMA and the Tenderloin."
Of course, San Francisco isn't the only city with these sorts of problems—L.A. has a surging homeless population as well. And other areas have experienced a variety of poop-related problems, both animal and human.
Ultimately, using an app like Snapcrap is only a Band-Aid, a solution for cleaning up one of the messier (and smellier) results of a city's homeless problem rather than doing anything to fix the main problem itself. Luckily others, like Mayor Breed, are working toward increasing the amount of affordable housing in the area and addressing the city's feces-filled streets.