Some things just don't mix well together, like oil and water, or Alec Baldwin and a sense of humility.
Another mismatched pair to add to the list: Hello Kitty and Playboy.
Hello Kitty, of course, is the iconic Japanese brand representing a specific strain of kawaii innocence. It's kid-friendly and cutesy. Compare that with Playboy, the American icon representing the special strain of chlamydia that lives inside Hugh Hefner, the vigor of the infection actually keeping him alive. They don't go together. 
Yet together they are! Very expensive camera maker Leica made a limited edition shooter with Hello Kitty, but all tarted up in Playboy bunny ears, emblazoned on the frame. The camera's not the only gadget decorated with this wacked-out emblem: There's an iPhone case for sale with sexy Hello Kitty, too.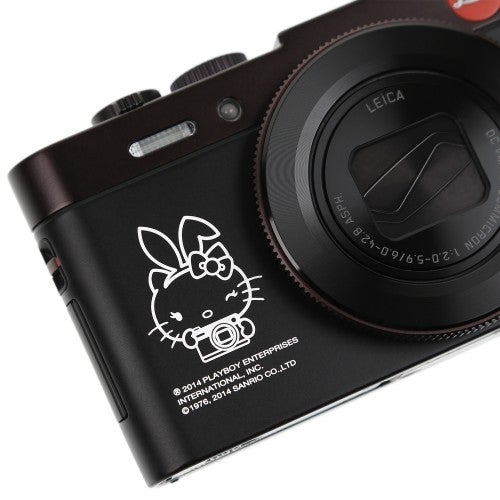 Why, you may ask, does this exist? What demographic is this appealing to? It's very Lolita, and by that I mean it's thematically pedophilic, not a masterwork of fiction.
These monstrosities exists because it's Hello Kitty's 40th anniversary this year and it's Playboy's 60th and a designer decided to pair the brands together. "People thought I was crazy," Sarah Andelman, the usually excellent creative director of fancy-ass Parisian boutique Colette, told Style.com. "but now everyone agrees they look amazing together." Colette is actually selling a collection of Playboy Hello Kitty gear, most of which shows Hello Kitty dressed up like a seductive French maid.
I haaaaaate it.
Don't get me wrong, Playboy publishes well-written editorials and the photos are harmlessly cheesecake, but Hello Kitty is associated with children so this is just gross. That's like making a Cabbage Patch doll with nipple tassles, or a Fisher-Price toy bike with a vibrator for a steering wheel. If you want to buy the limited-edition camera, Colette was selling it for $1,264, but there were only 10 available and apparently the weird perverts were quick on the click, because they're all sold out. You can still buy the iPhone case for around $34, though.
It all just makes me think of this. 
H/T The Verge | Photo via Collette