If you spend a lot of time on the anonymous secret-sharing app Secret, you know that a majority of the posts you see are of the tech gossip and "I want to tell my girlfriend I love her but I'm scared of commitment" variety, rather than seamy posts about orgies and infidelity and heroin habits and having sex on a Xerox machine with an underage intern who happens to be your second cousin.
Pretty soon, however, you won't have to comb through all the mundane posts to get to the good shit anymore. Secret has released an update that lets you separate your feed into a "Friends" section for friends' and friends of friends' posts, and an "Explore" section for everything else, so you can sift through your freaky little friends' dirty laundry to your heart's content.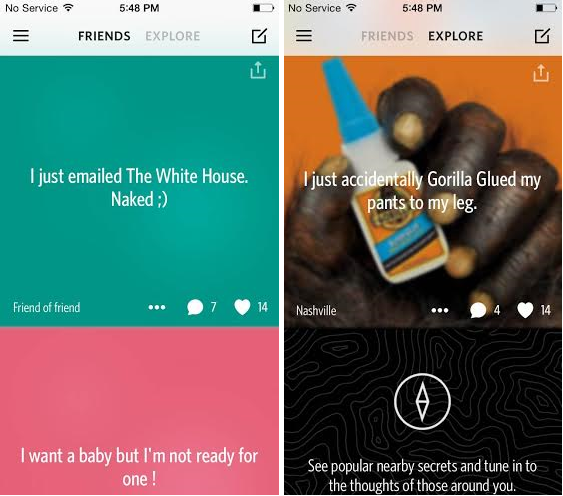 While the Android version of Secret already had this feature built in, it was not made available on iOS until Secret founder David Byttow announced the update earlier today. According to Byttow, the update was prompted by Secret regularly seeing complaints from users that there were too many Silicon Valley posts on their feeds. (The app is popular in the tech industry, arguably more so than its main competitor Whisper.)
Does this mean that the secrets on Secret are automatically about to start getting more interesting? That all depends on whether or not you have boring friends. But for those of you curious about learning if any of your contacts have boned their nanny in a hall closet, this update will make it considerably easier to find such posts.
H/T TechCrunch | Photo by dannysoar/Flickr (CC BY 2.0)