The Syrian Electronic Army is the most intriguing anonymous hacking organization since, well, Anonymous. It's loosely tied with the ideology of President Bashar al-Assad's government, which stands accused by the U.S. of using chemical weapons against civilian rebels.
The SEA has an impressive hit list of compromised publications, including the Onion, the Guardian, the Daily Dot, and the Associated Press—a hack that led to an errant tweet about President Obama and a brief dip in the stock market. In late August, SEA attacked the New York Times's domain name.
The oddest thing about the SEA, besides the intentional and inadvertent humor its members sometimes exhibit, is that it chooses to advertise itself on any social media channel it can get its hands on.
It sort of makes sense. The SEA can't seem to ever hold on to any Web address for very long; for a while, even Syria cancelled the group's official .sy URL, though that's since been reinstated. The hackers are, by their own admission, on their 16th Twitter and 225th Facebook account. Both get regularly shut down; but Twitter and Facebook are no match for the devious hacker tactic colloquially known as Just Signing Up For Another Account.
Here's the complete guide to the SEA's presence on social media, ranked from least to most absurd.
1) Twitter (@Official_SEA16)
This one isn't even absurd. It's useful. Though it does get banned by Twitter from time to time, this is probably the most convenient way for the SEA to keep interested parties abreast of its latest hacks. It also retweets news articles, in case @Official_SEA16 isn't making its point entirely clear.
2) Facebook (SEA.Official.225)
The SEA often writes screeds longer than 140 characters, so Facebook gives it a slightly better chance to tout its cause. Unfortunately for us, they're written in Arabic more often than not, and Google translate can't always make them sense in English. Besides, as that 225 makes clear, that Facebook presence is far from stable.
3) YouTube (syrianes)
If the SEA wanted to prove, as it often claims, that it was Syrian rebels who use chemical weapons, their YouTube channel would be a good place to show it. But it's mostly a wasteland of sparsely updated propoganda. The only new video of the past month is a short clip, less than a minute long, detailing one of SEA's recent hacks. At least the music pumps you up.
4) Instagram (official_sea)
This is where it starts to get weird. Why do Syrian activists maintain an Instagram account? All these pictures of their exploits are available elsewhere. The only difference here is that classic Instagram filter. Oh, and they're all perfectly square now.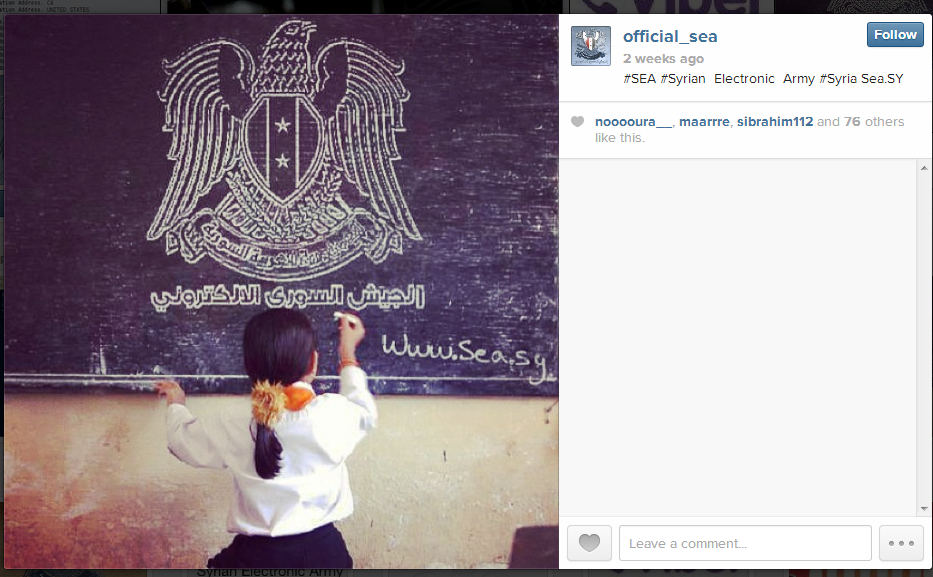 5) Pinterest (officialsea)
As with Instagram, the SEA's decision to maintain a Pinterest is baffling. There's no new information here, just the same evidence of some of their exploits but arranged in that scattered Pinterest format.
More interesting, though, is the five people the SEA has chosen to follow on Pinterest. Why? What did Jennifer Wagoner do to pique the SEA's interest? Was it her 118 pins in the category "Dr. Suess Week"? It probably was.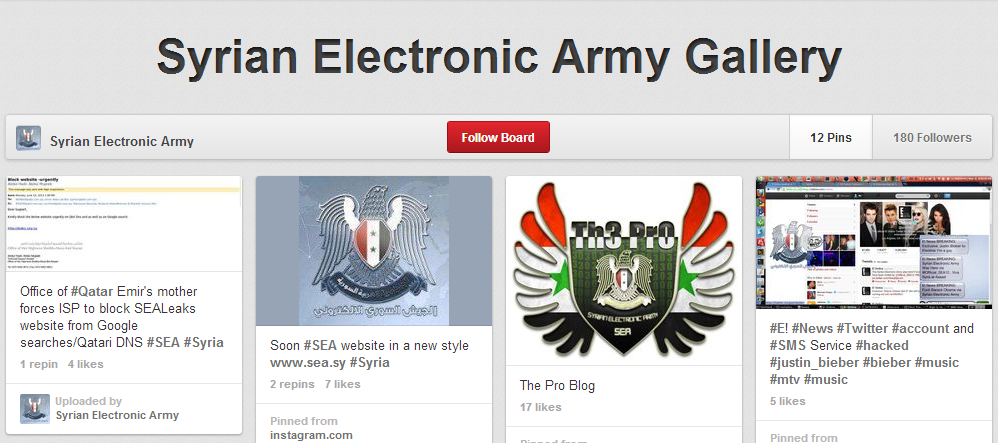 6) Google+
It's functional, sure. But nobody uses it.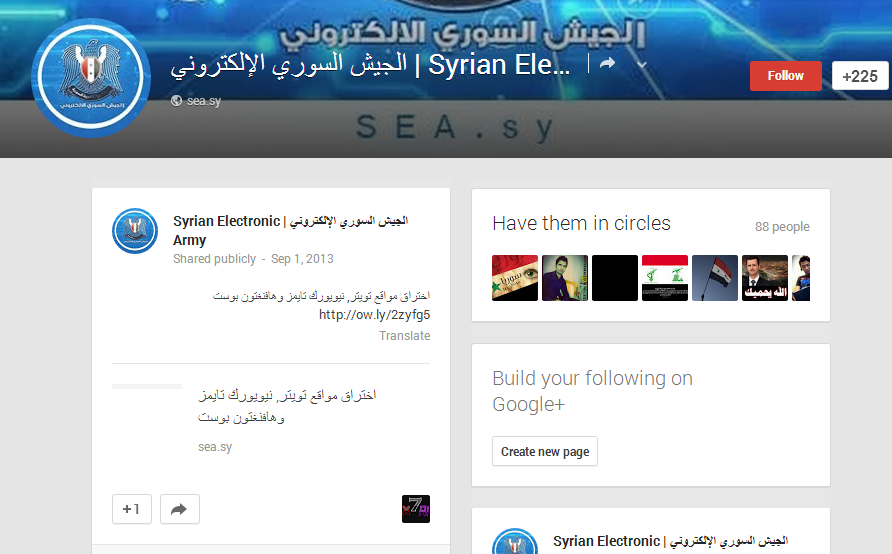 Illustration by Jason Reed