Those of us who aren't cowering under our beds and freaking out over each new piece of Ebola news are trying to solve the epidemic by any means possible—including robots.
Computerworld reports that researchers are planning a Nov. 7 conference, Safety Robotics for Ebola Workers, to be staged in several locations and simulcast across the Web. The workshop will bring together "healthcare workers, relief workers and roboticists" to brainstorm ways in which telepresence robots could "act as rolling interpreters," "deliver food and medicine," "decontaminate equipment," and "help bury victims" of the virus.
"[Health specialists will] talk about what they need and then we can talk about what we can offer," said Robin Murphy, a professor of computer science and engineering at Texas A&M University, which will host the event alongside the White House Office of Science and Technology Policy, Worcester Polytechnic Institute, and UC Berkeley. She wants to think beyond the current epidemic, too: "What can we do in the next few months and then what do we need to do in the longer term? What should we have five years from now?" 
Collaborating with Murphy on the project is Taskin Padir, an assistant professor of robotics engineering and electrical and computer engineering at WPI, who "stressed that use of technology should not be seen a replacement for human care workers," just a way to "minimize contact." So don't worry about some rogue artificial intelligence figuring out the human immune system and then using that knowledge to wipe out the species… yet.
All the same, a few of the ideas trotted out so far could use some fine-tuning:
Murphy doesn't know whether mortuary robots will be called for during the Nov. 7 workshop but she is using the idea as a teachable moment for students at Texas A&M and getting ahead on the project in case they are needed. Students in the school's department of architecture design are trying to modify a four-wheeled Bobcat robot by replacing a bulldozer scoop with a sarcophagus that would carry the body in a respectful manner.
Not an ideal solution, though if roboticists can help stem the tide of the deadliest Ebola outbreak in history, they'll be making Jesse Pinkman proud.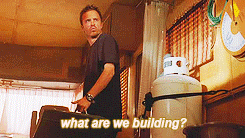 H/T Computerworld | Photo by Bennett/Flickr (CC BY-SA 2.0)