"We live in a society absolutely dependent on science and technology and yet have cleverly arranged things so that almost no one understands science and technology," Carl Sagan said over two decades ago.
"That's a clear prescription for disaster."
One catalyst for that disaster, which marches on today, is easy to call out: Science journalism, the discipline that is supposed to shed light on the cutting edge of human knowledge.
Research papers are long, opaque, and unreadable to the average person. Worse yet, they're mostly found behind expensive paywalls that most people won't pay for. The research is either hidden, then, or full of incomprehensible jargon.
It's no wonder that many of us aren't exactly a part of the next scientific frontier.
Science journalism, the medium that is meant to translate important research papers into plain english, has its own long list of problems. There are the sensationalists, liars, and manipulators among journalists, to be sure, but perhaps more often than that, the obstacle is simpler: Journalists are not scientists. They're non-specialists in a rush who too rarely understand the material that took many years of higher education for the researchers and academics behind it to comprehend and present.
"Across the board, there is a lot of frustration with science journalism," Robert Seigel, a meteorologist at the University of Miami, told the Daily Dot. So he decided to do something about it.
Seigel, a scientist and entrepreneur, is building a website designed to bridge the gap so that scientists themselves can write easy to read summaries of their research and put it into the world for free.
Put simply, he wants to turn scientists into journalists.
The website, called Publiscize, is a "science outreach platform" that encourages actual researchers to write easy-to-understand articles (called "scinopses") "to widely spread and communicate the advancements of science and research to the world so that science enthusiasts can access unique and unbiased science, and scientists and experts can cross-collaborate to implement this knowledge and rapidly advance science and technology."
Through Publiscize, Seigel has been reaching out to scientists across the spectrum, asking them to submit scinopses to grow the website into something that he hopes will change the way the world learns about science. In return, they promote their work to a wider audience than any academic journal could provide.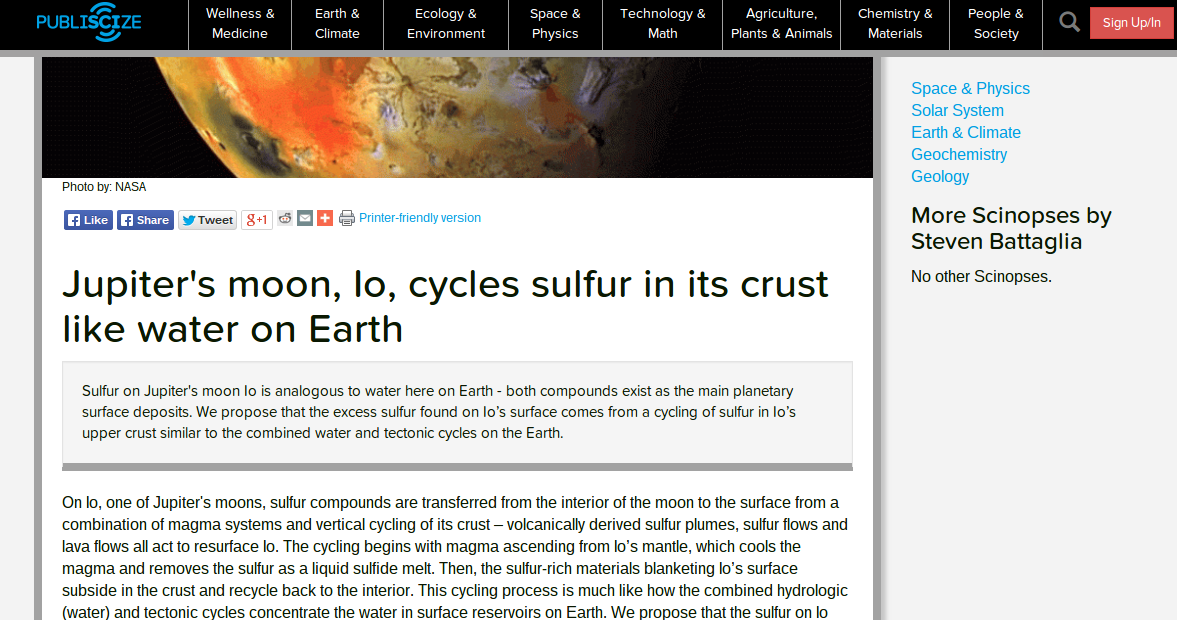 Although Seigel and everyone I spoke to for this article emphasized that great science journalism does exist, the problem of poor journalism is so pervasive and damaging that Seigel dedicated himself to building a solution.
"Key points and important details can be 'lost in translation,'"  Brian McNoldy, a hurricane researcher at the University of Miami and a Tropical Weather Expert for Capital Weather Gang, said. "The advantage of Publiscize is that it gives scientists the opportunity to be the journalist."
Their work can be shared with the public and scientists in the same or different field without any risk of being misquoted or misrepresented. It fills a gap between traditional science journalism and traditional peer-reviewed technical publications. I can go to the website and read about cutting-edge research in marine biology, astrophysics, or computer science and be confident that everything is accurate because it was written by the person who conducted the research. So far, scientists have embraced this new outlet to share their work with a much wider audience!
Publiscize, though small and only recently launched, is already making complex subjects easier to understand. Posts from researchers on the moons of Jupiter, erosion of coral, and how a woman's voice affects the way people perceive her have succeeded in articulating these ideas so that you and I can better grasp them.
What they really need, at this point, is more scientists to jump on board. Seigel is busy reaching out to colleagues around the world, promising more exposure through the platform he's building. He's right, of course: If journalists have a quick, free, and effective place to find and digest the latest science, you can bet Publiscized work will start to show up all over the place
As Publiscize takes on the mammoth task of helping to build better science journalism, it's essential to remember that the job of science journalist is an extraordinarily difficult one.
"Presenting technical research to the general public (or even to other scientists not in your field) in a way that's digestible is something that journalists struggle with," McNoldy wrote in an email to the Daily Dot. "But to be fair, it's also something that most scientists struggle with!"
Making the scientist the journalist is not a simple cut and replace. Instead, think of it as an invaluable addition to the global scientific discussion.
The researcher will never be the end-all-be-all when it comes to presenting their findings to the world. Other journalists are still needed to look at what is being done in science. After all, critical journalism requires an independent eye to provide perspective and answer important questions that the researcher herself often cannot objectively answer: What are the downsides to this research? Should we really care? Is this even accurate?
If researchers themselves have a good platform to start the discussion, the entire world's understanding can only improve.
Photo via Publiscize