GoPro may have made tiny, powerful cameras a super desirable category of gadgets, but now that the market exists, a whole bunch of electronics companies are racing to craft their own identity in the "action cam" space. Polaroid seems to be going for the ultra-cute angle with the newly revealed Polaroid Cube, and it just might be a winning strategy.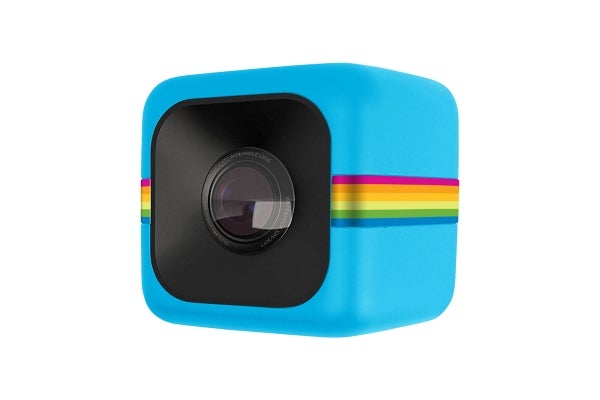 The Cube is super tiny, measuring less than two inches on any side. It's capable of 1080p video recording as well as still shots, and it can snap photos even while it's recording a video. On the outside, the cam is coated in rubber to help it absorb shock, and it's also water resistant. Perhaps the most mind-boggling thing about the Cube is that its built-in battery lasts for up to 90 minutes of recording before needing some juice.
The diminutive cam is going to have a whole bunch of funky accessories to go along with it, like mounts to stick it on your bike, a waterproof case, and even—brace yourself—a stand that looks like a monkey. Yes, you read that correctly. Cuteness overload.
In an interesting move, Polaroid has decided to offer pre-sale orders of the Cube to the trendy photography site Photojojo. The kind of people who visit a site like Photojojo—young, tech-savvy, and in love with photography—are precisely the sort who could make a tiny camera a big, big seller when it hits retail on Sept. 20.
It's not easy to stand out in a market that has been so decidedly dominated by GoPro. Everyone from JVC to Toshiba is trying to muscle in for their own tiny slice of the action, but too many of them are "me too!" offerings that simply don't set themselves apart. Polaroid's Cube, on the other hand, most certainly does.
Photo via Dr. Colossus/Flickr (CC BY-SA 2.0)