Back in the era of the pager, a simple ping could mean just about anything. Fast forward to today, where there are a deluge of messaging apps demanding our time and attention. A new app, however, is trying to reverse that by relying purely on one sound to communicate—entirely without words.
Ping, available for Apple and Android devices, is a pager-like app that embraces simplicity.
When a user wants to communicate with another person, all they have to do is touch the "Ping" button next to that person's name. A push notification will appear once a person receives a Ping. If a user chooses to acknowledge receipt of the message, they press an "OK" button, which relays a Ping back to the sender. And the experience is the same for each user: There's only one sound programmed into the app; customization is not an option.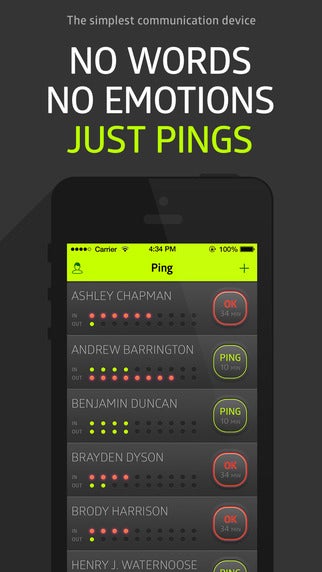 The idea isn't to take away from existing messaging apps or change consumers' habits, Ping's founder Muslim Shortanov told the Daily Dot. He wants Ping to be another way to receive messages, one that doesn't require much action so that people engaged in other activities won't feel disturbed.
"When you're in a cinema, for example, or reading a book or something and you're very busy, you can use a very simple movement," he said.
No email address or phone number is required to use the app, unless a user wants to submit that information in order to find their friends more easily.
Shortanov and his friends came up with the idea for the app in 2012 after a night out with friends.
""That night, we thought, 'Wouldn't it be great to ping people like you ping servers in Unix OS?'" he said in a press release. "We wanted to provide people a way to say, 'Thinking of you,' without words."
Shortanov didn't pick up the idea again until this year. The Moscow-based team decided to develop Ping and make it available to a mass audience. The app, which is currently a side project for the current CEO and founder of Cybernetic Foundation, the company behind the app, took between three and four months to develop.
Shortanov acknowledges that Ping bears some resemblance to Yo, another minimalist messaging app that made waves for its one-worded system. But Yo, he said, is "like candy, like a game."
"We don't focus ourselves as a fun application, we function ourselves as a normal device, like a pager," he said. "There are no words." Shortanov believes that adding more functions to the app would be unnecessary and make it more confusing.
In the future, he'd like to see Ping made into a wearable, like a bracelet, so that users wouldn't even have to consult their phones in order to send a Ping (which, honestly, sounds a little bit like we're edging into full-on pager territory). For now, Shortanov wants to attract as many users as possible.
"But first of all, we want people to love Ping themselves," he said.
Photo via Hades2k/Flickr (CC BY 2.0)