The official Twitter account for Vice President Mike Pence appears to have liked a tweet earlier this week that was making fun of President Donald Trump's suggestion of arming teachers in the wake of the school shooting in Parkland, Florida.
The tweet, from @LoganHeer, was in response to the president expressing his condolences following the shooting at the headquarters of YouTube earlier this week.
@LoganHeer, who confirmed in a subsequent tweet that he was poking fun at the president's plan to arm teachers, wrote: "If only they had armed teachers at YouTube HQ" after Trump tweeted that he was "briefed" on the YouTube shooting and said his "thoughts and prayers" were with those involved.
However, it appears that @LoganHeer's joke caught the attention of the official @VP Twitter account—because it liked it.
@LoganHeer posted a screenshot of the like on Wednesday.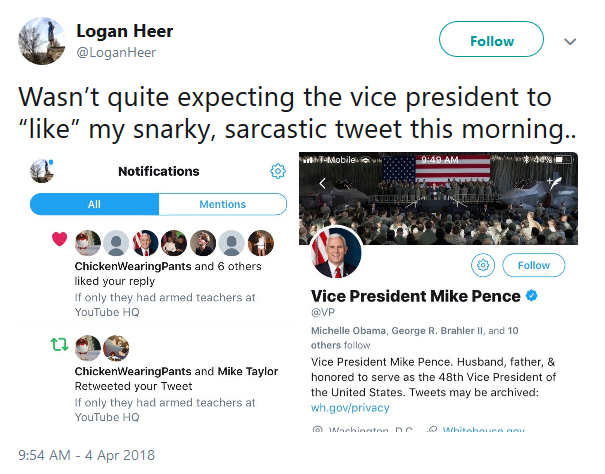 As of Friday morning, the @VP account no longer liked the tweet—which would have been only the 8th tweet the account has liked so far.
But not before it was spotted by some people online.
It was not the first time Pence may have liked a tweet taking a dig at the president.
https://twitter.com/DouglasSoule/status/889607835692257280
Pence's press office did not immediately respond to a request for comment by the Daily Dot.
Liking a tweet making fun of potential policy is probably still better than Trump's new 2020 campaign manager liking a tweet that called his boss an idiot.