Parler, the social media platform that lost its Amazon hosting Jan. 11 in the wake of the U.S. Capitol riots five days before, now has a limited online presence which one expert has linked to a Russian technology company.
On Monday, the site went live with a home page displaying a "Technical Difficulties" graphic and four parleys, the term that Parler uses for a social media post (akin to a Twitter tweet).
Reuters reported that the internet protocol address Parler is now using is owned by DDos-Guard, a company reportedly controlled by two Russian men. Infrastructure expert Ronald Guilmette told Reuters the company provides services including protection from distributed denial of service attacks.
The English-language version of the DDos-Guard website, however, listing an office in Edinburgh, Scotland, using the name Cognitive Cloud L.P., with the Russian version showing an office in Rostov-on-Don, a Russian city near the Ukrainian border.
As the Daily Dot noted in its Jan. 11 story, "Launched in 2018, Parler was marketed as a 'free speech' alternative to sites like Twitter, becoming a popular choice among far-right extremists who had been kicked off mainstream platforms. Routinely criticized as a hotbed of conspiracy theorists, Parler became a breeding ground for the extreme views that led pro-Trump rioters to storm the Capitol last week."
The note on the new Parler home page about technical difficulties hints that users will be able to regain access to their accounts soon. The message reads, "Now seems like the right time to remind you all — both lovers and haters — why we started this platform. We believe privacy is paramount and free speech essential, especially on social media. Our aim has always been to provide a nonpartisan public square where individuals can enjoy and exercise their rights to both."
It then adds, "We will resolve any challenge before us and plan to welcome all of you back soon. We will not let civil discourse perish!"
The static home page also included a parley from Parler CEO John Matze, linking to a Fox News story talking about Parler's anticipated return, asserting, "Our return is inevitable due to hard work, and persistence against all odds. Despite the threats and harassment not one Parler employee has quit. We are becoming closer and stronger as a team."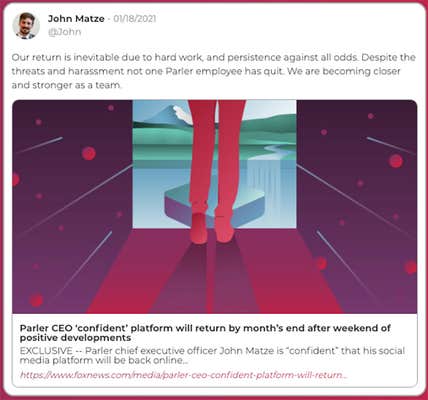 It also included what appears to be an initial test parley on January 15 from Matze asking, "Hello world, is this thing on?" That was followed by a message from Fox News contributor Dan Bongino declaring, "This fight is bigger than me, and it's bigger than Parler," adding, "If they're allowed to silence us, they can silence anyone."
The other parley, from Parler's Chief Policy Officer Amy Piekoff, included a lengthy quote from Martin Luther King, Jr.'s "Letter from Birmingham Jail," followed by the questions, "Might this be the year that all of us, regardless of political belief, become extremists for freedom of expression and privacy? Wouldn't that turn 2021 on its head?"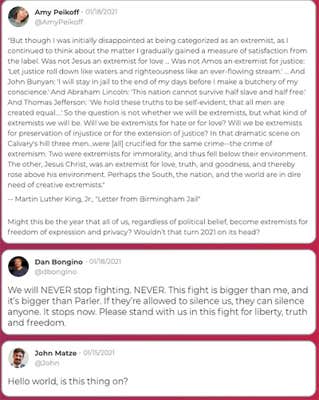 One observer noted, however, that the King quote was missing a key line.
Peikoff, on her "Don't Let It Go Unheard" WordPress site, noted, "Over the last week I've been working with my colleagues to rebuild Parler's infrastructure, improve our guidelines enforcement process, and get back online. (Step one: a static web page.) I've also been making our case in the media—and in doing so have been mentally processing the injustice that has been done both to Parler, and to those who have relied upon Parler to be able to express themselves online."
The Daily Dot has reached out to Matze for comment.