Companies may harvest a lot of data about their customers, but that doesn't mean they know how to use it. This point was driven home for Mike Seay when he received a piece of OfficeMax junk mail that revealed corporate knowledge of his 17-year-old daughter's death in a car accident.
At first, Seay couldn't even get the office supplies company to admit the disturbing mistake; a call center manager and then a spokeswoman both refused to admit the possibility until he sent along a photo of the envelope. It's addressed to "Mike Seay, Daughter Killed in Car Crash."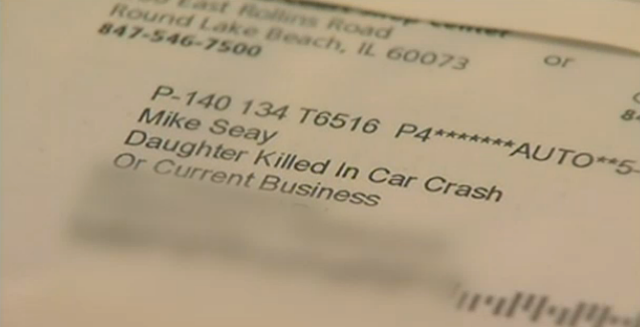 Seay, who noted that the mailing seemed to be about discount offerings, doesn't plan to sue. He does want a direct apology—as the incident "traumatized" his wife. Currently unemployed, he professed to shop at OfficeMax rarely, only buying some paper since his daughter Ashley's passing.
OfficeMax characterized their mistake as the "result of a mailing list rented through a third-party provider" that it did not name. Even that sort of marketing, though, often relies on data supplied by the client company; OfficeMax has been reticent on the matter of their sources. 
"Why do they have that?" Seay said of the sensitive information. "What do they need that for?"
The first question is easier to answer: Google the name "Ashley Seay" and you'll find that her fatal accident made local headlines, as the inexperienced 16-year-old driver was driving in excess of 100 mph in heavy rain when he struck a tree, killing them both.
Factor in Facebook and Twitter grieving, as well as mentions of Ashley's death on sites like YouTube and MyDeathSpace, and it's clear that such data could have been pulled from any number of places.
RIP Ashley Seay. My heart goes out to everyone back home. Please take care of eachother. #tooyoung

— Allie Wilson (@Alliecat821) February 19, 2013
What's less clear is how a company might hope to use such a fact to improve their own bottom line. Target drew unwanted scrutiny in 2012 when it became clear they were using purchasing behavior to determine which customers were pregnant in order to send them coupons on baby items, and Coca-Cola wants to know all the details of your soda addiction, but bereavement hardly seems like a compelling vector for paper clip or rubber band sales.
We wouldn't be surprised if, in the future, Seay bought those things at Staples.
H/T Los Angeles Times | Photo by Ryan/Flickr