When President Barack Obama addresses the nation tonight to make the case for an increased military response to the Islamic State of Iraq and Syria (ISIS), his speech will provide fodder for critics across the political spectrum. To take the edge off the torrent of cynicism and arm-chair punditry that is sure to ensue, The Daily Dot has created a Bingo card for reactions to the president's address.
While combating terrorism is not a game, scrutinizing President Obama's foreign policy decisions has become one for Washington insiders and foreign-affairs nerds. One thing all of these Obama-watchers know is that, in speech after speech, the president has made certain comments, promises, and warnings so many times that political junkies see them as almost perfunctory.
To the cynics, this repetition is evidence of a paralyzed foreign policy environment that shows no signs of improving. To those looking to blow off a little steam, it's fodder for a Bingo card. With that in mind, we built our own.
Note: If there are quotes around a word or phrase, it means you only get the square if the president uses that exact word or phrase. In the absence of quotes, any comments by the president that apply to the square can be considered applicable. You can watch the full speech live in the embedded video below.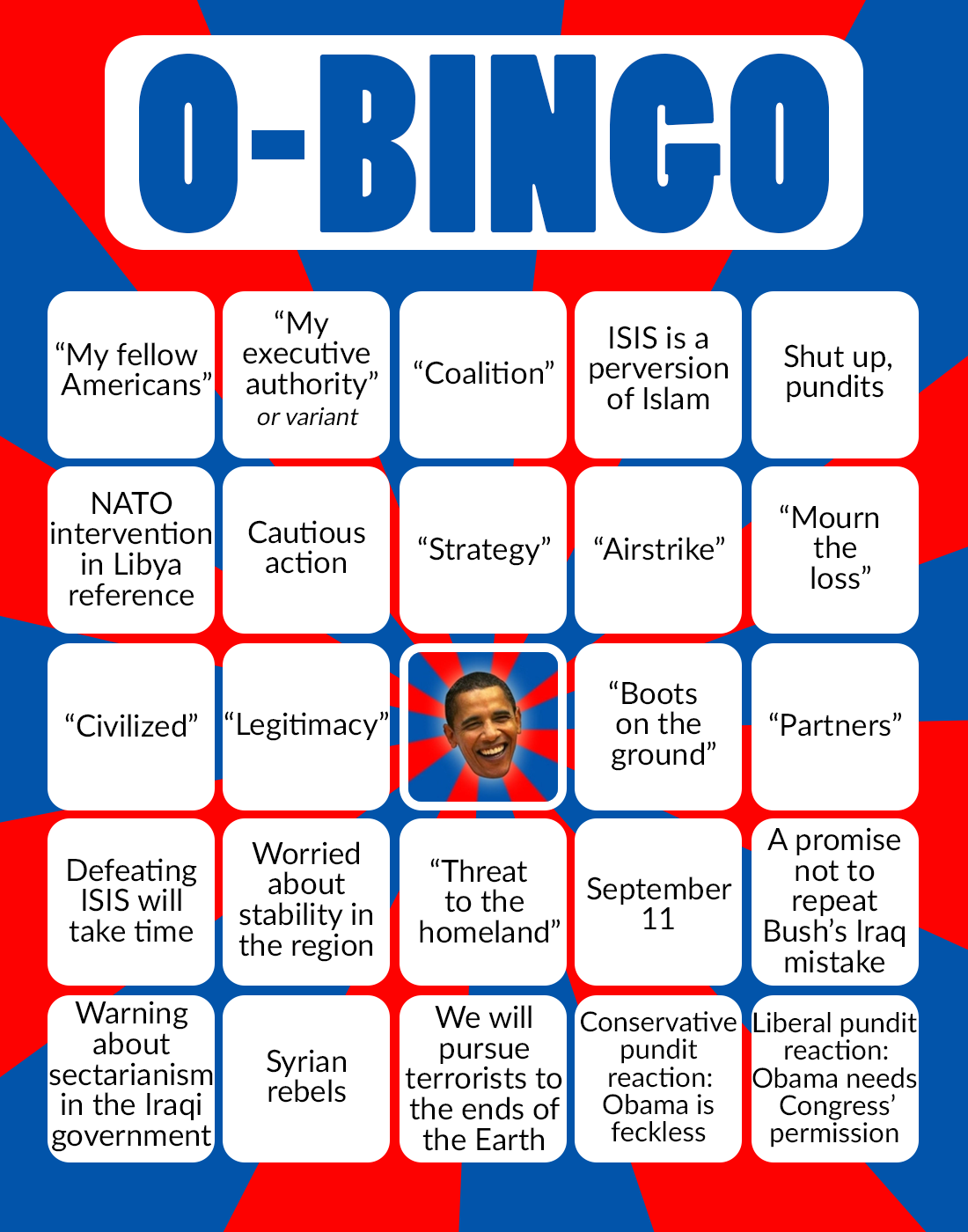 And while The Daily Dot does not endorse irresponsible drinking, this is another option for making the president's speech more bearable:
Every time Obama says "degrade" or "destroy" tonight, take a shot. If he says both in one sentence, take three.

— Mike Cooper (@NoTheOtherLeft) September 10, 2014
You can watch Obama's full speech live at 9pm ET below: 
Photo via isafmedia/Flickr (CC BY 2.0)