Last year, Facebook unveiled a newly designed News Feed, with enlarged photos and definitively proved the site's ambition to become a legitimate news source. It was a big redesign, a huge step forward in the site's interface and focus.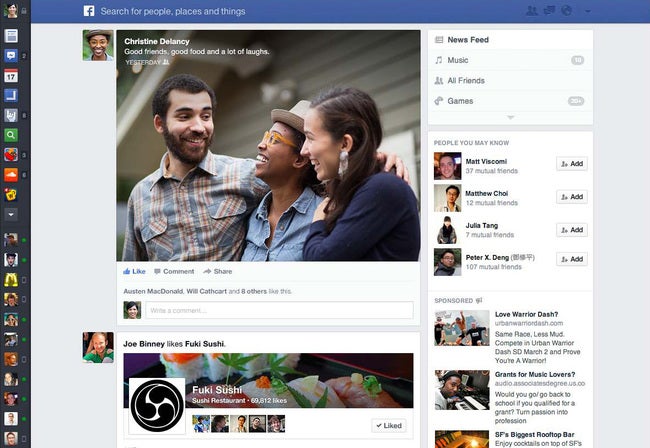 And then last month, it rolled out this new version of the News Feed… and it turned out to be a pretty subtle update, not what we were promised last year.
So what happened?  
Julie Zhuo, director of product design at Facebook, explained that the reason for the revision had to do with the technical constraints of a number of worldwide Facebook users. "It turns out while I (and maybe you as well) have sharp, stunning super high-resolution 27-inch monitors, many more people in the world do not," she wrote in a post on Medium. "Low-res small screens are more common around the world than hi-res Apple or Dell monitors."
The original, ultimately scrapped, redesign prominently featured photos, which are the website's most posted items. Facebook also wanted to highlight news stories, with bigger visual blocks taking up the News Feed. But size upgrades would not have fit well for users who have older computers, and the site would be harder to navigate for the late adopters who still have to click on a scroll bar and move their cursors farther distances.
Zhuo's post, titled "Whatever's Best For The People, That's What We Do," was written in response to a blog written by Dustin Curtis, a developer, designer, and blogger. Curtis' post, "Whatever goes up, that's what we do," asserted that the original redesign was so efficient that users "no longer felt the need to browse areas outside the News Feed as often." They therefore spent less time on friends' profile pages and event pages, decreasing the number of ad impressions made, which would adversely affect revenue.
Zhuo disagreed, saying that the new redesign was not a battle of "short-term metrics versus long-term value."
"This is about designing something that works for the hundreds of millions of people who use the Facebook website every day, from all over the world, on all types of computers," she wrote.
H/T AllFacebook | Photo via mkhmarketing/Flickr (CC BY 2.0)