Yesterday, Apple announced a new MacBook Pro, the long-awaited 16-inch MacBook Pro. Make no mistake, this is a device aimed at professionals and prosumers, packing meaty specs and a price tag to match. But it's also significant because it's the first laptop from Cupertino in three years to come without the hugely divisive (if not utterly loathed) Butterfly keyboard.
This machine replaces the 15-inch MacBook Pro, although it has an almost identical footprint. Apple managed to increase the screen real-estate by shrinking the bezels to the point where they're comparable with the svelte Dell XPS or Huawei Matebook X Pro laptops.
Apple has traditionally excelled when it comes to the display technologies it packs within its laptops, and the latest-and-greatest new MacBook Pro is no exception. Rated to 500 nits, it should be sufficiently bright enough to use in sunny conditions. It also supports the P3 Wide Color gamut, which promises faithful color reproduction — an essential feature for those working in the visual arts, like graphic designers and videographers.
The base spec includes 2.6GHz hexa-core 9th-generation Intel Core i7 processor, paired with 16GB of RAM and 512GB of fast SSD storage. You can bump that up to a 2.4Ghz octa-core i9, 64GB of RAM, and an insane 8TB of storage if you've got sufficiently deep pockets.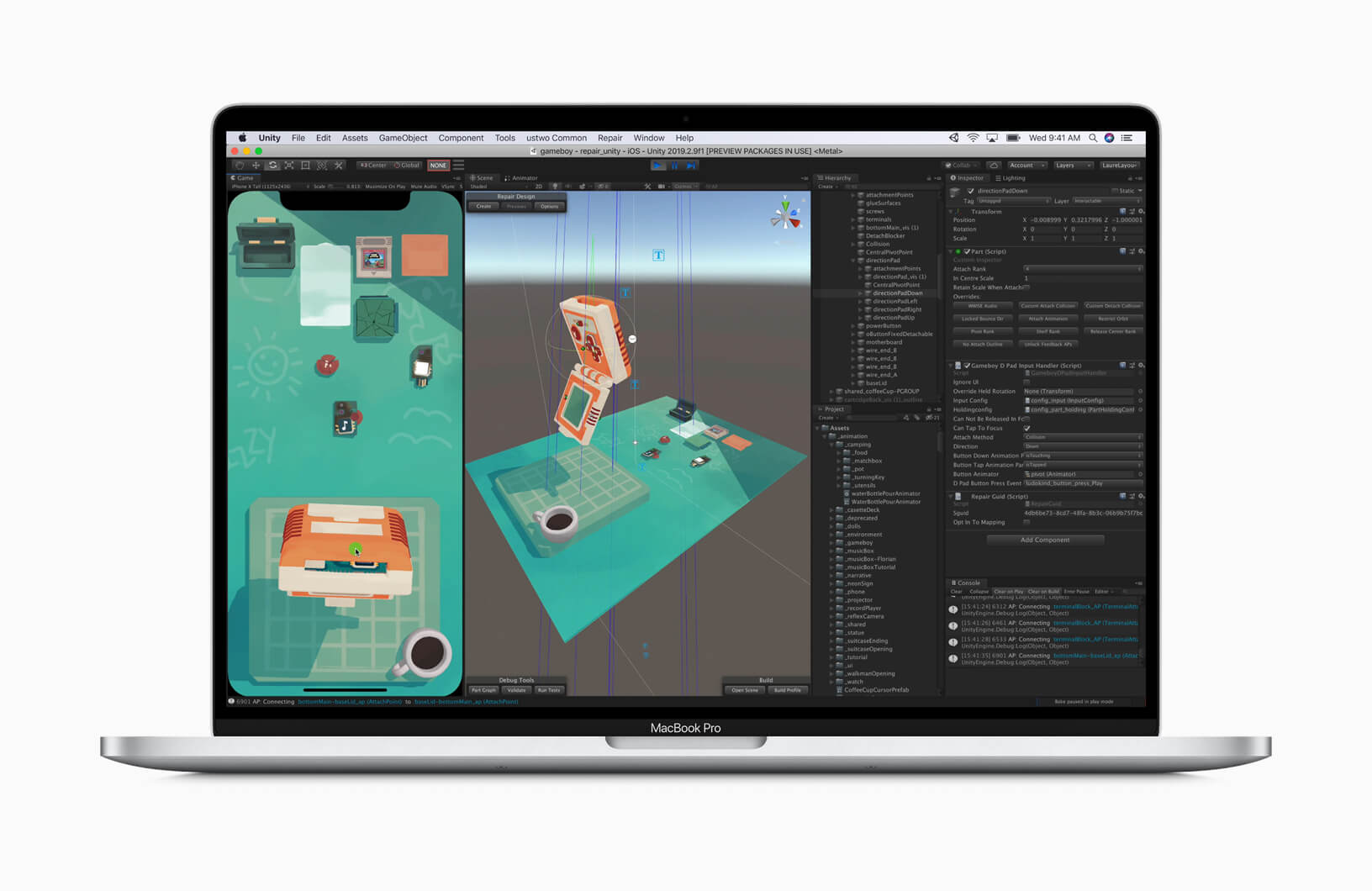 Graphics-wise, the entry-level new MacBook Pro comes with a discrete AMD Radeon 5300M with 4GB of GDDR6 memory. If you're prepared to pay an extra $200, you can upgrade to the 8GB model.
The new MacBook Pro comes with four Thunderbolt 3 ports. Although these are versatile, allowing users to connect peripherals as diverse as keyboards and eGPUs, they won't please everyone. It's still a little sad that there isn't a dedicated USB-A or HDMI port to be found, let alone a physical SD card reader.
Of course, the most anticipated feature is the return to a conventional scissor mechanism for the keyboard. The 16-inch new MacBook Pro offers a full 1mm of travel, as opposed to the Butterfly's 0.5mm, which should improve comfort and durability. It's also been branded the Magic Keyboard, in line with the Bluetooth keyboard that ships with the iMac.
The Butterfly keyboard was Apple's biggest blunder since the Newton. Users complained about its loudness and the relative unsatisfying nature of typing on it. That said, the biggest problem with the Butterfly keyboard was any debris could render a key unusable. The backlash (which included the song I've embedded below) forced Apple to offer a repair scheme for affected computers.
For what it's worth, Apple is yet to apologize or backtrack from the Butterfly keyboard, and it remains stubbornly present on the MacBook Air and 13-inch MacBook Pro. That said, I wouldn't be surprised for future iterations of these products to include the Magic keyboard.
The entry-level 16-inch new MacBook Pro costs $2,399. That's expensive but overall in-line with what you'd expect from a professional-standard laptop. A similarly-specced Dell Precision 7740 costs $2,729, to give you a sense of context.
If money is no object and you want to get the new MacBook Pro with the specs maxed out, you can expect to pay north of $6,000. And while you're at it, get me one too, if you wouldn't mind?