Back in March, Neil Young debuted his new Pono music player at SXSW, which was funded via Kickstarter. Now, he's teamed up with the crowdfunding site for a non-musical cause.
The Rainforest Connection launched a project to turn old cellphones into "forest guardians." According to the Kickstarter page, "Rainforest Connection transforms recycled smartphones into autonomous, solar-powered listening devices that can pinpoint signs of destructive activity—such as chainsaws, gunshots and animal distress calls—at great distance."
It's the world's first scalable, real-time logging detection system, pinpointing deforestation activity as it occurs, so that responsible agents can arrive on the scene in time to actually interrupt the perpetrators and stop the damage.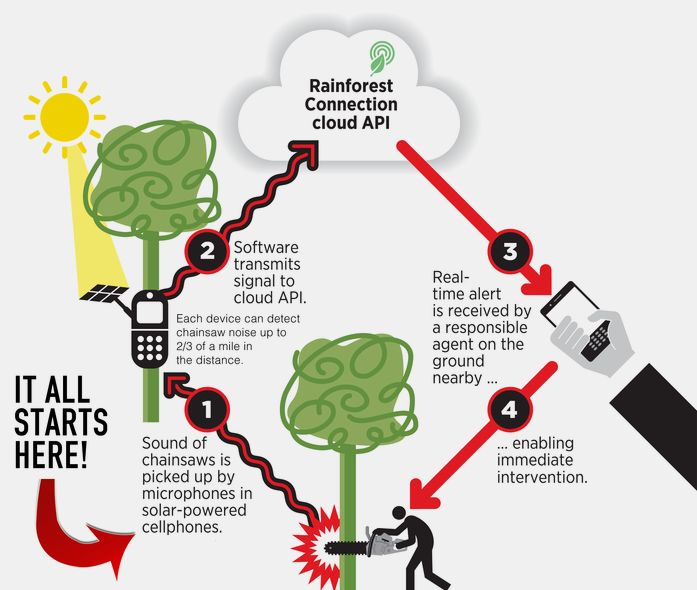 Image via Kickstarter 
The project funding ends tomorrow, but they've already exceeded their goal for Africa, and are now turning their attention to the Amazon and Indonesia. Later this year, they plan to release an app that lets project backers livestream rainforest sounds in Africa and the Amazon. Young signal-boosted this project to his Pono supporters earlier this month, stressing the importance of this movement:
You helped us build Pono to save the sound of music, and now, we've got a chance to help save the music of the rainforest. Through the power of sound, this technology can give the forest a voice. When the forest is threatened, the forest can speak. And for the first time, you can hear it.
This is quite a big undertaking, but it will be interesting to see if the project has an intended effect. No doubt the Young just gave them his version of the Colbert bump.
H/T Rolling Stone | Screengrab via Rainforest Connection/YouTube