Elon Musk unveiled exciting changes to his vision of establishing a colony on Mars, and surprised us with a plan to use rockets to transport people anywhere on Earth in under an hour.
The 'Big Fucking Rocket'
The key is a new rocket, nicknamed BFR, or simply "Big Fucking Rocket."
Speaking at the International Astronomical Congress in Adelaide, Australia, on Friday, Musk framed a business plan for funding his ambitious new spaceship. He wants to "cannibalize" every other SpaceX spacecraft—the Falcon 9, Falcon Heavy, and Dragon—and funnel all resources into the new spaceship, a smaller version of the rocket he described last year.
https://www.instagram.com/p/BZm_FXPg6YZ/
"We can build a system that cannibalizes our own products, makes our own products redundant, then all the resources we use for Falcon Heavy and Dragon can be applied to one system," Musk said.
BFR will be used not only to send people to Mars, but also to establish a lunar colony on the Moon, service the International Space Station (ISS), send satellites to space, and replace airplanes for long-distance Earth travel. The 48-meter tall rocket is said to be more capable and less expensive to make than any of SpaceX's previous spacecraft.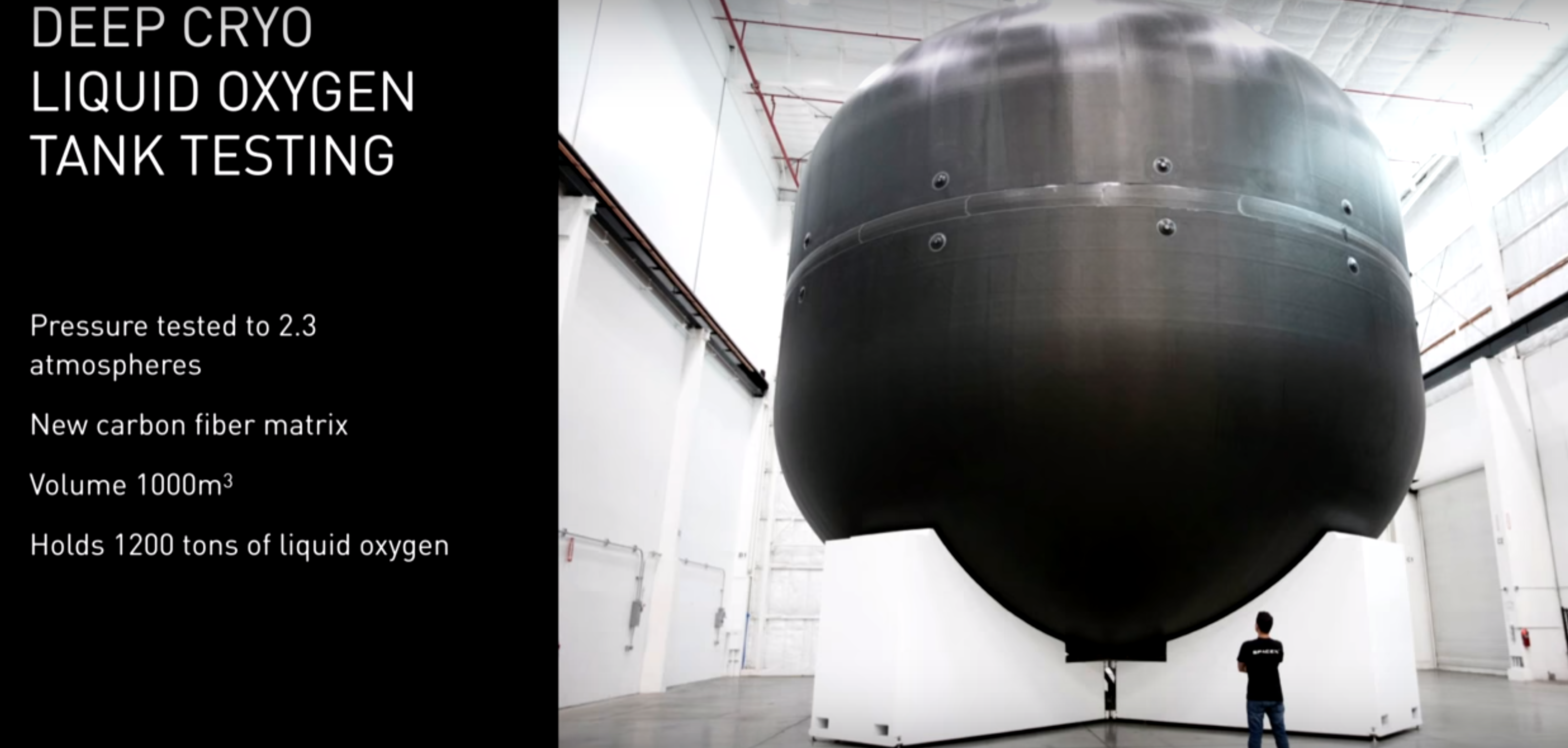 While it's still in the early stages of production, Musk showed off concrete progress on some of the fundamental elements for making the rocket a viable means for interplanetary travel. A short video clip showed a cryo tank with 1,200 tons of liquid oxygen exploding in a stress test, but only after reaching what Musk expects will be sufficient for a trip to Mars.
Musk claims BFR will have the "highest thrust rate engine of any kind ever made," with 31 Raptor engines, a decrease from the 42 Musk proposed for the Interplanatary Transit System (ITS) last year.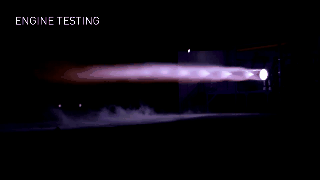 In regards to landing the massive spacecraft, Musk turned to SpaceX's triumphs with the Falcon 9, having successfully landed its last 16 attempts. "I think we can get to landing reliability that is on par with the safest commercial airliners," Musk boasted.
His ultimate goal is to colonize Mars, but he recognizes that we're still a long way out. The business magnate says there will need to be thousands of rockets and tens of thousands of refill operations to establish a self-sustaining base on the Red Planet. Right now, roughly 60 orbital launches occur on Earth per year.
Getting the 'Big Fucking Rocket' to Mars
At 9 meters in diameter, BFR would have enough space to house 40 cabins (with two to three people per cabin), large common rooms, a galley, central storage area, and a solar storm shelter. Musk assures the cargo area would hold a pressurized volume of 825 cubic meters, greater than the double-decker Airbus A380. In fact, it's large enough to fit "a stack of Falcon 1 rockets" in its payload bay.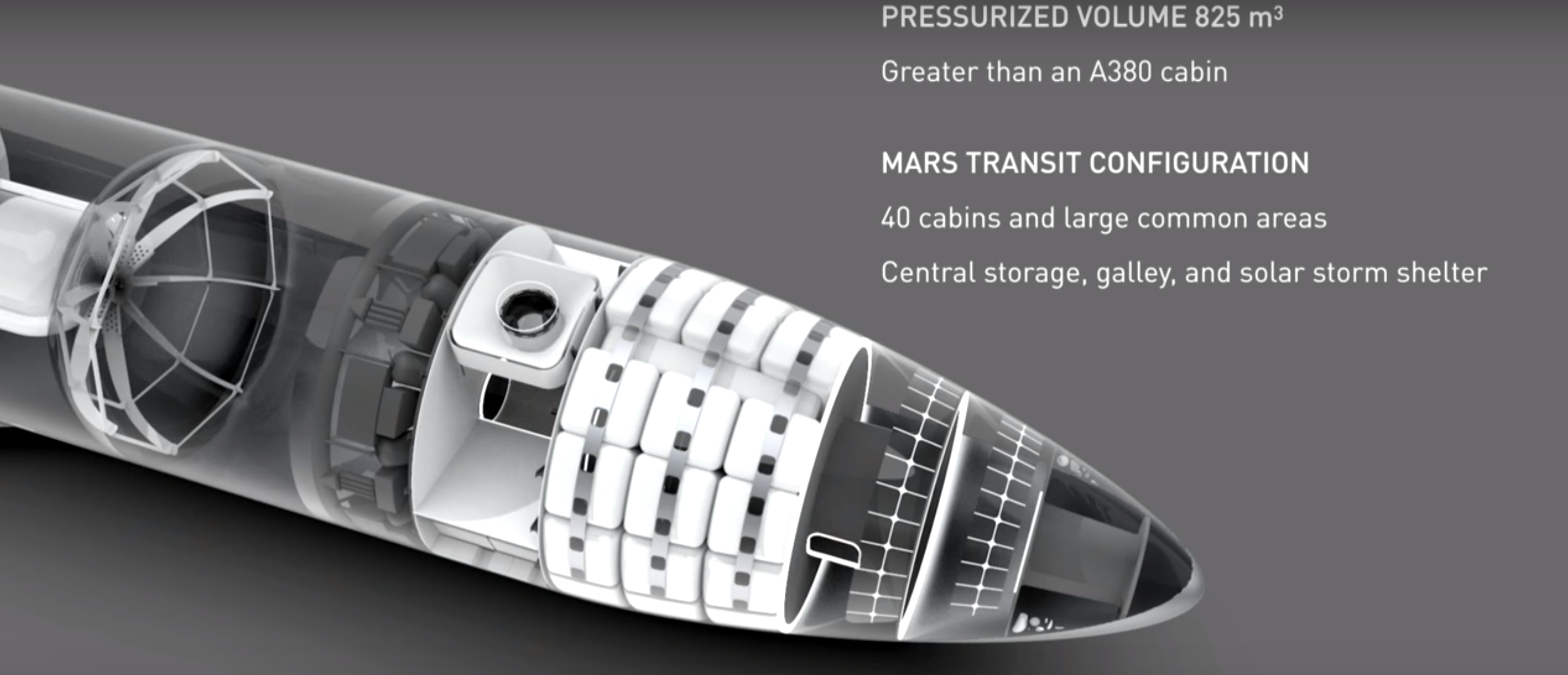 Musk's plan for storing enough fuel to get the rocket to Mars is straightforward. The BFR would launch off from Earth with its 150-ton tank and meet a tanker in orbit for complete refueling. With a full tank, BFR would ideally reach Mars without an additional stop.
Of course, not everyone will be OK testing out a new rocket. Musk explains that "customers" will be able to fly on the Falcon 9 and Dragon vehicles if they feel more comfortable.
Expanding on his plans for the new rocket, Musk showed a vision for how it will be able to service the ISS. (Yes, he is aware of the fact that this looks extremely awkward.)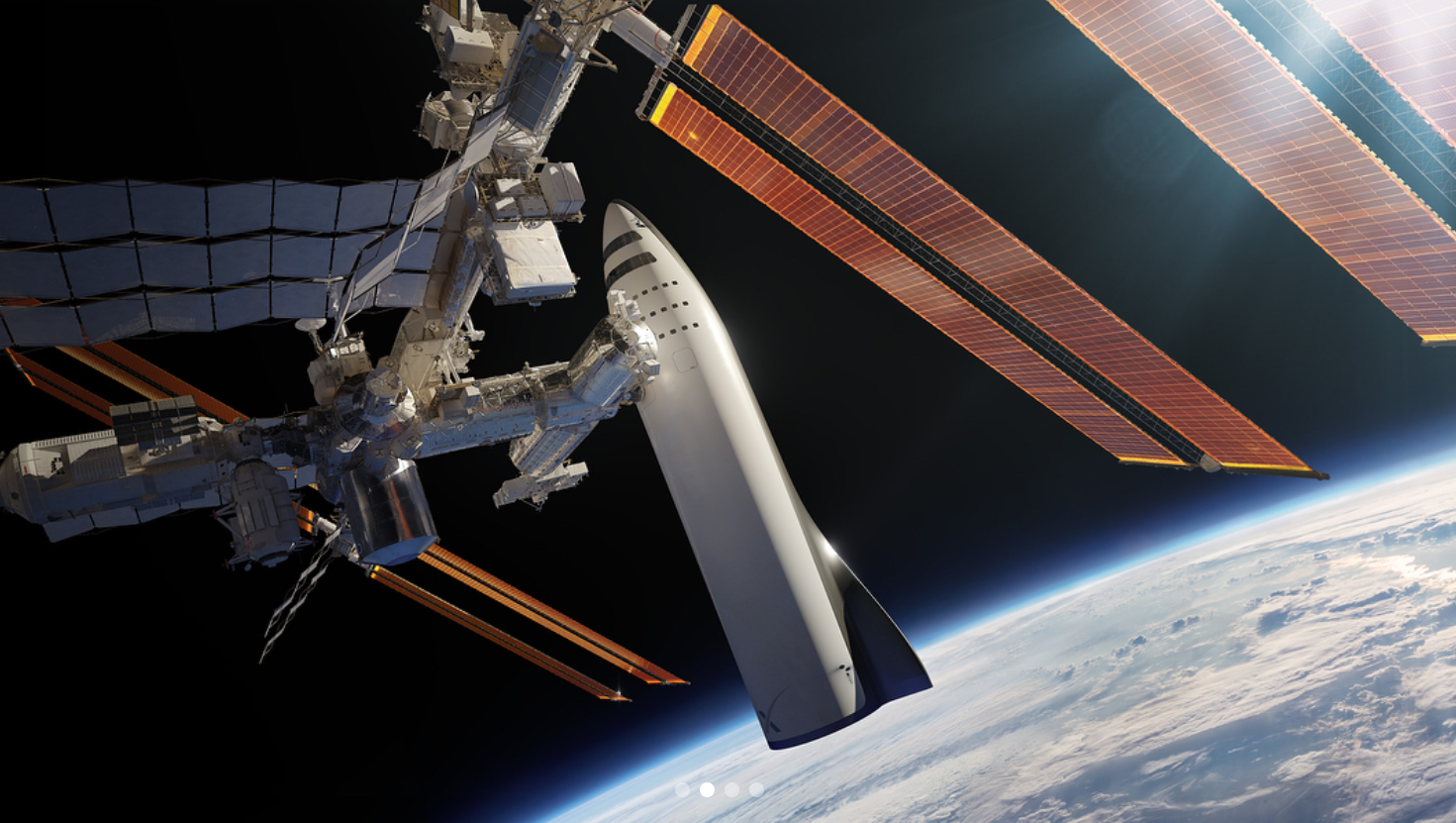 And shoot satellites into space.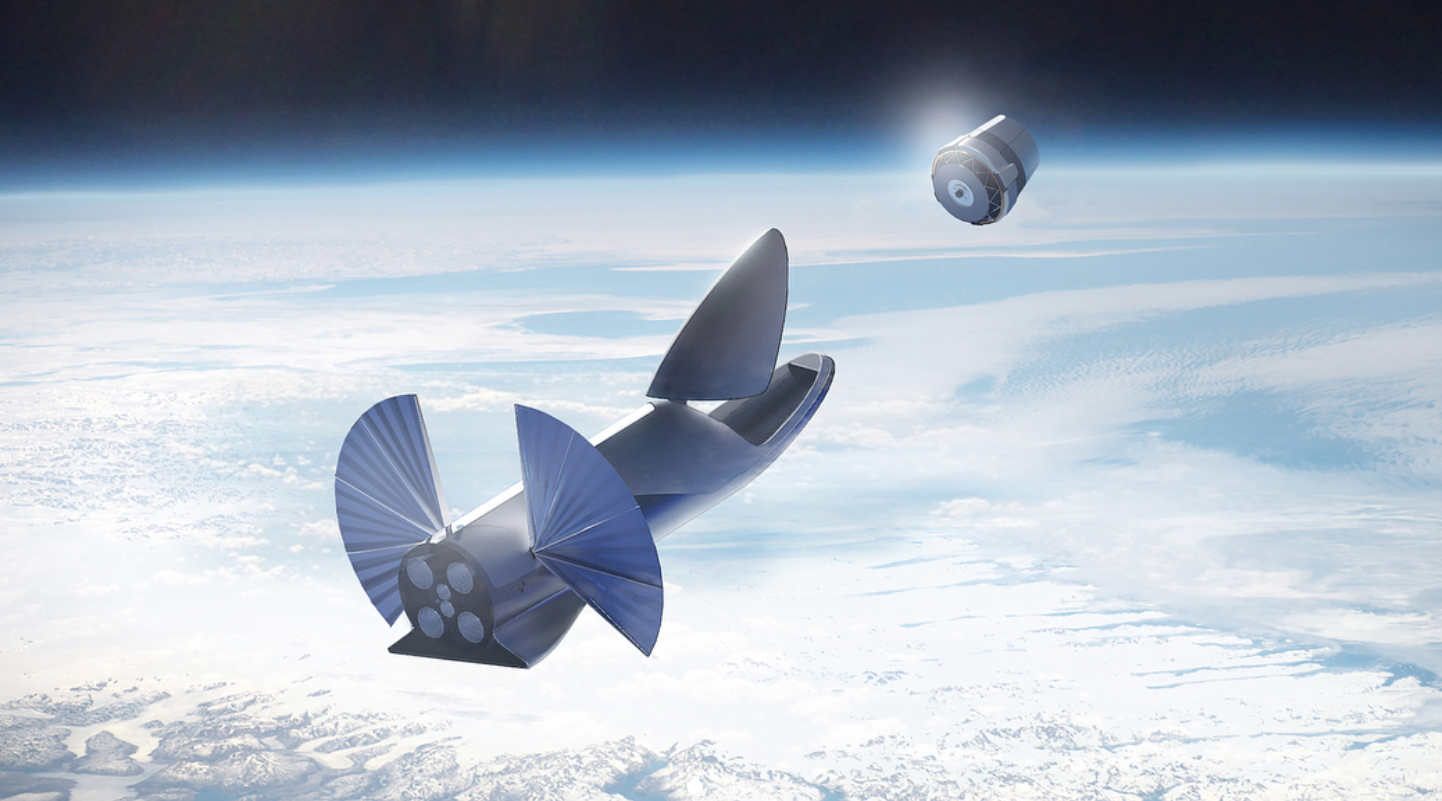 He then showed a concept for establishing a lunar base. "It's 2017, I mean, we should have a lunar base by now. What the hell is going on?" he said.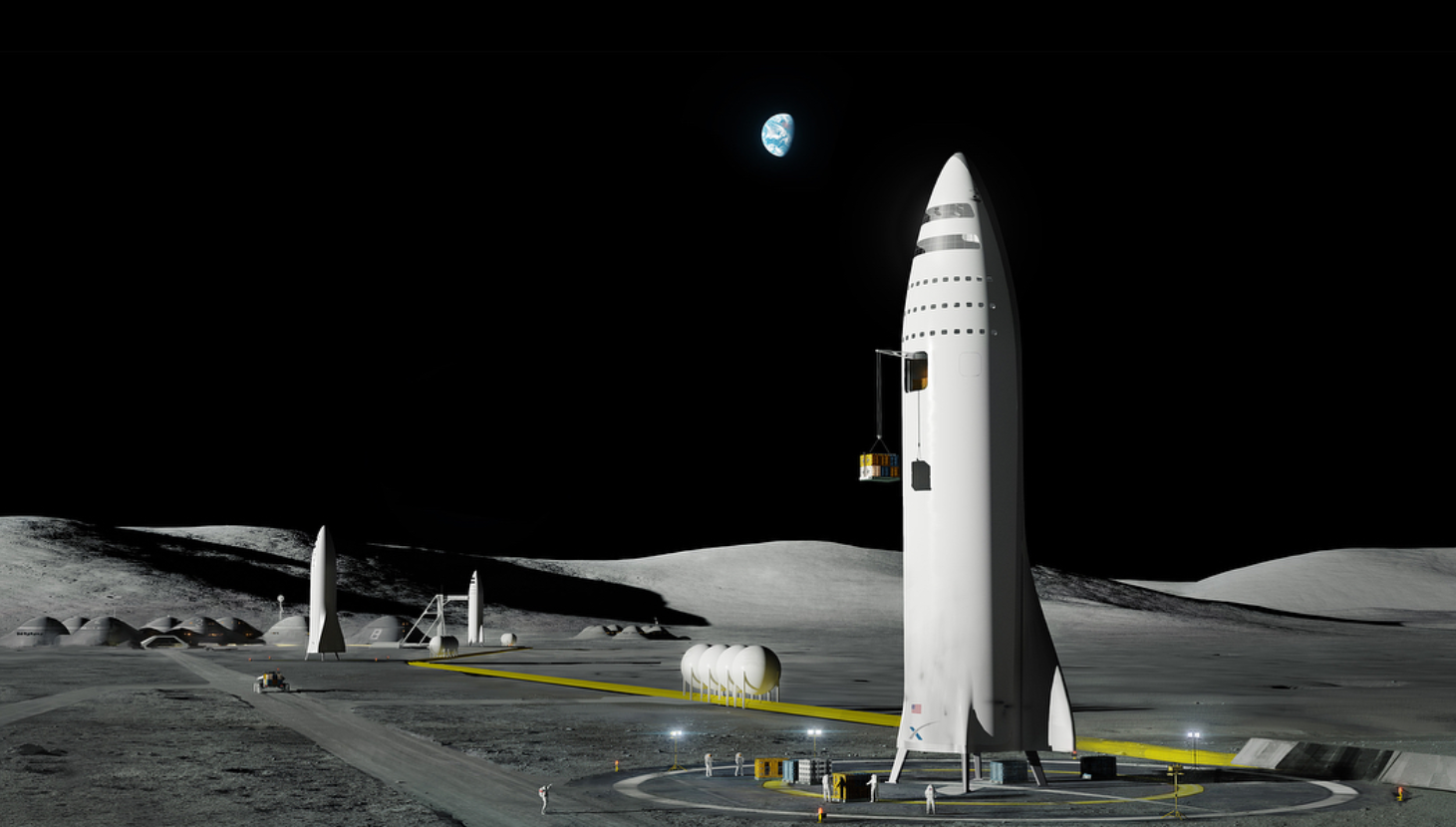 Musk awed the crowd with a concept for how humans will build a society on Mars. But perhaps most surprising is his (frankly unrealistic) timeline: two cargo missions to Mars by 2022 and four (two cargo, two crewed) missions by 2024.
Why is Musk so keen on going to Mars? Not to save our species, look for extraterrestrial life, or write his name in the history books, but simply because it "beats the hell out of being a single-planet species."
"The future is vastly more exciting and interesting if we're a space-faring species and a multi-planetary species than if we're not," Musk said." You want to be inspired by things. You want to wake up in the morning and think, 'The future's going to be great.'"
Travelling anywhere on Earth in an hour
Right when the presentation looked to be wrapping up, Musk stole a line straight from an Apple keynote: "But there's something else."
"If you have a ship to go from Earth to Mars, why not go from Earth to Earth?"
https://www.instagram.com/p/BZnVfWxgdLe/
What followed was a concept video demonstrating how BFR could take humans on most long-distance trips around the Earth in less than 30 minutes, and anywhere in under an hour.