Deputy Attorney General Rod Rosenstein authorized Special Counsel Robert Mueller last August to investigate whether Paul Manafort, President Donald Trump's former campaign chairman, was "colluding with Russian government officials" during the 2016 presidential election, new documents reveal.
The claim comes in Mueller's response to a challenge from Manafort that argued the special counsel was not authorized to prosecute him and asked a judge to dismiss his indictment.
Mueller's response, filed in U.S. District Court in the District of Columbia, outlines point-by-point what he is authorized to investigate including: "any links and/or coordination between the Russian government and individuals associated with the campaign of President Donald Trump" and "any matters that arose or may arise directly from the investigation," among other things.
Within the response, the special counsel filed a memo written by Rosenstein that outlined the special counsel's investigation. The August 2, 2017 memo, which has not been made public before Mueller's response to Manafort, is redacted in parts, but says the special counsel could investigate whether Manafort "committed a crime or crimes by colluding with Russian government officials."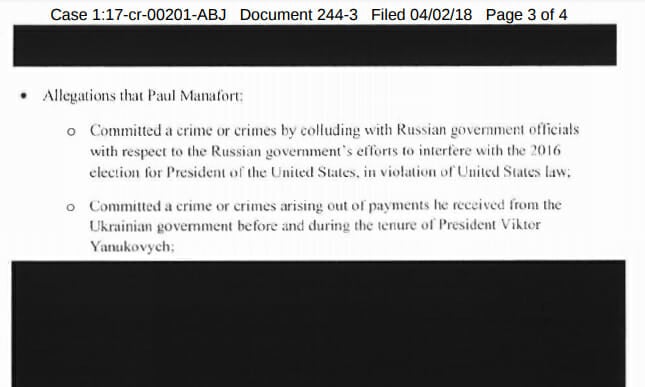 Rosenstein also gave Mueller authority to investigate Manafort's relationship with Ukrainian politicians.
The deputy attorney general has come under fire from Trump in the past. Rosenstein oversees the special counsel's investigation because Attorney General Jeff Sessions recused himself shortly after being appointed by the president last year.