Have you ever been online and suddenly had the feeling that someone other than the NSA was watching you? The good news is that you're not crazy. The bad news is that your personal information is being harvested for profit by thousands of companies that you've probably never heard of. Thanks to new software developed by Mozilla called Lightbeam, users will now have the ability to pinpoint which third-party companies are tracking their online activity. 
In a promotional video uploaded to YouTube that explains the project's purpose, Mozilla's Privacy and Public Policy Lead Alex Flower explains: "This morning I checked four websites… By the time I'd finished my cup of coffee, I had actually interacted with over 120 different companies." 
"Very few people recognize that the interactions they have online are far more expansive than just the websites they think they're visiting each day," he continued.
According to Mozilla, users can evaluate the data collected through Lightbeam using three separate interactive visualizations: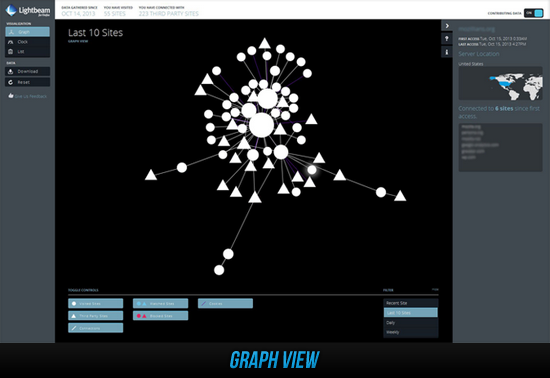 The default "graph view" displays third-party relationships on the Web.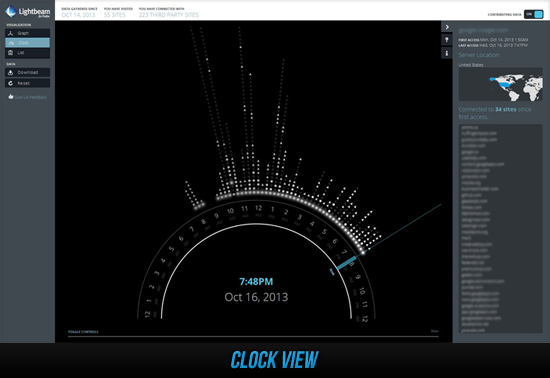 The "clock view" shows your connections over the course of your day. Clicking on a site highlights that site over your day, when it loaded, which third parties it connected to, and when.
The "list view" provides a closer look at individual sites and third parties.
By default, the information collected by Lightbeam is only stored locally, but anyone who installs the plugin can also allow developers to receive the data. 
According to Mozilla, "As a part of Lightbeam, we're creating a big-picture view of how tracking works on the Internet, and how third-party sites are connected to multiple other sites." The data can also be deleted by the user and the plugin can be disabled at any time. Users can also save the collected data to evaluate later.
Lightbeam's privacy policy states that data contributed back to Mozilla is retrieved in a manner they believe minimizes the risk of users being reidentified. The company has also provided details about Lightbeam's file format on Github, which specifies the type of data requested of  contributors. 
Our Mozilla #Lightbeam @reddit_AMA begins now: Ask Us Anything! https://t.co/IDGvnkUZqO Our Proof: https://t.co/1OPVFBqdte

— Mozilla (@mozilla) October 27, 2013
To address questions about user-data and privacy concerns, the Lightbeam team launched an AMA on Reddit.
Lightbeam was installed by more than 230,000 users less than a week after being launched and held a slightly above-average rating (4 out of 5 stars) after 206 reviews. Only two users reported issues installing the plugin—both followed by the inevitable comment instructing them to ditch Windows and install Linux. 
One user added, "Lightbeam is a cool idea and I hope that Mozilla continues the good fight against the corporate and government spies of the cyberworld. I contribute my data, do you?"
Image via Mozilla; remix by Dell Cameron