MONDO 2000 was the early '90s resource for "techno-revolutionaries," an underground publication that offered alternate views on digital media, hacking, and futurism, just as the Internet was coming to life.
The magazine's founder, R.U. Sirius, posted an oral history of MONDO, which offers a look into why it was so important, with insight from William Gibson, Douglas Rushkoff, and others. Here's what Rex Bruce, founder of the Los Angeles Center for Digital Art, had to say:
It was the beginning of the period we are still in, pretty much. Nobody really knew what the web was back then or what enormous potential it held. People in the MONDO scene knew and were going at it full force.

Emergent technology is still a huge area of cultural change. The cyberpunk people made it a movement and an identity — the scene grew to be a substantial part of a long history of bohemian culture that runs against the grain. This time it was armed with the internet, smart drugs, ubiquitous technology and the ubiquitous interface we still love and live in daily. It both began and predicted the times we live in.
This 1993 MONDO fashion spread is of particular interest. The term "cyberpunk," which stemmed from the novels of Gibson and other future-minded sci-fi writers of the early '80s, was a progressive identity in the early '90s. This handy guide let you know if you were, indeed, a cyberpunk.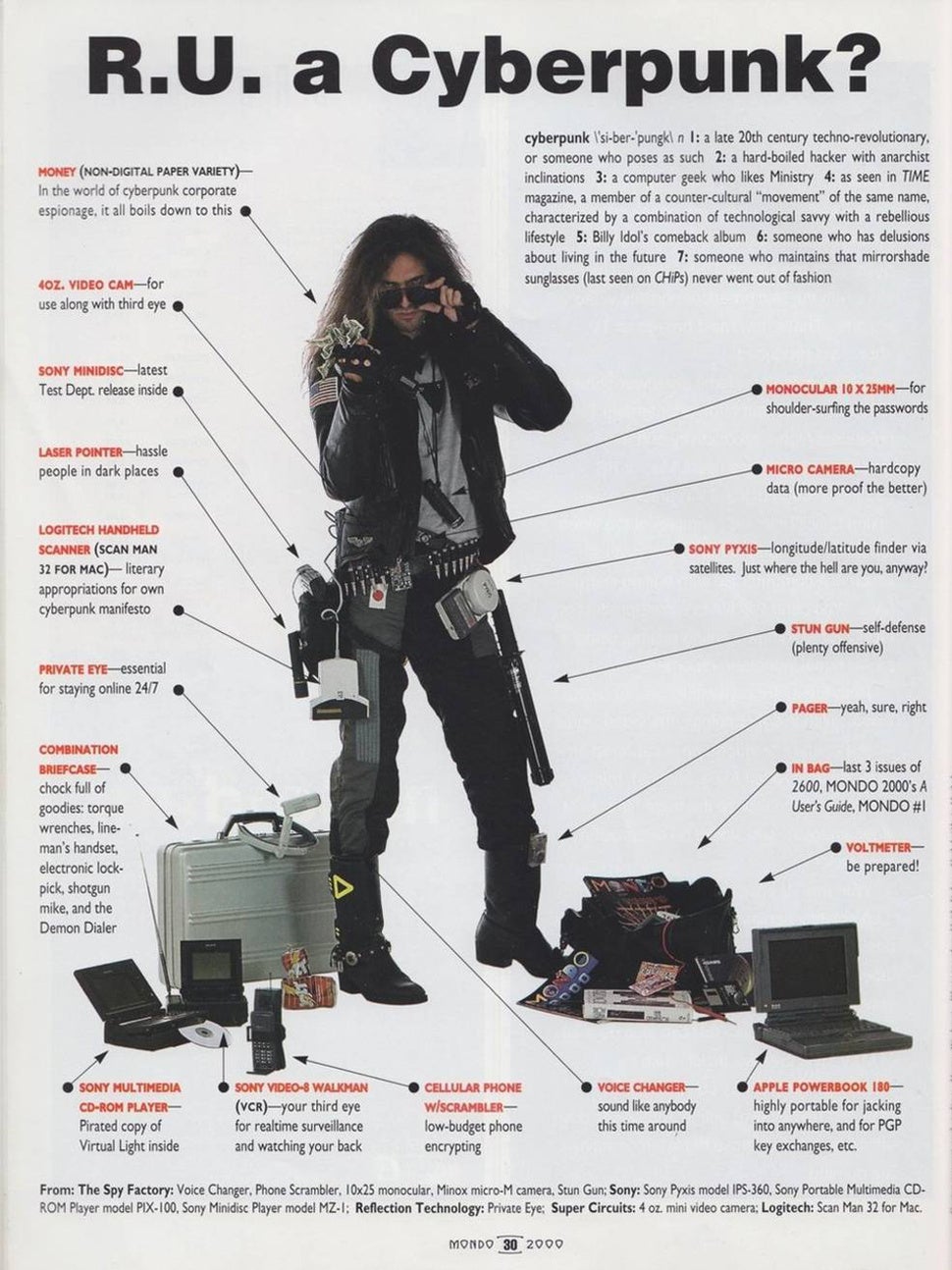 Ah, the techno-speak! The "Private Eye" seems to have been a precursor to Google Glass, for "staying online 24/7." A Sony Video-8 Walkman was essential for "real-time surveillance," and a Sony Pyxis found latitude and longitude, pre-GPS.
Twenty years later, much of this technology is obsolete, but a few of the ad's definitions of cyberpunk still hold water: A "hard-boiled hacker with anarchist inclinations" just looks a little different today.
Photo via Omni Reboot