Sen. Mitt Romney (R-Utah) has admitted to having a secret Twitter account. And it's even better than you're imagining.
Yesterday evening, Slate published a piece speculating that Twitter user @qaws9876, screen name Pierre Delecto (seriously), was the secret Twitter account that Romney mentioned in an interview with the Atlantic. "What do they call me, a lurker?" he reportedly said.
Romney said he used the account to monitor the political conversation, and referenced how many accounts he followed and listed a few, including "What's his name, the big redhead from Boston?"
If only my parents had given me a memorable first name. https://t.co/LX7FWRk9nr pic.twitter.com/t2LDseg0N6

— Conan O'Brien (@ConanOBrien) October 20, 2019
Using this information as her starting point, Slate's Ashley Feinberg was soon hot on the trail of Romney's alter ego.
In the end, it was the senator's fondness for family that did him in. Among his eldest grandchild's relatively few followers, Feinberg found one account whose activity bore quite the resemblance to what one would imagine for Romney. It followed all the accounts Romney had mentioned to the Atlantic, as well as a bunch of accounts that she surmised Romney would follow, including an account that reimagines (future) history with Romney as the 46th president.
Now, THAT'S a Republican message. https://t.co/23Cf8nFl4X

— President Romney (@AltPresRomney) February 16, 2018
Not long after the piece published, Romney confirmed to the Atlantic that Pierre Delecto was he, and he was Pierre Delecto. "C'est moi," he reportedly said.
Sadly, soon after the piece published, someone told Romney how to make his account private.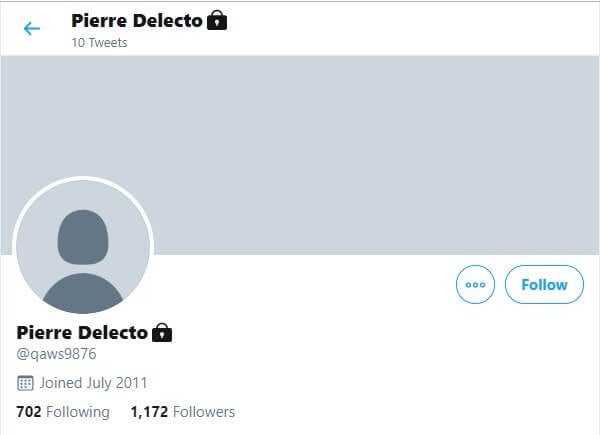 Romney created the account in 2011 shortly after announcing his presidential bid. It was four full years, Feinberg reported, before he tweeted.
The 10 times that he tweeted were exclusively comments on tweets, most of them about himself. When Washington Post blogger Jennifer Rubin tweeted a link to a Politico story calling Romney's Trump strategy "nonconfrontation bordering on spinelessness," the senator replied, "Jennifer, you need to take a breath. Maybe you can then acknowledge the people who agree with you in large measure even if not in every measure."
On another occasion, he responded to former George Bush Sr. adviser John Weaver's tweet lambasting Trump for betraying the Kurds, writing, "John, agree on Trump's awful decision, but what could the Senate do to stop it?"
Romney's 257 likes were even more telling than the tweets, however. According to Feinberg, in addition to liking tweets about himself, mentioning himself, and from his account, he liked quite a few by George Conway and one by none other than Devin Nunes' cow. One time he even liked a tweet referencing using the 25th amendment to remove Trump from office.
Here's a sampling:
https://twitter.com/DevinCow/status/1178638935314051072
It's hard to know what to say about this. https://t.co/53xHIkMZOT

— George Conway (@gtconway3d) October 9, 2019
I've always thought that "invoke the 25th amendment!" was a misguided, futile notion but after this Tweet from the President, I'm reassessing… https://t.co/MFs3MpT6kj

— Jeff Greenfield (@greenfield64) October 7, 2019
The people of Utah were so disgusted by Romney's criticisms of Trump they elected him to the Senate in 2018 by a 62%-30% margin https://t.co/I1GsdqYv8D

— Christian Schneider (@Schneider_CM) October 5, 2019
As Republicans turn on people like Mitt Romney & US intelligence agents, I'd like to remind everyone that the crook they're stupidly protecting is banned from operating a charity in all of NY because he and his swindling kids stole from a children's cancer charity.

— Josh Moon (@Josh_Moon) October 6, 2019
I've always thought that "invoke the 25th amendment!" was a misguided, futile notion but after this Tweet from the President, I'm reassessing… https://t.co/MFs3MpT6kj

— Jeff Greenfield (@greenfield64) October 7, 2019
Who is having the better Saturday? pic.twitter.com/qFZ4svo6Bt

— Matt Viser (@mviser) October 5, 2019
Feinberg never did figure out why Romney chose the name "Pierre Delecto." Perhaps the French-speaking senator selected a name that reflected his Francophile inner being.
In the short amount of time that @qaws9876 was unmasked and public, his follower count leaped from eight to more than 1,000. So far, his official account has not commented on the matter.
READ MORE: