It's been over a month since the backlash began over Bud Light doing a promotion with a transgender influencer. Now conservatives are trying to jumpstart a fresh round of anger at another beer company over an ad they're complaining is too "woke." The ad is about the history of sexist beer ads featuring women and an initiative to support female brewers.
In March, Miller Lite ran an ad commemorating Women's History Month. The ad noted that women actually were the first to brew beer, then took the industry to task for decades of exploitative ads featuring scantily clad women.
The ad stars actress and comedian Ilana Glazer. "How did the industry pay homage to the founding mothers of beer? They put us in bikinis," she said.
"Look at this shit," Glazer added as she picked up a photo of a woman in a tiny bathing suit, the censor beep sounding over the obscenity each time she says "shit."
She then explained that Miller Lite wanted people to send old sexist ads to them, which it would turn into compost, feed to worms, then donate the worm poop to farmers who grow hops. Those hops would then be donated to female brewers.
Glazer said, "Miller Lite is on a mission not only clean up their shit, but the whole beer industry's shit."
The promotion appears to have ended, as the URL listed in the ad now redirects to Miller Lite's main page.
Conservatives are not having it, though the precise cause of their outrage isn't entirely clear. Either they are upset that Miller Lite is supporting female brewers, mad that it would suggest beer ads objectified women, or possibly both.
"This video was about two things: worm poop and saying women shouldn't be forced to mud wrestle in order to sell beer," a spokesperson for Molson Coors told the Daily Dot via email. "Neither of these things should be remotely controversial and we hope beer drinkers can appreciate the humor (and ridiculousness) of this video from back in March."
The anger over the two-month-old ad appears to have originated with a single tweet. On Monday morning, @MythinformedMKE posted the ad and wrote, "It seems Miller Lite doesn't understand their audience either."
The tweet has been viewed 2 million times as of this writing. It's launched a firestorm of fury. Miller Lite and Yuengling trended on Twitter on Monday, the latter because people were suggesting fans of the former start drinking it instead.
Conservative poster Benny Johnson chimed in to say that it was "suicidal" for Miller Lite to have Glazer in an ad for a "working-class beer brand." His point seems to be that working-class people aren't women and/or don't support women's equality.
In a move that was reminiscent of the uproar over Bud Light's promotion with trans influencer Dylan Mulvaney, Henry Rodgers of the right-wing Daily Caller took aim at the company's head of marketing for supporting former President Barack Obama. Amid calls for her to be fired, an executive at Anheuser-Busch took a leave of absence over the Bud Light ad.
The Daily Wire also posted the ad and quipped, "Looks like Miller Lite has jumped into the woke beer game." Its followers responded by saying they were "devastated" and calling for a boycott of Miller Lite.
The Daily Dot found angry posts about the ad all over the internet.
Many of the posts referenced Bud Light and incorrectly claimed that Miller Lite just published the ad that has them in hysterics.
"Did NOBODY learn from Bud Light's COSTLY mistake? Miller Lite just dropped this WOKE advertisement!!! When will these beer companies learn????" commented @GrahamAllen_1.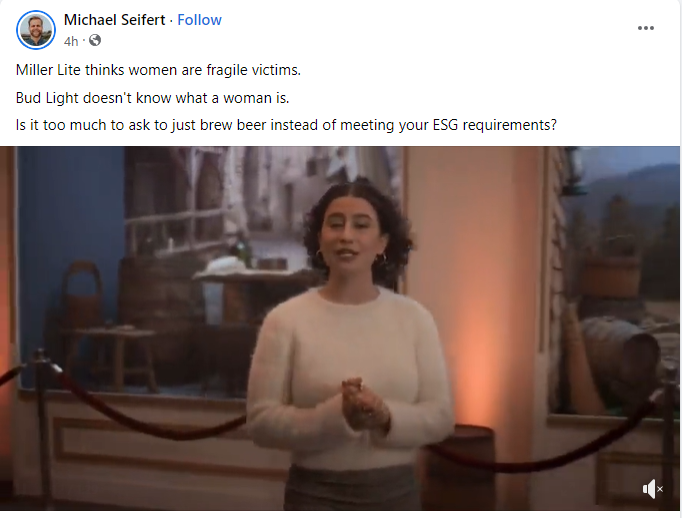 Miller Lite's recent tweets are also being trolled by people incensed over the ad.
"You had a silver platter placed right in front of you and you $#!t out a woke feminist trash ad?!" wrote @phillipritchie.
Liberals think the controversy is ridiculous.
"The 'I don't get offended' crowd is turning to whiny little piss babies because of a Miller Lite commercial," comedian Walter Masterson commented.
Another Twitter user suggested that people "gouge out their eyes like the Bible says" after they get "done crying about not lusting after women."
In the wake of the Bud Light backlash, users claimed to flip their allegiance to Miller.
Now, though, it seems that no beer is safe for conservatives to drink.

We crawl the web so you don't have to.
Sign up for the Daily Dot newsletter to get the best and worst of the internet in your inbox every day.