It seems like just about every electronics company is entering the wearables market at the moment, and it didn't take a rocket scientist to realize that Microsoft would eventually do the same. The fact that the Microsoft Band announcement on Wednesday was even the slightest bit surprising speaks to how little we expect of the company, but now that it's been revealed there's one thing about Microsoft's wearables strategy we know for sure: Microsoft has very little interest in competing with the Apple Watch.
Two different markets
When Apple's Tim Cook took the stage in early September it was to both announce his company's newest iPhones and state Apple's intentions to rule the smartwatch market. With an introductory price of $349 and flashier models priced much, much higher, the Apple Watch is an elite product for buyers who want an insanely capable device on their wrists.
The Apple Watch is a device that will be competing directly with the Moto 360, Samsung Gear 2, and LG G Watch R as they claw at each other for a spot at the top. The Microsoft Band does not compete with any of these, and that's entirely by design. For once, Microsoft is launching a mobile product that it can have success with, even if that success comes by carving its own user base from the middle of the pack.
At $199 and packed with health features, the Band is still a smartwatch, but instead of shooting for a place at the top, it will be fighting for the same consumers as the Gear Fit and newly announced Fitbit Surge fitness watch. This is the perfect spot for Microsoft's first big wearable push, and it's a fight that the company could very well win.
Consider the current mid-tier ($99 to $199 is what I'd consider to be mid-tier at this point) smartwatch/fitness tracker market. There's the Pebble, which lacks any type of advanced health tracking and sports a monochrome screen, the Gear Fit that only works with Samsung's own smartphones and tablets, and the Fitbit Surge which won't support third party smartphone apps.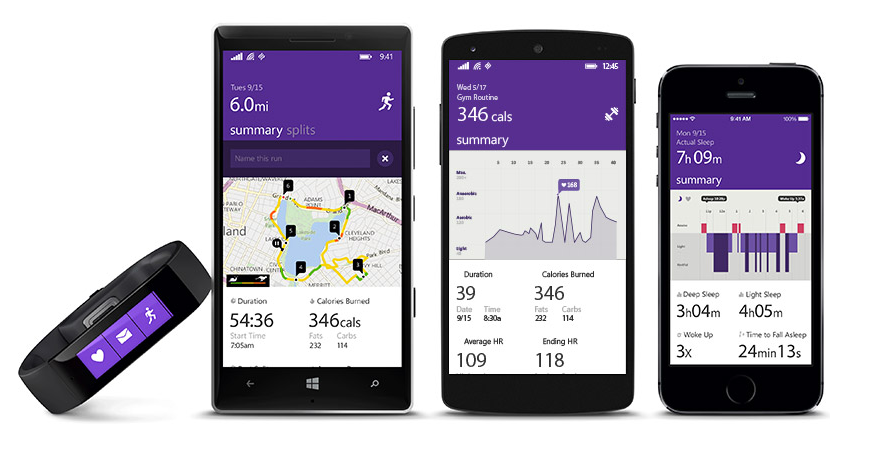 By contrast, the Microsoft Band tracks everything you'd expect from a fitness band, works with iOS, Android, and Windows Phone devices, and will launch with a full compliment of third-party app support from the likes of Facebook, Twitter, and even Starbucks. Yes, you can pay for your morning latte by having the barista scan your wrist.
The Band is not a do-it-all device—for that you'll want to step up to the top-tier smartwatch offerings from Apple, Motorola, and LG—but it's a very smart play from Microsoft. It's tastefully designed, comes in three sizes, and sports cross-platform compatibility that will help it appeal to the greatest number of consumers.
Timing is everything
By the time Apple announced its watch, every meaningful decision regarding the Microsoft Band had likely already been made. The Band is by no means a direct response to Apple's announcement, and therefore it's impossible to say whether knowledge of the competition's plans would have affected how the Band turned out. That said, I don't believe it would have.
It wouldn't have been hard to guess that Apple was poised to shoot for the top with its debut smartwatch, and considering flagship devices like Samsung's Gear line and the Moto 360 have been making headlines for a year or more, Microsoft knew that it was making a conscious decision to settle for something less than the cutting edge with the Band.
That's a level of awareness that the company has rarely displayed with its Surface tablets or Windows Phone offerings—where it frequently shoots for the moon and falls well short—and it's refreshing to Microsoft get excited about a gadget that isn't trying to be the best of the best. For the first time in a long time, Microsoft appears to know exactly where it stands, and it's picking its fights wisely.
Photo via Microsoft