Rep. Matt Gaetz (R-Fla.) continues his steadfast opposition to any and all regulation of gun ownership. Earlier this week, the congressman tried to get parents of Parkland shooting victims booted from a committee hearing on legislation that would make universal background checks for gun purchases the law of the land. It seems they didn't take too kindly to his bizarre grandstanding about building a border wall to stop gun violence.
Following a back-and-forth with Parkland survivor and gun control advocate David Hogg on Thursday, Gaetz reached deep, deep into his bag of tricks to claim that Twitter user @pinkfixie, who has 476 followers as of this writing, was the voice of "the left," all of whom, according to Gaetz, want to take guns from "law abiding citizens."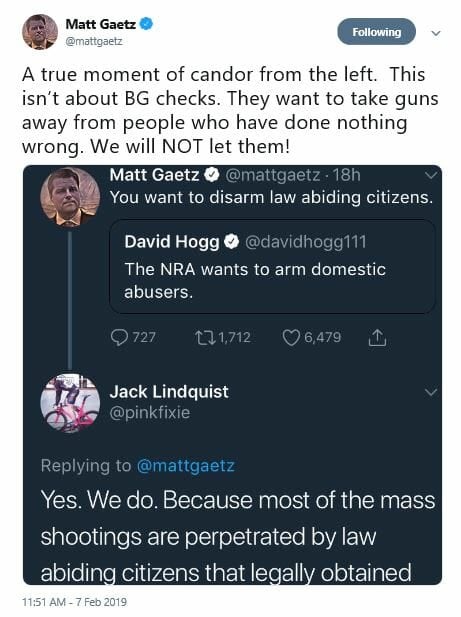 His followers were not having it.
The clapbacks commenced immediately, racking up well over 2,000 comments by the time the dust settled on the tweet. Many were deeply amused by the idea that a congressman could believe that one random tweeter represented half of the political spectrum.

Only when Fred Guttenberg, the father of Parkland victim Jaime Guttenberg, essentially called him two-faced did Gaetz poke his head up out of the nether Twitter regions, prompting Guttenberg to accuse him of playing a game of "What Random People Say Is What I believe" and make a call to action for people to respond with comments "showing what Matt believes."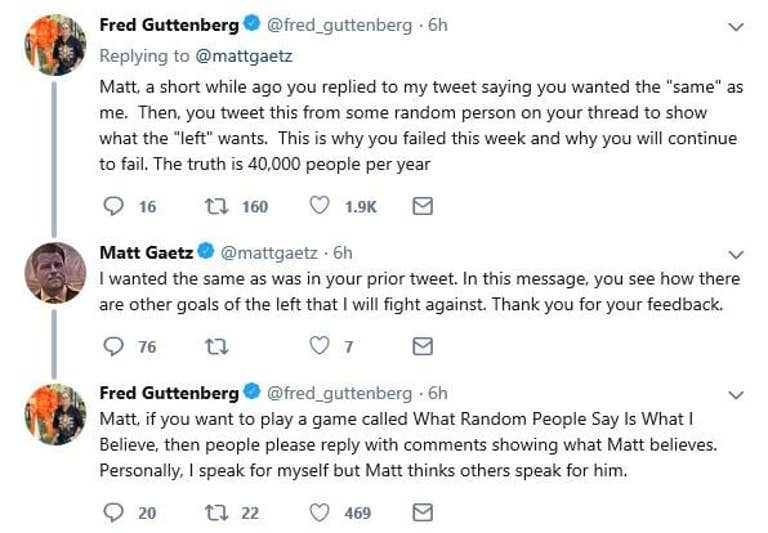 A few heeded this call to action with zingers.
It wasn't all fun and jokes about DUIs, though. Some pointed out that the vast majority of Americans support universal background checks, and noted that nearly all gun violence, including mass shootings, is committed by American citizens, and not, as Gaetz seems to believe, by undocumented immigrants.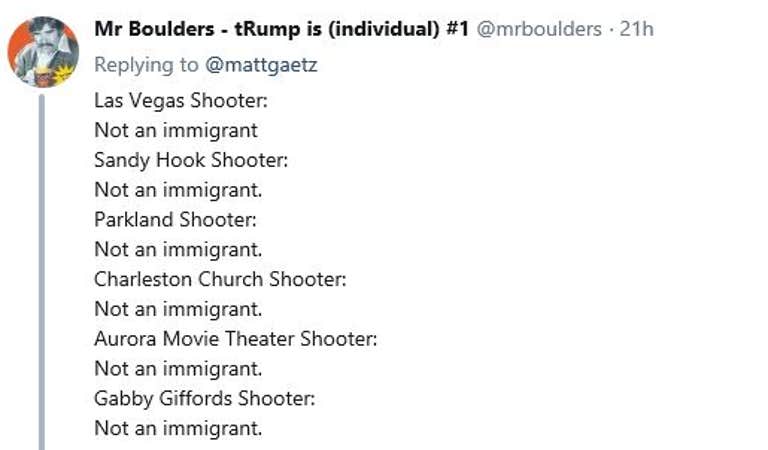 Others questioned the implied assertion that universal background checks would affect upstanding citizens, and wondered where Gaetz really stands on mass shootings.


Even @pinkfixie was surprised to learn that he had been elevated to spokesperson for the many millions of American liberals.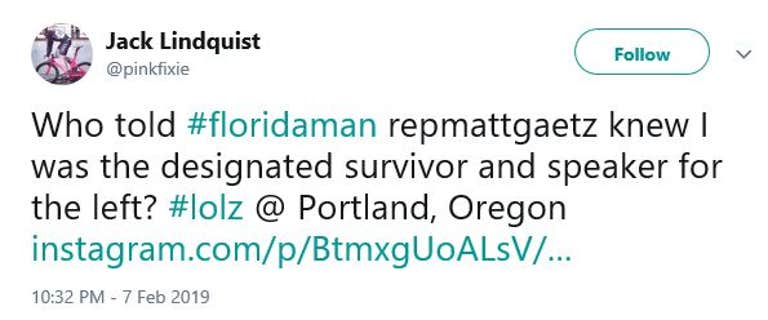 If we had to encapsulate the mood of the thread in a single tweet, it would be this one.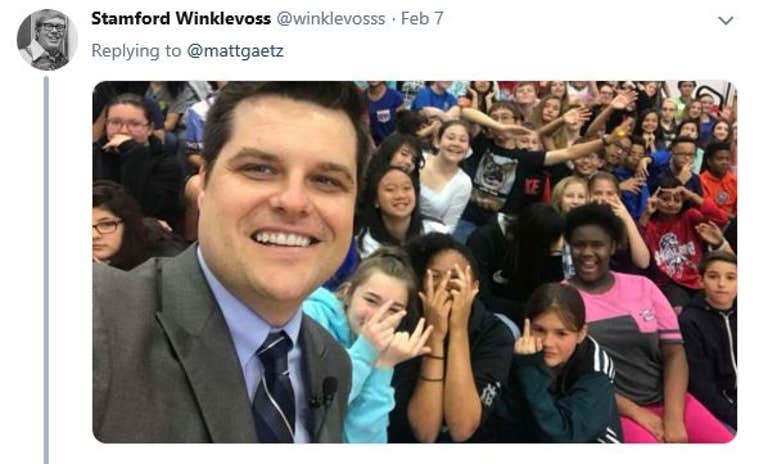 Keep smiling, Mr. Congressman.
Never to be outdone, professional Twitter dog walker David Hogg seized upon Gaetz's tweet to remind everyone about the odd guest who accompanied the congressman to the 2018 State of the Union address, Holocaust denier Chuck Johnson.

Hogg then directed his followers to donate to a fundraiser for whoever decides to run against Gaetz in the next election.