Authorities arrested a man on federal charges for an attack on an Oklahoma donut shop that hosted a drag queen event last October. Authorities say evidence includes flyers and social media posts that accuse the LGBTQ community of preying on children.
The Donut Hole in Tulsa, Oklahoma was attacked twice last October. Following the second attack, police released security camera footage that showed a hooded and masked man smashing the window with a baseball bat then tossing a lit Molotov cocktail inside. The man also left homophobic fliers behind.
The attack was widely believed to be linked to the Donut Hole hosting a drag queen event weeks earlier. The LGBTQ community has experienced an escalating barrage of attacks and accusations from conservatives in recent years, many of which center on the false claim that LGBTQ people and drag queens prey on or sexualize children.
Some conservatives claimed that the attack on the Donut Hole was a false flag designed to malign them, based largely on the perpetrator wearing a hat that closely resembled a MAGA hat, which they believed was done intentionally. Conspiracy theorists often blame violence or vandalism that appears to have a political or bigoted motive on their ideological opponents.
On June 15, the Bureau of Alcohol, Tobacco, Firearms and Explosives (ATF) arrested 24-year-old Coby Green for the attack on the Donut Hole.
Court records show that Green has been arrested for a previous arson in an unrelated case. The charging document says that officers familiar with that case recognized Green as having the same race and build as the man in the footage outside the Donut Hole.
Green was reportedly arrested for traffic warrants while protesting a drag brunch at a different Tulsa eatery in May. Subsequently, police got warrants to search his car and the apartment he shares with his mother. There they purportedly found a flier that was an almost exact for one left at the Donut Hole.
The charging document states that, in response to the Donut Hole's having a drag event, Green wrote on Facebook, "OK, it's officially time to shine our boots and put on our armbands boys, this disgusting filth has got to go." He also allegedly wrote on the same thread that "LGBT tyranny" was being "force fed" on society.
After the Donut Hole was vandalized in mid-October, Green reportedly wrote, "I'm just sad they didn't Molotov it" and "children shouldn't be sexually exploited and that is being advocated by the LGBT community."
Court documents include images of the fliers that were found at the eatery after the arson attempt. One flier shows a man in a red hat holding another by the throat with the caption "the only virus is LGBT." Another shows a person being choked with a rainbow-hued bandana that includes the captions "fight against LGBT groomers" and "now take the hormones, put on the dress and explore your sexuality."
Authorities say they also recovered clothing from Green's residence that precisely matches those worn by the suspect in the surveillance footage. They report that Green had three copies of newspapers covering the attempted arson of the Donut Hole.
A source who asked to remain confidential sent the Daily Dot copies of two fliers that Green allegedly also handed out at the May protest where he was arrested. One includes the Nazi Eagle and says "reject groomers/LGBT events are not meant for kids." It also references "grandsons of liberty" and the acronym "GOL."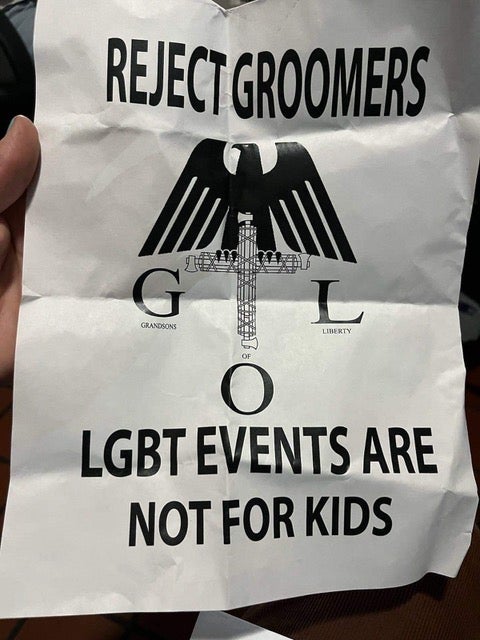 The second flier also includes the Nazi Eagle, the acronym "GOL," and accuses that eatery of offering "kink for kids."
It is not known whether grandsons of liberty is the name of a group. Authorities have not indicated that there are any other suspects in the case.
It is possible that grandsons of liberty is a reference to the Sons of Liberty, a violent Revolutionary Era group that opposed British rule and popularized tarring and feathering government officials. Anti-government groups often invoke Revolutionary War imagery and symbolism. There are YouTube and Telegram channels called grandsons of liberty, a website, and a Facebook page. None of the social media profiles have been active in the last few years and the website is currently under construction.
Green has been charged with malicious use of explosives. His next court date is set for June 21. It is not known how he intends to plea.
The Donut Hole celebrated news of Green's arrest on Facebook.
"Thanks to all the ATF officers who handled our case," it wrote, "And right in the middle of pride month! Can you even believe it? #lovewins."

We crawl the web so you don't have to.
Sign up for the Daily Dot newsletter to get the best and worst of the internet in your inbox every day.