Back in the caveman era of the Internet, there were chatrooms for people to pretend to be Britney Spears and masturbate to each other's elaborate sexual fantasies, which occasionally involved acts of sodomy with marshmallows.
Although we've come a long way since then in terms of technology, it's still embedded in the fabric of our sexual DNA to get off on talking dirty with anonymous strangers on the Web. Case in point: LovePalz Club, an interactive cybersex network in beta that's like a 21st-century version of the 18+ "MILFsnteens" AOL chatroom you used to visit with your friends as a "joke" after school.
LovePalz first launched as a sex toy company back in 2012, taking its first tentative steps into the emerging field of teledildonics with Zeus and Hera, two Wi-Fi-enabled toys for long-distance couples. (The company also invented the Ladobi headphones, the earbuds intended exclusively for porn-watching that we reported on earlier this year.) Using motion sensor technology, the toys would transmit one partner's thrusts and movements to the other, recreating the experience of virtual sex.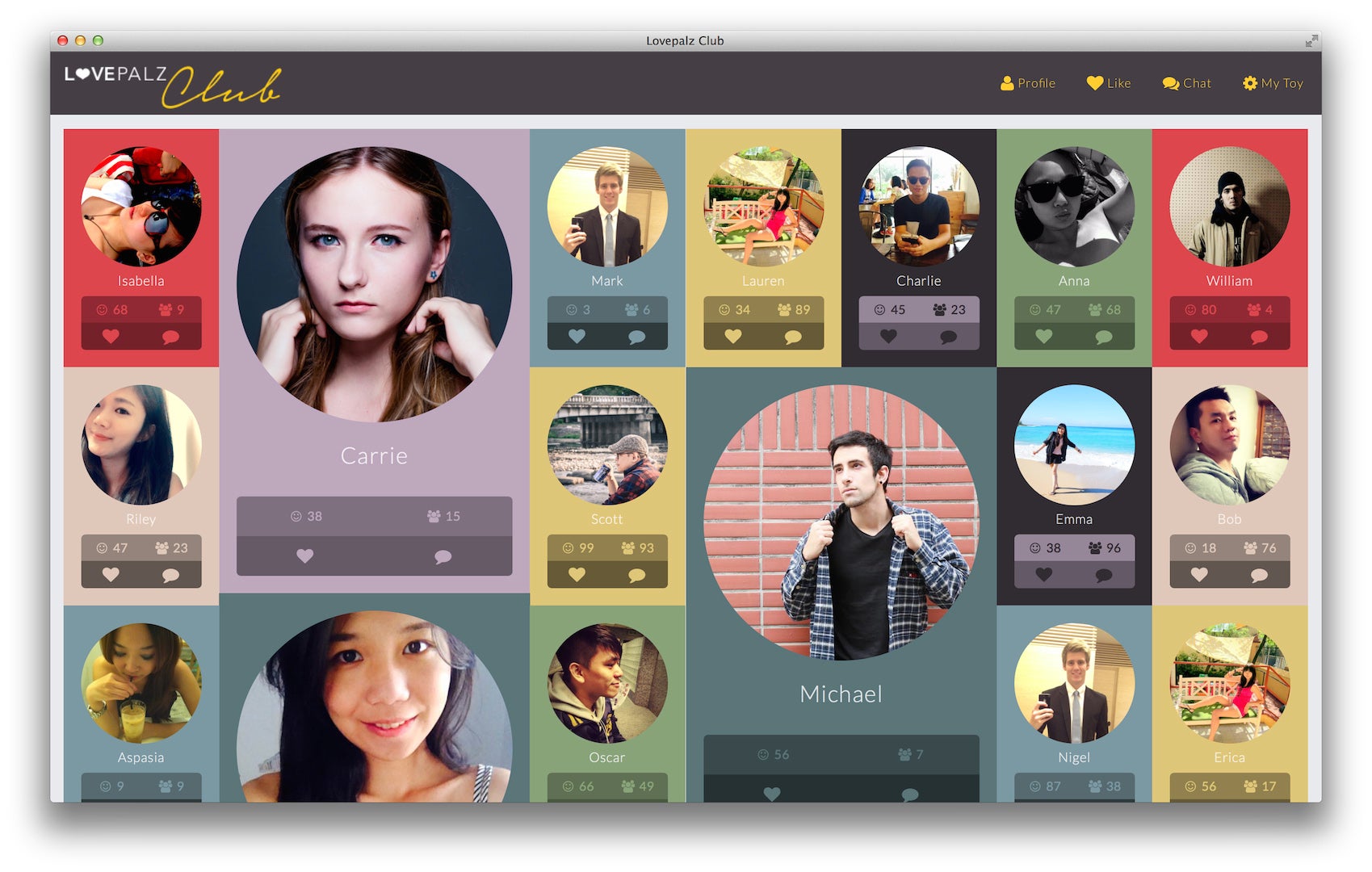 Screengrab via LovePalz
At the time, says LovePalz spokesperson Viv Lu, "many of our users [gave] a lot of comments asking if we can develop social functions on LovePalz." (The company is based in Taiwan, and Lu is not a native English speaker.) So the company decided to launch LovePalz Club, a "revolutionary social platform for lovers, husband and wife, or even strangers to embrace the interactive sex toy and social platform at the same time."
In some respects, LovePalz Club is fairly similar to any other dating social network like Tinder or Mixxxer: You log on, you surf users' profiles, and you select a user you'd like to chat with. (Much like Tinder, users have to approve each other before they can chat via video or text.) But unlike most hookup apps, LovePalz Club is not location-based, so you can chat with pretty much anyone anywhere in the world. (The network is still in beta, but Lu says members are primarily from Skout, Tinder, and Match.com.)
The other unique aspect of LovePalz Club is that it's intended to be used in tandem with Twist, a new sex toy that the company is launching alongside the social network. According to Lu, Twist is similar to Zeus and Hera, in that it comes in two versions, male and female, with each toy designed as a replica of your preferred gender's "nether regions." If LovePalz Club users start chatting and decide to get frisky, they can pair up their respective Twist devices by using Bluetooth to connect with the cloud server. From there, they can control the pressure and vibration of their partner's Twist via a button on their own device, resulting in what Lu refers to as a "new standard of cyber physical interaction services."
The idea of an interactive cybersex social network is rooted in the principles of teledildonics, or technology that allows you to sexually stimulate a partner remotely. While LovePalz is far from the first adult toy company to venture into this space—the United States manufacturer OhMiBod has also branched out into the field with their BlueMotion vibrator, which can be controlled by a partner via smartphone app, and the upcoming teledildonics company Kiiroo also plans to launch a similar social network—LovePalz club is unique in the sense that it combines the retro appeal of anonymous cybersex with a high-tech, twenty-first century sensibility.
That said, it's hard to imagine users not getting a little creeped out by the prospect of having their orgasms controlled by a total stranger. While toys like OhMiBod's BlueMotion and Lovense's his-and-hers sex toys are intended to be used by long-distance couples, LovePalz Club is targeted at a far less intimate and exclusive audience. "We expect all kinds of users," Lu says when I ask her who she expects to join LovePalz Club. "LovePalz Club is a platform for people who get tired of old-fashioned social networks and [are] looking for stimulation."
Given how frustrated users of traditional social networking platforms like Facebook and Twitter are with the websites' restrictive content guidelines and policies, there might be a demand for such an unorthodox social networking service after all. "We believe that general public nowadays are grown out of or gradually unsatisfied with what mainstream social networking site has to offer," Lu says. "We are [witnessing] a new phase of social platform on the rise, and the new phase can be something simple like Ello or could be something unheard of like LovePalz Club." Just try not to use the standard "A/S/L?" as an opener.
Photo by Mark Sebastian (CC BY SA 2.0)