Liz Mair is a self-described communications specialist who works with Republicans. She's held jobs with the Republican National Committee,  Secretary of Energy Rick Perry, Wisconsin Gov. Scott Walker, and former presidential hopeful Carly Fiorina.
On LinkedIn, she describes herself as an anti-Trump Republican. But the Republican Party under President Donald Trump has become a place where it's OK to air nationalist, racist views as it increasingly sees a hardline on immigration as its only core identity.
So where does Mair stand at that intersection? Well, against it, except for just one issue.
One very, very, very, very specific issue, which she later clarified was a joke.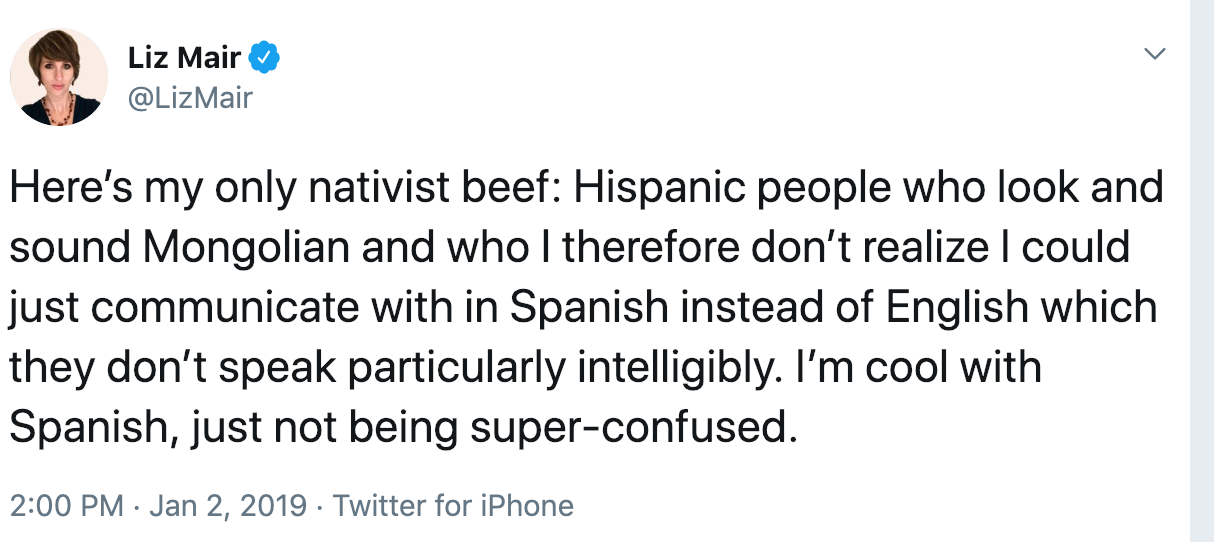 "Here's my only nativist beef," Mair wrote, as though having just one was OK. "Hispanic people who look and sound Mongolian and who I therefore don't realize I could just communicate with in Spanish instead of English which they don't speak particularly intelligibly. I'm cool with Spanish, just not being super-confused."
And no one knows why she posted this.
https://twitter.com/willmenaker/status/1080549126633250816
Louis CK's new material keeps getting worse https://t.co/D2TsXN5Ku7

— Harry Cheadle (@HCheadle) January 2, 2019
https://twitter.com/grylxndr/status/1080549714356043781
What a coincidence. I'm concerned about people who look and sound like racist dipshits. Glad I found your tweet.

— Mr. Butter Chicken (2020 Elite Edition) (@MrButterChicken) January 2, 2019
Your modern GOP, folks. https://t.co/O34lsDnWbT

— Jillian C. York (@jilliancyork) January 2, 2019
Nothing like a little racism from a republican Comms director. https://t.co/iF4Y1InPHX

— (((Jay Lindey))) (@JTLindenberg) January 2, 2019
Update 7:33am CT, Jan. 3: Mair did not originally respond to a request sent to an old email. However, on Twittter, she announced she was deleting her tweet, which she said was sarcasm that had been misconstrued and explained in a thread.
In an email to the Daily Dot, Mair said that given her background on immigration policy, it should have been clear it was a sarcastic statement.
"I'm honestly really surprised given my very public and well-known reputation for ongoing, daily work on pro-immigration and pro-immigrant causes … But I guess it's a good intermittent reminder that sarcasm really doesn't translate on Twitter … Plus I've got the wrong partisan affiliation and Trump being President does lead a lot of people to assume a lot of erroneous things about Republicans on spec.
Here response to her tweet is below.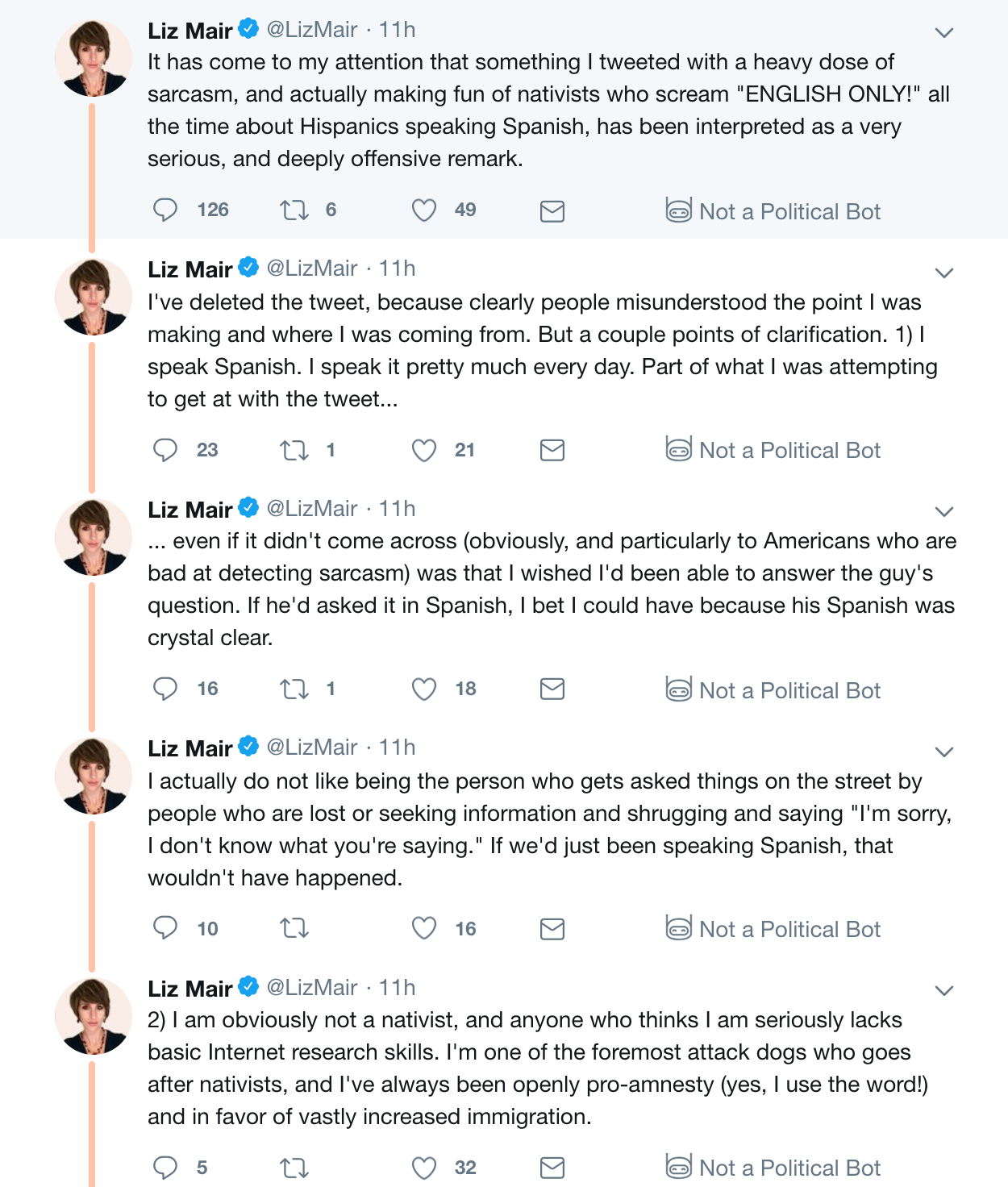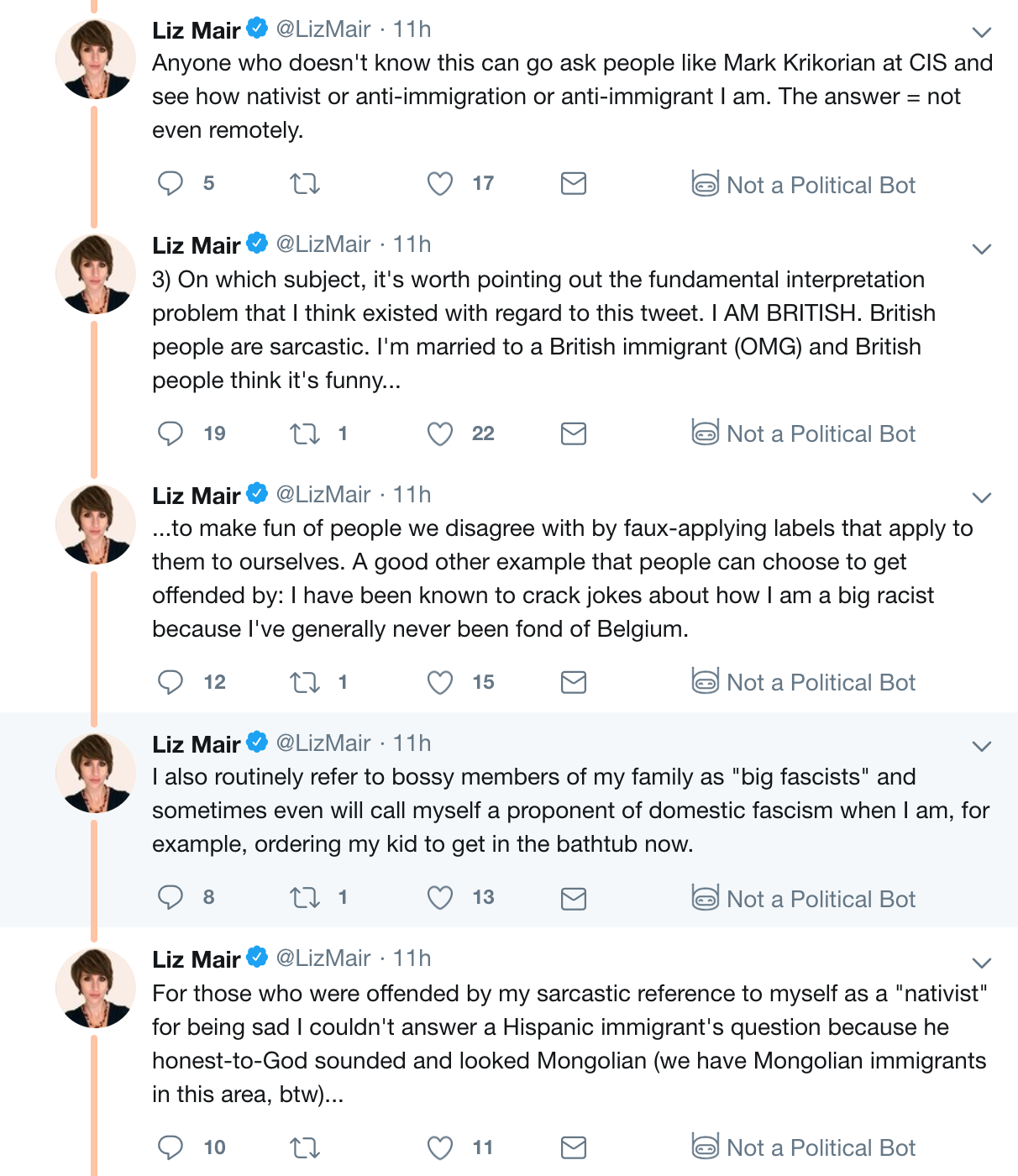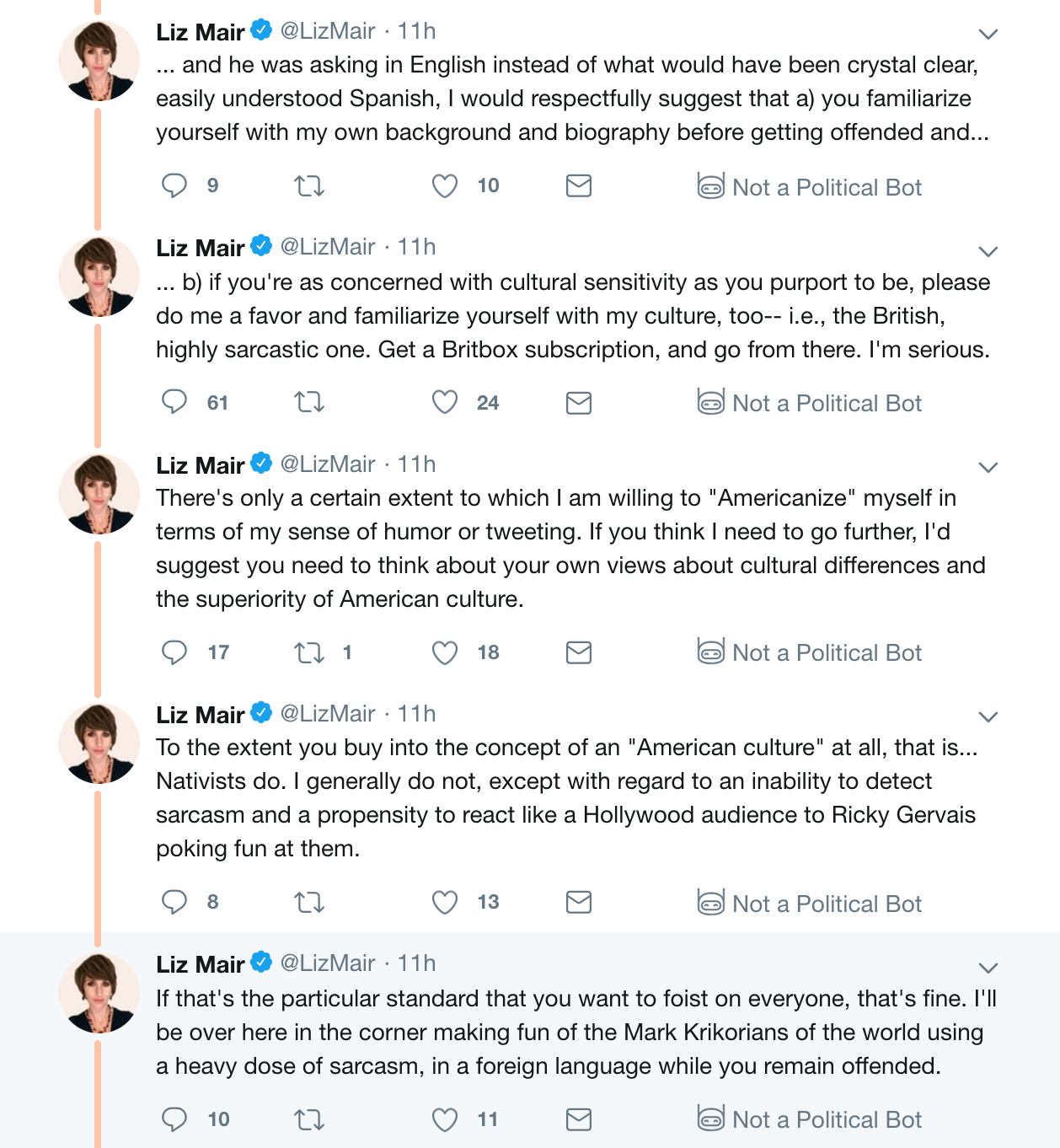 This article has been updated.