On Sunday, Leafly—a "Yelp for weed" that lets marijuana users compare and review different strains of cannabis, as well as locate doctors and dispensaries—will become the first cannabis company to run an ad in the New York Times, the site announced in a press release Saturday.
The announcement comes less than a month after New York became the 23rd state to legalize medical cannabis, and just days after the Times published an editorial documenting, and subtly applauding, the American public's growing acceptance of marijuana. A Pew Research Center poll conducted in 2013 found that for the first time, a majority of the American public (52 percent) was in favor of legalizing marijuana. That number inched up to 54 percent in early 2014.
Although Leafly, which offers both a Web and mobile app, emphatically targets states where medical and recreational cannabis is legal, its founders are well aware that the information available on the site can be used by garden variety pot smokers to purchase black-market product. In its new ad, as in previous press materials, Leafly is careful to emphasize how different cannabis strains can help treat a variety of medical conditions for which patients may be prescribed marijuana—among them cancer, anxiety, insomnia, and PTSD.
The New York Times ad adopts and pokes fun at the language of the '80s "Just Say No" campaign, which then-First Lady Nancy Reagan implemented to implore American youth to "just say no" to drugs. It features two well-to-do New Yorkers outside of a brownstone, each accompanied by a description of their cannabis strain of choice (Ian prefers Diamond OG, an indica strain, for his MS symptoms; Linda turned to a sativa strain, Jean Guy, to help manage her cancer), accompanied by the slogan, "Just Say Know."
The relatively reserved ad (not a pot leaf in sight) is all part of Leafly's campaign to present the clean-cut image of a legitimate, thriving business. "We want to be a good representative for the industry," said Leafly founder Cy Scott in a recent interview.
"Our advertisement in the New York Times is a responsible, mainstream message that elevates the conversation about cannabis in the U.S.," added Leafly CEO Brendan Kennedy, in a press release provided to the Daily Dot. "With cannabis now legal for patients in 23 states, Americans need professional, educational resources to help them navigate the changing legal, medical, and social landscape."
The full-page ad will appear in the main news section of the Times' Sunday edition, but you can take a look at it now: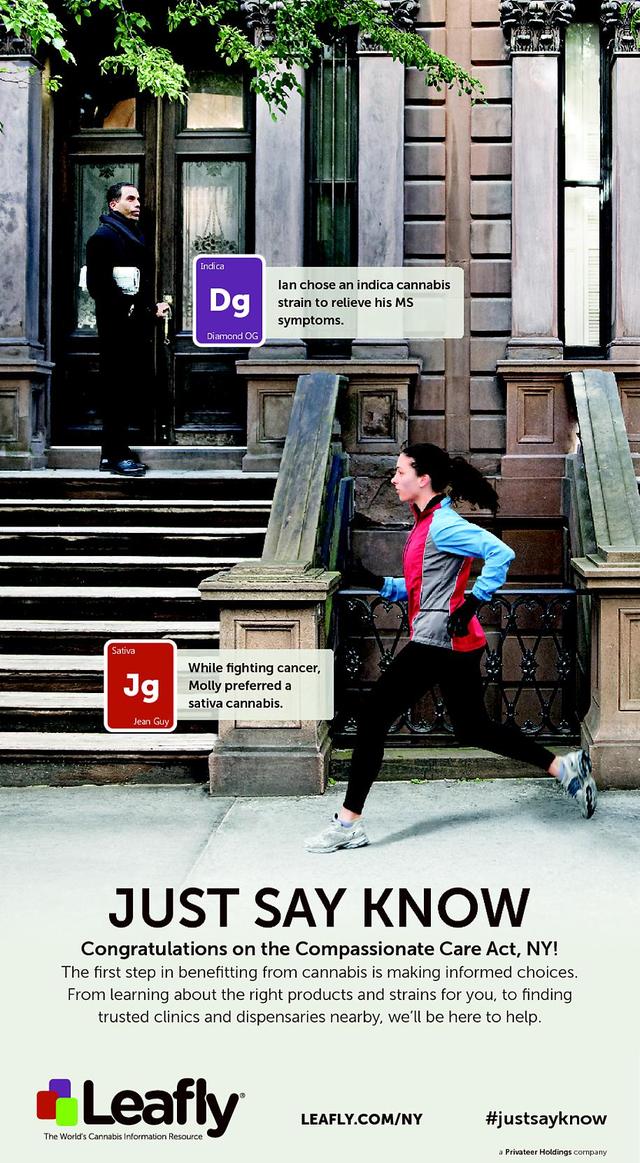 Photo via Brett Levin/Flickr (CC BY 2.0)