Brian Krassenstein is a prominent member of the #Resistance, a group of Twitter users who are dedicated to bringing down President Donald Trump by, well…
https://twitter.com/krassenstein/status/1022877775399661568
And whatever this tweet is.
https://twitter.com/krassenstein/status/1015053725612716034
And this one.
https://twitter.com/krassenstein/status/1024291843020873729
Krassenstein, as well as his brother Ed, are co-founders of news blogs including HillReporter.com. They're also part of a niche group of online posters who think people who think typing ferociously will save the Republic. Literally.
https://twitter.com/krassenstein/status/1024096807947829248
Twitter dot com, he lives for that shit.
How Trump has survived despite being buffeted constantly by these 280-character bursts of online righteousness, no one knows. It's a mystery to all. But yesterday, Krassenstein released a cartoon kid's book that will surely bring a swift end to this dark chapter in American politics.
It's called "How the People Trumped Ronald Plump."
https://twitter.com/krassenstein/status/1023979316034654208
It survived online for all of one minute before getting torn apart by people who have recognized how embarrassing Krassenstein's opposition to Trump comes across.
i like the part where you misspell "donald trump" https://t.co/FUUE0qzvfA

— jon gabriel (@exjon) July 31, 2018
damn they really got him. it's over @realdonaldtrump https://t.co/W5W4tA7WuA

— james (@taterthot_56) July 31, 2018
Breaking: no one will buy this https://t.co/aapd66bOgX

— Mr. Hyatt (@kubaknows) July 31, 2018
https://twitter.com/nick_s_ryan/status/1024242019718324224
Grifters gonna grift. Not even near the "cool kids" v "organizers" debate. https://t.co/30alkz1tXa

— melissa CANCEL ALL STUDENT DEBT NOW byrne (@mcbyrne) July 31, 2018
This combines two of my least favorite things: resistance grifting, and Liberal Uncle Humor https://t.co/kP8zgnfRwI

— Stephen Silver (@StephenSilver) July 31, 2018
You wrote a coloring book. Actually, you co-wrote a coloring book, you couldn't even do it yourself. And you're telling the world about it like "writing" what amounts to a child's placemat at Denny's is something to be proud of. It's 54 pages long. You should be embarrassed. https://t.co/BaMulf7CjW

— Derek Hunter (@derekahunter) July 31, 2018
https://twitter.com/McGaha07/status/1024136985928192000
It's got subtle scenes like … this.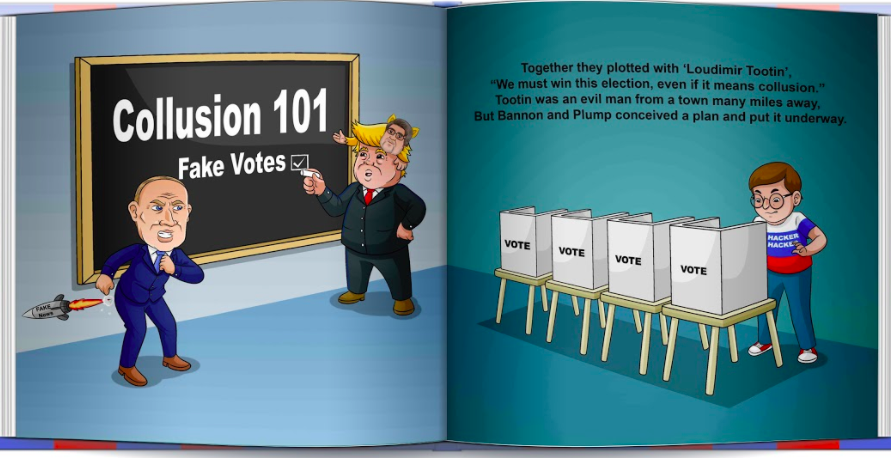 Gizmodo editor Tom McKay pointed out some pages in it and well, it's worse than you might imagine.
ok seeing as the krassensteins childrens book features a rape sack i think im 100 percent done here pic.twitter.com/kwVXuE6wLB

— lvl 45 chao$ potu$ (@thetomzone) July 31, 2018
not an exaggeration. its a literal rape sack pic.twitter.com/iY9YnnnnRm

— lvl 45 chao$ potu$ (@thetomzone) July 31, 2018
At one point, the Robert Mueller character, called Robert Moral, is presented without a shirt.
who would YOU rather lick ice cream off of? i thought so pic.twitter.com/DADhg0eup2

— lvl 45 chao$ potu$ (@thetomzone) July 31, 2018
Horny for Justice.
The Krassensteins said on their news blog they wrote the book to help their kids learn about the Trump presidency and the ideals of "morals, love, inclusion, and equality."
"I think it's important to stress that this book's purpose is not to teach our children political ideologies, rather it's to teach them morals," they said. "Whether you are a Democrat … or a Republican … this book will be entertaining, educational and most importantly, a tool for your child's development."
In the book, the Krassensteins call Ivanaka Trump "Iwannabe Plump," so … yea.
Brian and Ed Krassenstein have engendered a great deal of hatred online since cropping up on Twitter, because, to a great many, the brothers represent the worst of those fighting the president: People who are in it only for themselves.
https://twitter.com/hoodgravy/status/1024103857419427840
Perhaps it's unfair to truly call the duo grifters because last year, the Krassensteins tried to crowdfund the publishing funds for their book.
They did not meet their goal.
This article has been updated.