With very few exceptions, EA Sports has been the only name in college football video games.
That will continue to be the case now that a Kickstarter project hoping to create a competing collegiate title has cancelled its fundraising efforts amidst allegations of fraudulence.
On Feb. 4, Atlanta, Ga.-based Dirty Bird Sports launched a campaign on the popular crowdfunding platform in hopes of raising $500,000 to build an NCAA Football college game for Xbox 360 and Playstation 3.
"Jam Entertainment have partnered with Dirty Bird Sports to give YOU, the fans what YOU want," the project's page claims. "What Better way to make the game its best than to add real college and professional players to our team."
Jamal Anderson, former Atlanta Falcons running back and originator of the "dirty bird dance," is the owner of Jam Entertainment.
To entice fans to donate, Dirty Bird Sports made outlandish promises regarding game features including 689 team offerings (EA Sports' NCAA Football 13 only offers 123 teams, by contrast), high school All-Star games, and players decommitting from programs.
Dirty Bird Sports also provided images like the one below that it claimed were taken directly from the game.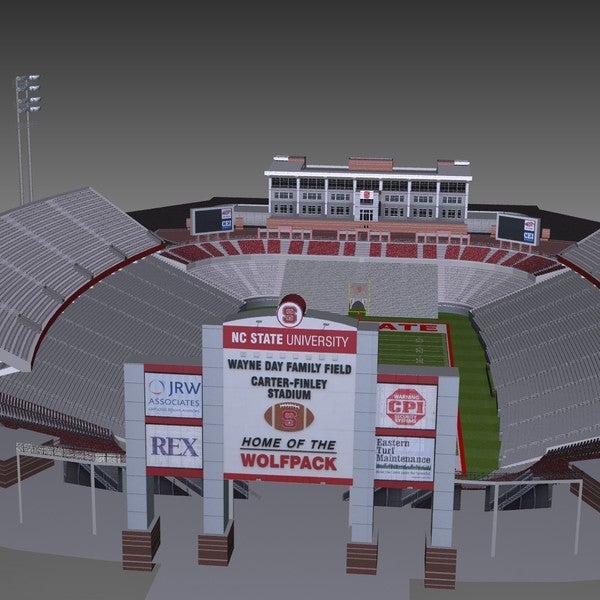 Photo via Dirty Bird Sports/Kickstarter
Except they weren't.
Commenter "CM Hooe" at OperationSports.com— a site devoted to all things sports video games— wasn't entirely sold on the concept.
"I'd be immediately concerned by the fact that nowhere in this Kickstarter campaign is licensing with the NCAA (and Notre Dame, that school controls its own licensing rights for some reason) are mentioned," he wrote on Feb. 6.
"I also want to know about the software production team behind the game; 'Dirty Bird Sports' doesn't return any Google results relevant to video game production (or any relevant results whatsoever), and 'Jam Entertainment' doesn't return any relevant video game results either."
After digging deeper, the commenter discovered that at least some of the images posted on Dirty Bird Sports' Kickstarter page were actually lifted from TurboSquid, a website where artists can sell their 3D model renderings.
Two days after CM Hooe's discovery, Deadspin's Timothy Burke found the original sources for the remaining images.
On Friday, Anderson took to Twitter to disassociate himself from the venture.
"For those asking, i am not apart of any kickstarter campaign," Anderson tweeted. "A Misunderstanding that's been removed. Thanks, carry on."
That same day, Dirty Bird Sports canceled its Kickstarter project, which had only raised $685 from 13 backers at that point.
The Daily Dot reached out to the beleaguered company seeking comment. Below is the company's statement in its entirety.
"A lot of people are claiming this to be a scam, that is simply not true.

The $500,000 requested for this Kickstarter was the amount needed to get this project off the ground and running.That money was to be used for the proper licensing of NCAA rights as well as any other software needs. The money was also needed for advertising.

As for the allegations of stealing others work, that claim is ludicrous. We at DBS did make an error in which, we did not request the proper permission to use those images however, we did have every intent to purchase the 3D models once our goal was reached. Funding was simply not where it needed to be at that time.

In regards to Mr. Anderson not knowing of this Kickstarter, that is also not 100 percent true, we had spoken via email, text messages and over the phone in regards to this program. And due to miscommunication, Mr. Anderson's name was improperly used.

Allegations were made that we had cancelled this Kickstarter out of being 'caught', that was not the case. Jamal had emailed us and requested that we take down the Kickstarter due to prior obligations he has, so for that reason it was shut down.

Dirty Bird Sports and Jam Entertainment wanted to come together to give the fans a truly one of a kind gaming experience and unfortunately that did not happen.

While we were unsuccessful at what we wanted to accomplish, Dirty Bird Sports will be back once we have the proper funding and licensing needed to make this game a success.

We want to apologize the Mr. Anderson, the creator of the 3D models and of course, the fans for this unfortunate situation caused by a misunderstanding.

Again, for the record, I'd like for it to be known in no way, was this a scam. I assumed people at my company were taking the right precautions as needed to ensure this wouldn't happen and they didn't. Those individuals have since been relieved of their duties. We will come back a better than ever company when the time is appropriate."
This isn't the first time a Kickstarter project has been accused of fraud. Eyez by ZionEyez HD Video Recording Glasses for Facebook has yet to deliver its product after raising $344,000 on the site, and last May, creators of the gaming project Mythic: The Story of Gods and Men canceled its campaign after similar allegations of fraud. 
Photo via Dirty Bird Sports/Kickstarter