Failed far-right blunderers Jacob Wohl and Jack Burkman launched their latest inept smear today, this time targeting 2020 Democratic presidential hopeful Sen. Kamala Harris (D-Calif.). The duo said they have allegations of involvement in "a series of sexcapades" with Shawn Newaldass, a 26-year-old "personal trainner." (Their typo.) 
Emerging from Burkman's Arlington, Virginia, home and onto a set of stairs, Wohl and Burkman stood eager to address a crowd of about 40 people around 2:30pm ET on Wednesday. The two internet fraudsters were flanked by a security guard with a singular AirPod, as well as their "expert witness" in tow, who appeared nervous to tell his tale.
Ahead of the press conference and before allegations began flying, a rendition of the national anthem was performed by a reverend named "Darrel Thomas" who shared the opening prayer. 
Prior to the event, Thomas told the Daily Dot that he was being paid $175 to speak at the event and was not a reverend while further appearing confused as to his exact role in the scheme.
Burkman and Wohl told the Daily Dot that Thomas was merely "yanking the media's chain."
Wohl, who currently awaits arraignment and a return to a California courthouse for the "unlawful sale of securities" on Oct. 24, claimed Newaldass was a personal trainer to the senator from June 2018 to September 2019. 
When the Daily Dot asked if he's prepared for his legal proceedings, Wohl retorted, "No concerns about anything on this beautiful world."
After a few minutes of gibberish from Wohl and Burkman regarding their home being the headquarters for vetting Democratic 2020 presidential candidates, Newaldass took to the podium to share his story of "sexcapades," which featured one encounter where Harris supposedly asked for him to "arrange a small orgy."
Harris' accuser claims they had a total of 11 "sexual encounters," taking place in hotels in Iowa; Washington, D.C.; and New York City.  
During their third encounter, Newaldass shared that Harris had instructed him to bring "two Black males" to the Willard Hotel in D.C.
Halfway through the press conference, a man appeared to deliver a cease-and-desist order, which Wohl claimed was from the Harris campaign. When pressed about the contents of the letter, Wohl and Burkman told the Daily Dot they would first have to pass it by their counsel before releasing the document publicly. 
Harris' camp told the Daily Dot that they have no idea what Wohl and Burkman were talking about.
The Daily Dot followed the man who delivered the letter to ask questions, he repeatedly stated, "I'm just doing my job." 
When @ZTPetrizzo tried to ask about the "process server" from earlier, Jacob couldn't hear over the hecklers.

"You gotta tell this guy to stop or I'm gonna spray him," said Jacob.

He then went on to read a portion of the C&D order and declare defiance against it. pic.twitter.com/IAP2Nzkgp8

— Ford Fischer (@FordFischer) October 9, 2019
Wohl & Burman claim that the @KamalaHarris campaign just sent them a cease and assist order… pic.twitter.com/2I57sOuQ9t

— Zachary Petrizzo (@ZTPetrizzo) October 9, 2019
A neighbor of Burkman's confirmed to the Daily Dot that late Friday Wohl was picked up by the same man who served the duo with a cease-and-desist.
Burkman's neighbor also verified to the Daily Dot that he frequently sees the man driving Wohl and Burkman around.
The conference was broken up by neighbors turned hecklers, yet again, similar to the shenanigans which occurred at presser smearing Sen. Elizabeth Warren (D-Mass.) with similar accusations. One heckler wore a corn cob costume to mock Wohl while asking the duo throughout the presser why Wohl blocked him on Twitter.
A man wearing a corn cob costume has appeared to protest… pic.twitter.com/W6efo869zB

— Zachary Petrizzo (@ZTPetrizzo) October 9, 2019
"I see Jack walking his dog sometimes… I'm tempted to yell at him, 'your friend is going to jail,'" said one neighbor, who the Daily Dot spoke with regarding the bizarre press conference occurring in their neighborhood. 
Another neighbor told the Daily Dot that he believes the duo are making conservatives look bad. 
In a sit-down interview with the Daily Dot, Wohl, Burkman, and Newaldass shared a series of misleading statements, while mandating certain parts be taken off-the-record.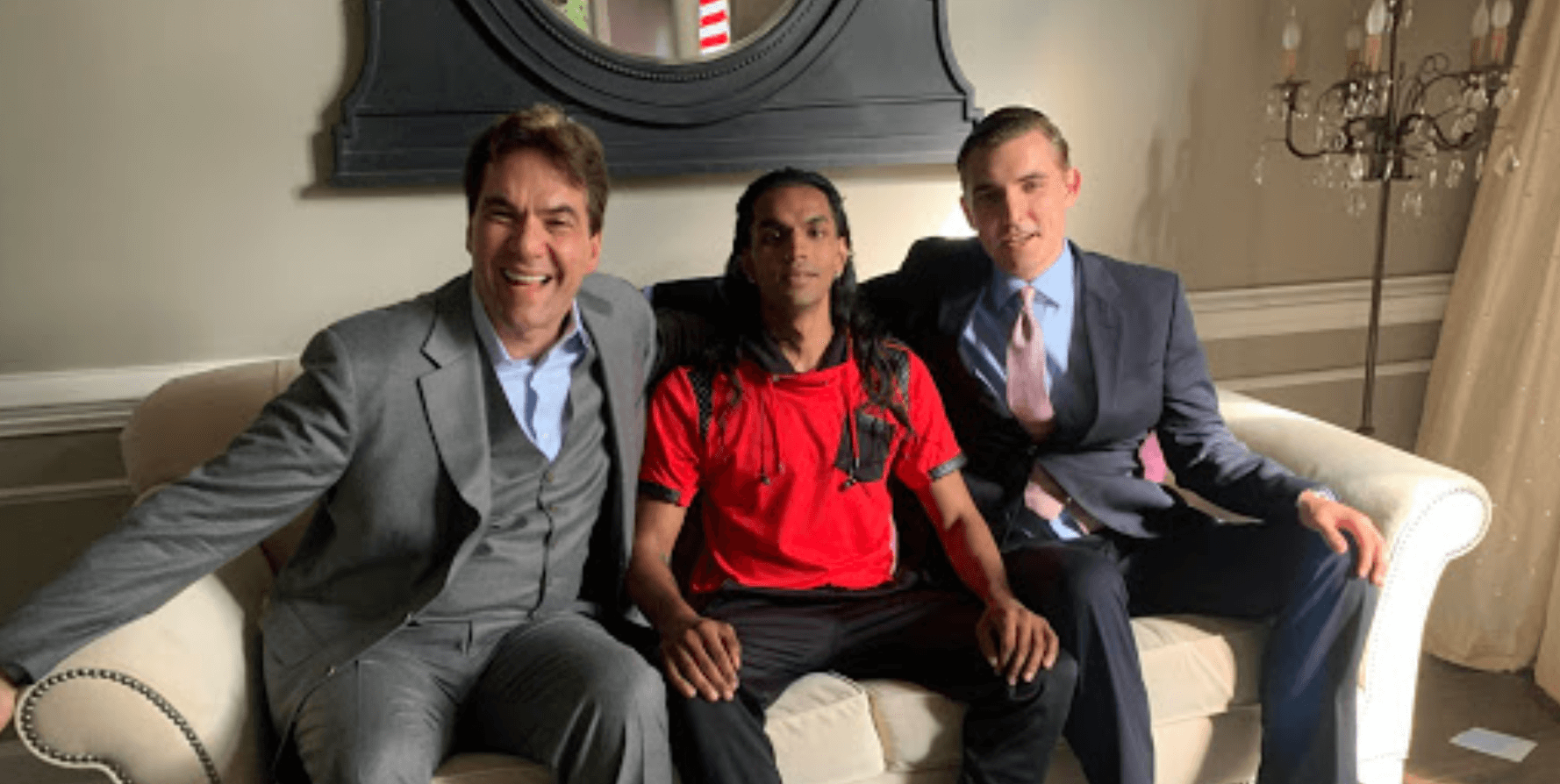 Newaldass was confused when asked questions about the dates of sexual encounters with Harris, resulting in Burkman going to retrieve for him a handout of remarks that the 26-year-old personal trainer supposedly typed on Burkman's laptop. 
Newaldass struggled to recall dates while referring to the handout with every question. 
"So when were you her personal trainer?" asked the Daily Dot. 
Wohl responded for Newaldass, "June 18th or something?" and added: "Things turned sexual a year later." 
Riding high from one of their smears being mocked on Saturday Night Live last week, Burkman told the Daily Dot he became frustrated with protesters and is going to be moving press conference venues in the future.
Previous hotels where Burkman and Wohl hosted press conferences were contacted by the Daily Dot regarding whether the two were banned from the respective venues, but at the time of publication, the hotels had not responded.
Burkman also tweeted Tuesday night to call those attending the gaggle "morbidly obese people" urging only to take "one or two donuts per person."
Burkman told the Daily Dot, "we don't want somebody eating the whole thing… we believe in sharing," ahead of the gaggle. 
Near the end of the interview in Burkman's Arlington home, Wohl made sure to add that he currently has "four girlfriends" and claimed Arlington Police Department had officers at the event who were undercover.  
Previously Burkman and Wohl carried out similar press conferences that occurred by manipulating people into being witnesses and accusers, faking identities, and formulating bogus, half-baked claims to match.
From a hoax whistleblower reveal, to the failed and debunked sexual assault smears against former Special Counsel Robert Muller, along with Mayor Pete Buttigieg and Warren, these two conspiracy theorists are set on smearing President Donald Trump's political rivals. 
The Daily Dot asked Wohl about his connection to the White House, but the 21-year-old internet troll proclaimed he would never tell the press about any such connections. 
UPDATE 1:40pm CT, Oct. 10: After an internal investigation, the Arlington Police department, along with their undercover unit, confirmed to the Daily Dot that their department was not in attendance at the presser as Wohl and Burkman claimed them to have been.
A spokeswoman for the department told the Daily Dot, "I've spoken to our undercover units, and none of them were in attendance yesterday, and none of them had any information pertaining to this."
Additional reporting by Alex Thomas.
This story has been updated.
READ MORE: