Everyone who was anyone in the personal technology world hunched over their computer on Tuesday at 9pm EST as the tech sites lucky enough to get review copies of the new iPhone 6 and iPhone 6 Plus published their first impressions.
Judging by the reviews, the new phones are, unsurprisingly, very good at what they do. But what features did they focus on? What were the most common complaints, words of praise, and general observations? We created a word cloud that reflects the terms these reviewers used the most. (We removed all instances of "iPhone," "Apple," and "phone," which were by far the most used terms.)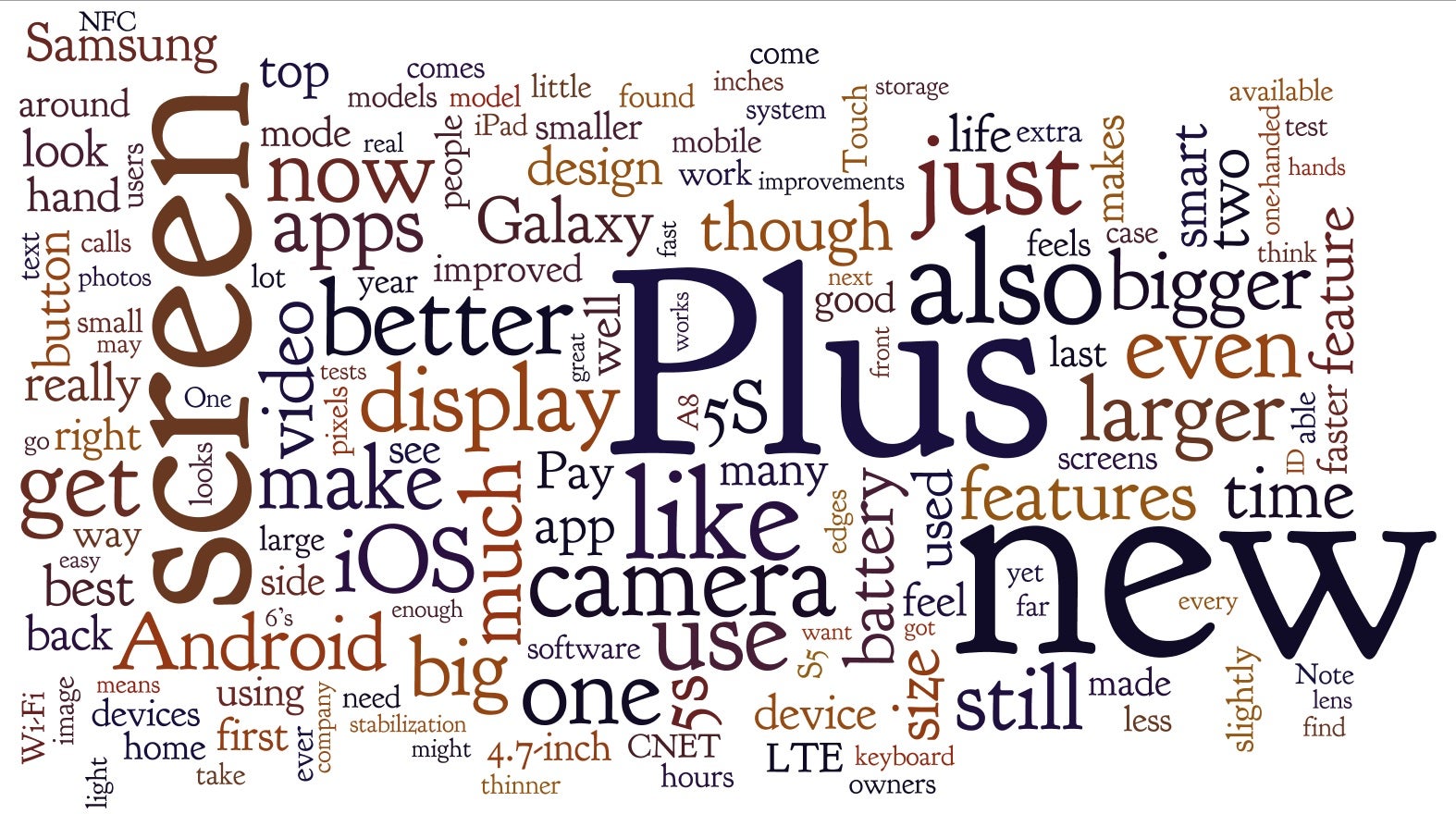 As you can see, reviewers talked a lot about the screen, the battery, the camera, and the operating system. The size difference between the two phones—represented by the words "bigger" and "larger"—was a major topic of conversation. Reviewers inevitably discussed Apple's competitors in the Android ecosystem, especially Samsung and one of its flagship phones, the Galaxy. The reviewers' overall positive opinion is reflected in the frequent appearance of the terms "like" and "better." The size of the word "just" in this cloud probably reflects the many references to how easy things are when using the phone.
If your mind still isn't made up, here are the major reviews of the iPhone 6 and iPhone 6 Plus.
Molly Wood for the New York Times: "In its quest to deliver bigger phones to a market clamoring for them, Apple has made one phone that is actually a little too small and one that's a little too big. … The best part of the new phones is actually the new software inside."
Brad Molen for Engadget: "Even though this is Apple's first attempt at building large phones, it's not breaking new ground — in fact, it feels more like the company is catching up than innovating."
David Pierce for the Verge: "The latest iPhones could have been a chance for Apple to really re-examine what smartphone hardware should be, but Apple just built a bigger iPhone. Because that's what people wanted."
Geoffrey Fowler for the Wall Street Journal: "There's no one right choice for everyone. So what makes the iPhone 6 the best? Performance, usability and camera refinements, coupled with a safe, powerful operating system that now lets the iPhone's big collection of apps do more."
Walt Mossberg for re/code: "I've been testing the more mainstream of the two models, the 4.7-inch iPhone 6, for about a week now, and I think it's a terrific phone. In my view, it's the best smartphone on the market, when you combine its hardware, all-new operating system, and the Apple ecosystem whose doors it opens."
Scott Stein for Cnet: "[T]he 6 is a product that feels like a collection of overdue Android features, given an excellent polish by Apple hardware and software design. It's a really, really good phone. It's not revolutionary."
Darrell Etherington for TechCrunch: "More than anything, the selling point here is that Apple has managed to recapture the energy and excitement that came with the original iPhone with the new iPhone 6. It feels like a return to form in all the right ways, in addition to packing a ton of new features like Apple Pay that light the path for what Apple as a company is to become."
Lance Ulanoff for Mashable: "Apple iPhone 6 is a worthy successor to all the iPhones that have come before it. It's attractive, solid, well-crafted, powerful and exciting. It's almost a phone in name only, though, since calls are the least of what it can do (it handles them just fine)."
Ed Baig for USA Today: "These are the phones Apple devotees have been waiting for: iPhones that measure up to what's fast becoming the new normal — the large, modern smartphone display."
Jim Dalrymple for the Loop: "One thing has become very clear over the last week: The choice over which of these to buy will be the most personal decision that iPhone owners have ever had to make when choosing a device."
Harry McCracken for Fast Company: "From the start, Apple has never attempted to make its phones do everything; it's just tried to make them do the things they do as well as possible. It's not an approach designed to please impatient types. But by keeping people waiting for much-requested features, the company bought the time to do them right in the iPhone 6 and 6 Plus."
David Pogue for Yahoo: "There's nothing actually surprising about the iPhone 6 and iPhone 6 Plus. Partly that's because in the post-Jobs era, Apple isn't as good at suppressing pre-announcement leaks. And partly it's because there's nothing much surprising about any phones these days. They're mature. These days, designing a phone is a matter of nips and tucks and playing catch-up and one-up — as attractively as possible."
Joshua Topolsky for Bloomberg: "They are beautifully engineered machines, more useful than ever. These aren't just the best iPhones ever made—they might be the best phones ever made. Period. The only question you really have to answer is: Which one?"
Charles Arthur for the Guardian: "Choosing between the iPhone 6 Plus and the smaller iPhone 6 could be surprisingly difficult if your hand, and your wallet, is large enough. It is large, yet the extra screen space is a boon."
Matt Warman for the Telegraph: "What's made the iPhone so successful is its combination of user-friendly simplicity with sufficiently advanced functions and a beautiful, pleasing design. The iPhone 6 builds on that, and set next to the iPhone 5s it instantly makes its predecessor's design look out of date."
Photo via Kārlis Dambrāns/Flickr (CC BY SA 2.0)