The iPhone 6 doesn't even officially exist yet, but that's no issue for Los Angeles-based luxury retailer BRIKK, which has gone ahead and announced its own extremely ostentatious version of Apple's next iconic smartphone.
Remember when Apple officially unveiled its own gold-colored iPhone model and naysayers claimed it was too gaudy? BRIKK's hideously flashy "LUX" versions make Apple's gold iPhone 5s seem understated and bland.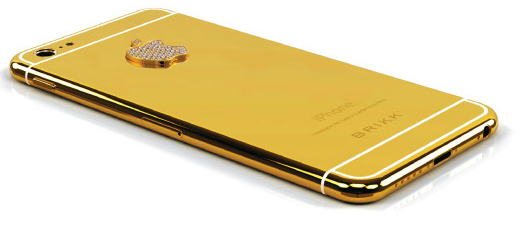 Covered in 24k yellow gold, 950 platinum, or 24k pink gold, the customized phones are the definition of gaudy, but that's sort of the point after all. If you're obnoxiously rich and want everyone to know it, an iPhone that can be seen from space probably seems like a fine idea.
And you'll certainly fall in the "obnoxiously rich" category if you find yourself ordering one of BRIKK's iPhones, as the cheapest model is priced at a bank-breaking $4,495. If that's not rich enough for your blood, you can order your new handset with a diamond-studded Apple logo and bump the price all the way up to $8,795.
It's worth repeating the fact that Apple hasn't even officially unveiled the device yet, and BRIKK's renderings appear to be based on some of the more believable leaks that have popped up so far. The company notes on its product listing that the final product may vary in appearance, but it also isn't shy about demanding a $500 down payment when you place your pre-order. Of course, if you're considering one of these grotesque gadgets, you probably have more money than sense, anyway.