Today at Cupertino, California's Flint Center, Apple revealed the next generation of its iconic smartphone—and it's a double whammy.
As it did with the iPhone 5S and iPhone 5C, Apple will launch two new iPhones at once. This time around, it's the 4.7-inch iPhone 6 and the 5.5-inch iPhone 6 Plus. The devices confirm existing rumors that the company would release dual versions of the iPhone 6, both with larger displays than any iPhone to date.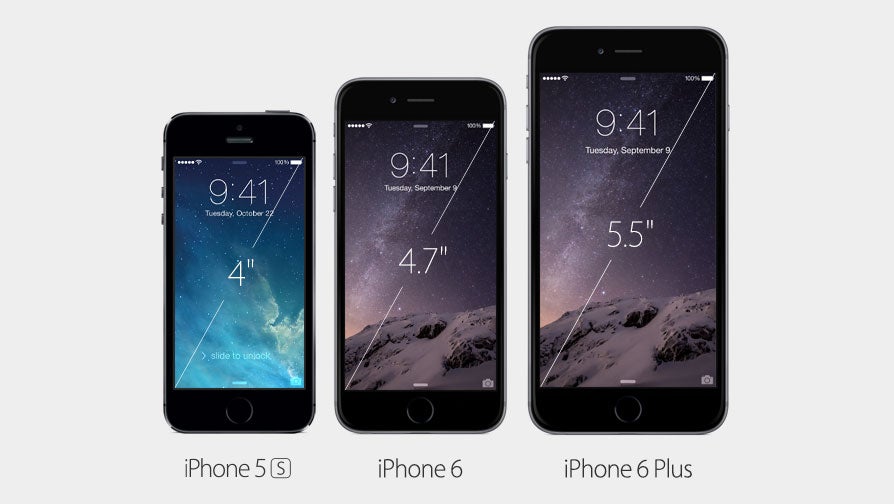 The iPhone 6 and iPhone 6 Plus feature a more rounded off design and a considerable amount more screen real estate. Both devices are thinner than the iPhone 5S, measuring in at 6.9mm and 7.1mm, respectively. Both run on Apple's new A8 chip, which Apple claims improves upon its predecessor by 25 percent, enabling 50 percent faster graphics for mobile games.
Thanks to the larger displays, which respectively pack in 38 percent and 185 percent more pixels than the iPhone 5S, the iPhone 6 and iPhone 6 Plus can now be used in horizontal mode.
The iPhone 6 and iPhone 6 Plus will be available on Friday, September 19th. You can pre-order the iPhones on Friday, September 12th. The iPhone 6 is priced at $199 for the 16GB on contract. The 32GB version is gone, replaced by a 64GB version for $299 on contract, and a 128GB version is available for 399 on contract.
The iPhone 6 Plus is $299 for the 16GB, with the 64GB and 128GB coming in at $399 and $499 respectively. The iPhone 6 and iPhone 6 Plus will be available on all major carriers in the U.S.
Illustration via Jason Reed