Emoji might be a defining piece of Internet- and mobile-speak, but the icons offer little to those who aren't white, in heterosexual relationships, or own a brown and white dog. Frustrated users have spoken out, calling for a more diverse range of emoticons, though little has actually been done.
Recognizing the demand, Katrina Parrott created iDiversicons, an app that offers over 900 diverse emoticons, ranging from same sex and interracial couples to varying dog breeds and facial expressions. The app also has images for many emoji hand symbols but with different skin tones. The icons can be used in texts and emails, as well as on Facebook, Twitter, and Instagram.
Creator Katrina Parrot says all the discussion about emoji diversity is what inspired iDiversicons. "Why don't emoticons look like the person sending them?" her daughter Katy asked her. The simple question led her to make just that happen.
"We wanted all people to be able to find an emoticon that looked like them," Parrot told the Houston Chronicle.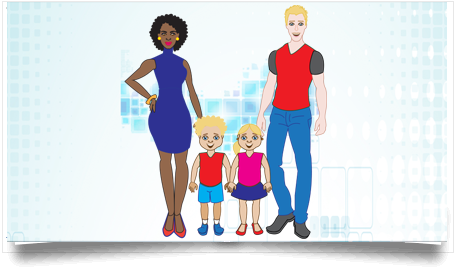 Parrot was a Program Manager at NASA before getting laid off last year. With her newfound free time, a bit of inspiration, and no prior coding experience, she purchased Apple's Developer Program, hired an illustrator, and went to work composing what would become iDiversicons. The app was introduced to the App Store in October 2013.
In May 2014, Parrott successfully raised just over $2,000 to further improve the Apple version of the app and complete a version compatible with Android, which was released through the Google Play store on June 25.
In order to use an icon, a user has to go into the app and find an image to use. They'd then highlight, copy, and paste the icon in their chosen application. It might not be as easy as scrolling through the emoji keyboard already built into smartphones, but for those frustrated with the emoji status quo, the extra seconds aren't too big of a hurdle.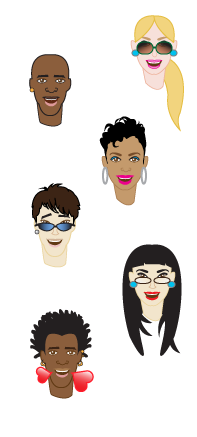 And remember those people who really wanted the hot dog emoji? Parrott listened, and she delivered with an iDiversicons hot dog. She's open to new ideas and takes requests from users.
Earlier this year, Apple addressed the diversity issue in its emoji, though nothing has been done about it yet. Katie Cotton, the vice president of worldwide corporate communications for Apple, explained to MTV earlier this year that emoji are in line with the Unicode Standard, a system that works to make characters in different languages standard across technologies and software platforms.
Parrott pitched her product to the Unicode Technical Committee in May and will have a follow-up meeting with them in August to hear the decision. Parrott has also reached out to and met with people from Apple to propose a partnership. She says that while no one has said yes, no one has said no, either.
Parrott told the Daily Dot that adding a new image to the native app takes time. She hired an illustrator to create the images, and updating an app through Apple's App Store requires an approval, which takes a few days. In comparison, adding a new icon to a Unicode keyboard must go through a two-step approval process, which Parrott explains could take up to two years.
Implementing iDiversicons as a keyboard (if it's approved by Unicode), would not be as strenuous. Parrott explains that the code for the images already exists, since it's simply building upon the emojis that are already out there. Adding ethnic diversity simply means modifying the pre-existing code.
Despite the bureaucratic hurdles, Parrott is making progress in the quest for diverse emoji. It's very likely our children, and certainly our children's children, will live in a world where there are emoji that look like all of them.
H/T Houston Chronicle | Photo via iDiversicons