It was inevitable—Facebook has snuck in an updated version of the News Feed yet again. Users have seen warning screens on the top of their News Feeds and many already have the new layout. If you fear change, and the words "updated News Feed" are making your palms sweat, have no fear: There's a browser extension that will take you back to the old ways.
Go to oldnewsfeed.com to download the browser extension that will bring back your sweet familiar home page. The site prompts you to share the oldnewsfeed.com link on Facebook and then download the extension. Here's the secret: Ignore step one. You can download the extension without sharing it on Facebook. The download is available for Chrome, Safari, Firefox, and Internet Explorer.
After clicking download, the browser extension should automatically rebuild the old 2014 Facebook design that you know and love (or know and hate less than the new one).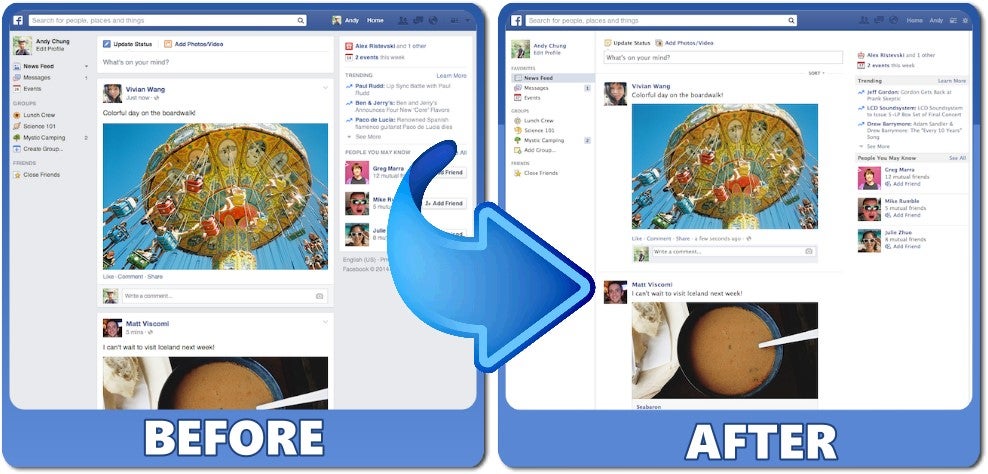 It's unclear who the updated News Feed is reaching first, but one thing is certain: Overactive Facebookers are not given priority, or I would have been the first to receive it. And my News Feed is looking as old school as ever.
But don't let our instructions on how to switch back make you nervous. The new feed isn't much different. The photos are bigger and more pronounced and there are some subtle font changes that shouldn't offend anyone unless you have Helvetica phobia. 
If you think you could like the new look but aren't sure, extensions are always easy to delete from browsers, so nothing's permanent!
Photo via energyandintensity/Flickr (CC BY-SA 2.0)