There should be a better way than this to give exposure to women in tech.
The Internet has opened tech culture to ongoing discussions about the systemic sexism and harassment in the field. Women are paid less than half of what men make. Their careers are drastically shortened. They face abuse and death threats when they speak out.
In the wake of recent debates about the industry's gender issues, one fledgling mobile magazine decided that we could all use more women in tech… in their underwear.
Hot Tech Today was released March 17 on iTunes and Google Play stores, purporting to be a new "FUN!" alternative to the average run-of-the-mill startup magazines. You know, the ones without women dropping their thong underwear on the covers.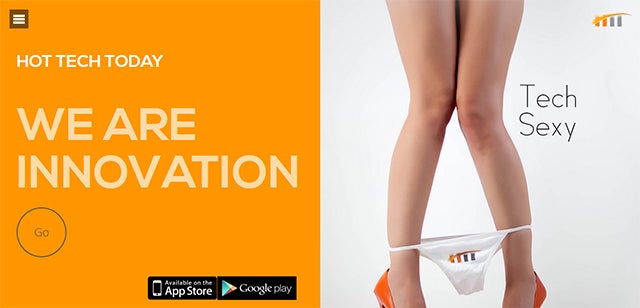 "We are innovation," the app declares.
"Let's start off by saying Hot Tech Today is female-owned," CEO David Kelley wrote me in an email. "Erica Williams is a cofounder in this and the girls were actually her idea. This isn't sexist at all, many magazines out there put sexy women on the cover without much criticism, including magazines centered toward woman (Shape magazine for example)."
The Facebook page is semi-regularly refreshed with new Hot Tech Hotties: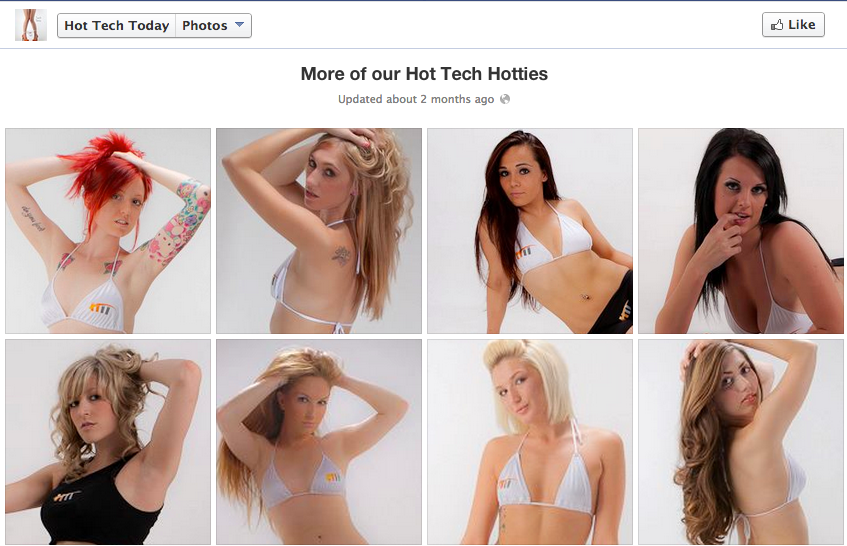 "These women are models," argued Kelley. "They want to be models, this is the career they have chosen and hope to excel and earn a living doing what they do. We actually give them the avenue to do that. We pay them for the job they love doing and that's that. Erica Williams is really the only woman in tech within our very small organization. All of the other women in tech should be proud to have a woman owner of a tech company and really overlooking any sexism altogether.
"We are a fun group, we don't take things to [sic] seriously other than getting the story right. So overall it's not demeaning because these models want to be models. This is like models saying, 'How could women be in tech?' It's subjective I suppose."
Hot Tech also invites the "hotties" of tech culture (women only, of course) to drop trou and come pose for one issue out of the 12 monthly centerfolds. But first the male subscribers get to vote on which of their fellow tech professionals is hottest. 
"As for putting a male on the cover… to be honest, it never occurred to me but we might just do that," said Kelley. "It would be a fun tester and personally I don't care who's on the cover. There are male models out there that would like paid work as well."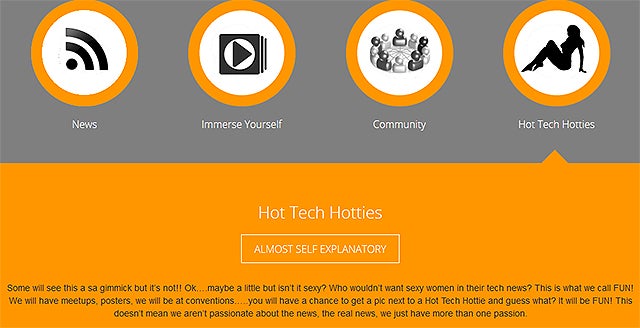 Apart from the concept of pairing tech with pinup girls, the "innovative" content the mag is offering seems bland and well-worn: "Hot new startups," "Rise of indie games," "Are you a Glasshole or one of those other cool wearable tech hipsters?" It's fairly uninspiring.
Which, perhaps, is why they're sticking to what they do best: "All editorials will be read by one of our many Hot Tech Hotties," the site explains. True to their word, the YouTube preview of the first issue opens with a model in a bikini promising a content preview. Then it shows you a model in a bikini for the next 60 seconds.
One thing an already divisive tech climate really does not need is the mobile-app equivalent of a weather girl in a bunny suit.
I'd be surprised if women are lining up to join this site's list of centerfold models. But then again, we've been wrong before. After all, dismissal of tech's lad culture and interest in turning its female professionals into sex objects is what landed us in this mess to begin with.
But there's a silver lining. This is when the trolls come out.
@jennatar I am totally entering this. For my measurements I will submit my shoe size and inner leg length, think that will do?

— Michael Taylor (@Stomp224) March 24, 2014
@agentfin the site says hotties is "OPEN TO FEMALE RESIDENTS OF THE U.S. WHO ARE 21 YEARS OR OLDER" but doesn't define "female". So!

— Anil Dash (@anildash) March 24, 2014
@jennatar @tamriilin @shanley I feel kinda tempted to send them a photo of my hairiest self just to fuck with them.

— breakthesystem (@breakthesystem) March 24, 2014
Screengrab via YouTube / Photo via HotTechToday.com