Mu-Chi Sung let his three cats eat and drink from communal food and water bowls. He replenished the supplies each day after the food and water ran out, assuming that each of his cats got the adequate nourishment they needed. It wasn't until he returned home one day to find one of his cats, Momo, lying on the floor in pain, that he realized his logic was flawed.
Sung rushed Momo to the vet, where he found out his cat had become dehydrated and jaundiced and had not eaten in days. Momo was later diagnosed with pancreatitis, and Sung made the decision to have both her back legs amputated in order to keep her alive. Momo made a full recovery, but Sung, an entrepreneur, knew he had to find a better way to keep track of his cats' eating habits. "It opened his eyes to the problem," Colin Heilbut, "innovation hacker" with 42Ark (the company behind Bistro) told the Daily Dot. "As an entrepreneur he's always looking for a problem to solve and this one really came from the heart."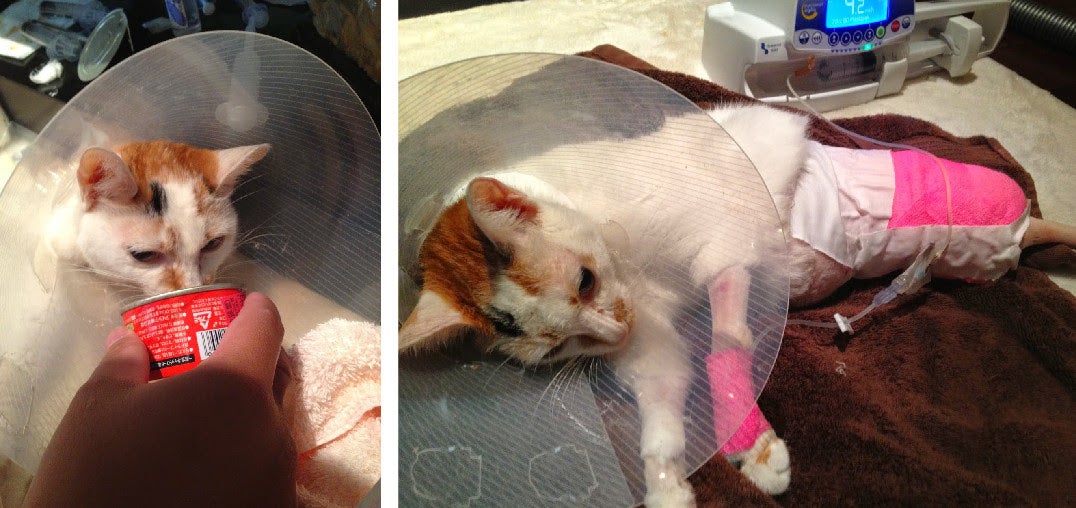 Sung created Bistro, a cat feeder that uses cat facial recognition technology to keep track of his felines' feeding patterns. The product launched a month-long Indiegogo campaign to raise $100,000.
While the initial seed funding for developing Bistro came from other Taiwanese companies and manufacturers, Heilbut says the funds raised will go toward manufacturing the first batch of Bistros.
Through a simple Wi-Fi connection, Bistro tracks cats' diets and reports the data to an app that owners can see from anywhere. Food and water can be dispensed freely, or owners can place a limit on how much a cat is allowed to eat during a certain time period. The machine, which tracks food and water by weight, will stop once the cat has hit its limit.
Sung also serves as the founder of Zillians, a cloud computing company that has been working for the past two years to apply facial recognition technology to dashcams, which have captured plenty of interesting footage. He decided to apply this technology to cats, making a few modifications that addressed the obvious differences between human faces and cat faces.
"It's capable of recognizing differences between any cats that a human can recognize the difference between," Heilbut says. "If they're similar looking cats and the owner can tell the difference, then this machine can definitely tell the difference."
There's no limit to the number of cats the facial recognition software can recognize, though Heilbut notes that there is a limit to the amount of food Bistro can store. It's recommended that one unit serve up to three cats. A cat owner can, however, have multiple Bistros within their living space that could share data with each other. So if a particularly hungry cat hits his limit on one feeder and thinks he can beat the system by going to another, that feeder will have received the data necessary to know that the cat should not be fed.
In addition to tracking a cat's nutritional intake, an owner can also track the cat's weight, since the cat has to stand on a scale attached to the machine in order for it to eat. The app also offers healthy food options improve the cat's diet.
For those who really want to keep a watchful eye, or simply see what their cat is up to, a built-in camera records when a cat is eating or drinking, and owners can access the live feed or the saved recording through the app as well. An owner can then share that video with friends or the public. "The goal is to have our own cat social network," Heilbut says.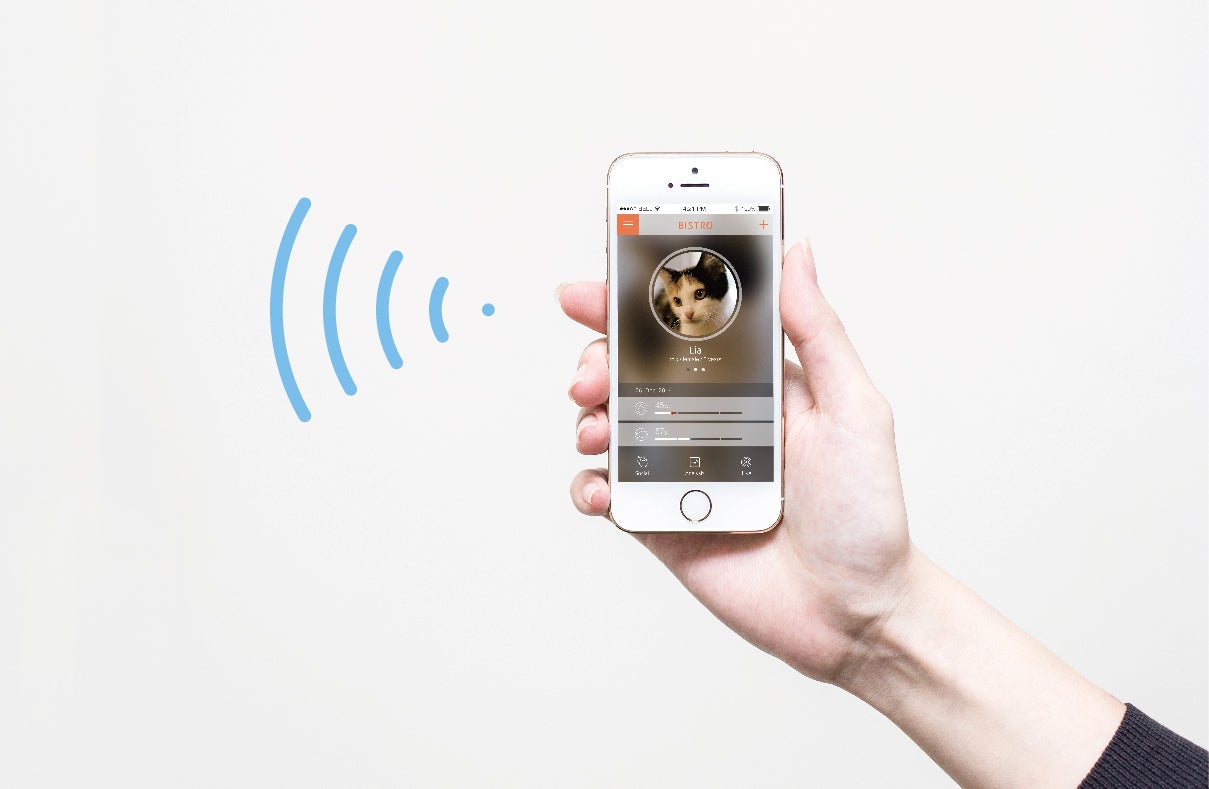 "[The social network] would be seamless through the app," Heilbut explains. "We're getting all this great data. And by nature of the system, each cat already has a profile in a way, even though it's going to be completely private by default. We'd have its photo, age, and other demographics, so if anyone wants to share that publicly it would be easy for them to do so."
Bistro isn't the first smart device for pets. Companies like BarkCam and Whistle are capitalizing on the high-tech pets market, leveraging our growing appreciation for (or at least interest in) connected technology and love for our pets and introducing products that let us analyze and care for them at a new level. Our beloved pets can't speak for themselves, but innovations like these seemingly give them a way to "speak up," or at least help ease the "language barrier" between animals and their owners.  
For $149, a supporter can get Bistro for a fraction of the planned retail price, though the company has limited the offer to the first 250 sponsors. Up to 750 late supporters can select the $179 sponsorship level, which also gets them Bistro for a fraction of the retail price. Everything a user will need, including the scales and camera but minus the food and water, comes with the product, and the app is free to download on smartphones. A timeline on the fundraising page slates the release of the product to early buyers for early 2015.
Heilbut says that Sung and his team will work to improve the product and do not yet have exact plans for when the feeder will be released to a wider market.
Photo via 42Ark